Review by Alyx Jones
Edited by Sam Hughes
Developer: Vicious Cycle Software
Composers: Pendleton Ward, Rod Abernethy
Lead Sound Design/Music Editing: Mark Reis
Voice Actors: Jeremy Shada, John DiMaggio, Tom Kenny, Pendleton Ward, Jessica DiCicco, Olivia Olson, Justin Roiland, Emo Philips, Keith Ferguson, Eric Bauza
Reviewed on: Playstation 4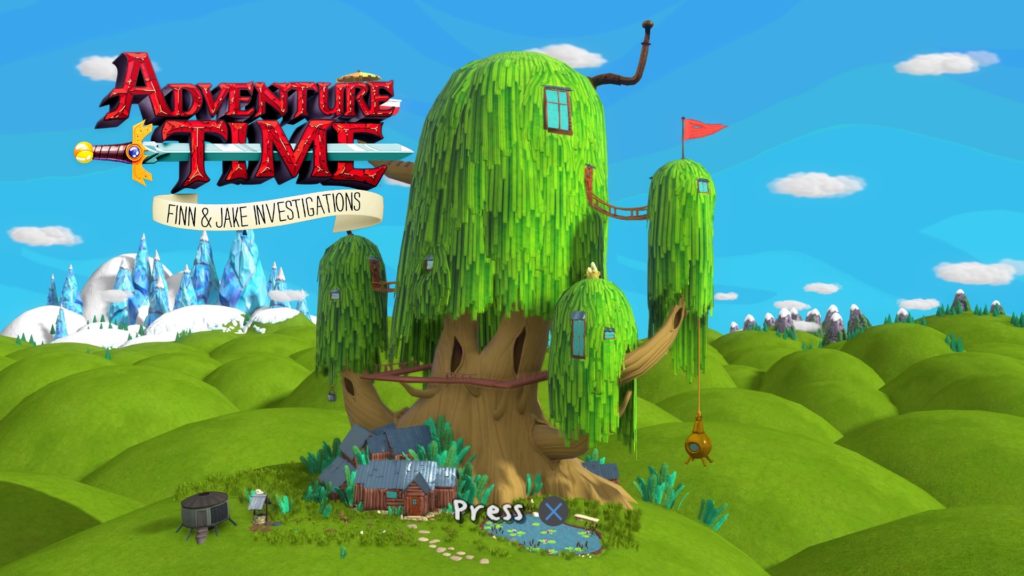 Adventure Time: Finn and Jake Investigations is a new game by Vicious Cycle Software based on the hugely popular cartoon series Adventure Time, created by Pendleton Ward for Cartoon Network. The game is loosely based on the TV series and features the main characters Finn and Jake as the double act protagonists, but we also run into favourites such as Princess Bubblegum and the Ice King. Gameplay is mostly made up of collecting (and sticking together) various objects scattered about in order to solve mysteries and work your way through the story. The graphics remind me alot of PS2 titles such as Simpsons Hit and Run (another game created from a pre-existing cartoon).
The title theme by Pendleton Ward, is used upon the main menu game screen loading, however if you take longer than the theme, you are then left in a slightly awkward silence until you progress into the actual game. In general, the sound design is appropriate and charming, from footsteps, magic spells, and Jake's stretchy abilities, to the background ambiences. UI sounds are a mix between space, magic and bubblegum pop princess. t sounds like a strange combination but if you've ever seen Adventure Time, then it fits perfectly in the weird and wonderful world created by Pendleton Ward.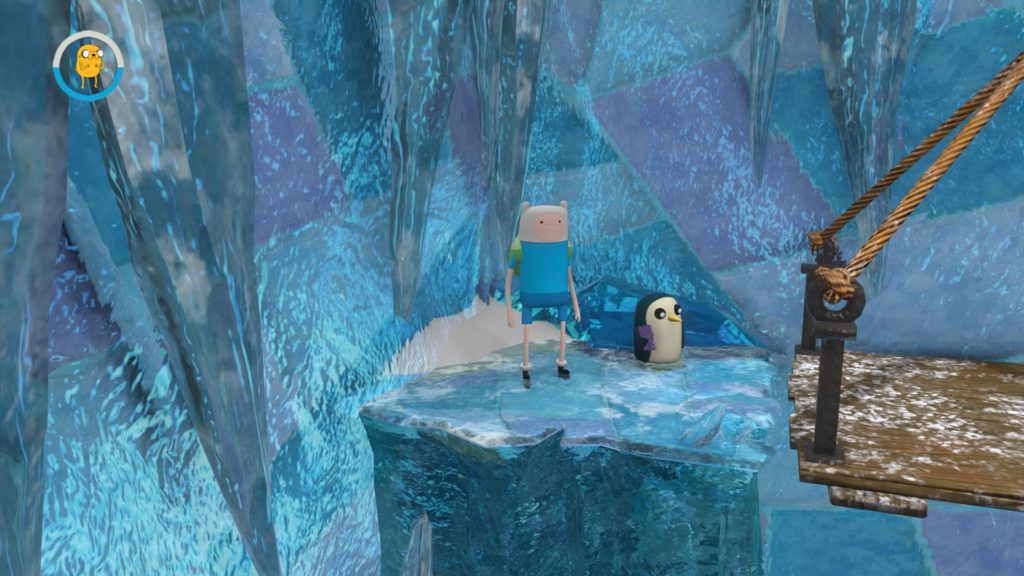 Music never really takes precedence, it has more of a function as a happy, bubbly, background filler. There are clearly places it changes, such as when Finn and Jake face enemies, but the battles are almost like a mini game within themselves, enemies don't show up in the normal environments, they are sectioned off into a battle zone. Even in combat, the music is pretty low in the mix at the default settings. Rod Abernethy brings a super, happy, chirpy soundtrack to the game, that livens up any strange scenario the characters find themselves in. Menu music and background exploration music is in a pop-synth style, even though it is fairly quiet in comparison to the sound design and voice acting, it still serves well to create a cheerful and playful atmosphere.
T
he Television to Playstation transition, also brings with it the array of voice actors from the original series. It's a good decision to use all the same voice talent as it keeps coherence from the cartoon to the game and is almost like bonus content to fans of the TV series. I'm sure all the fans appreciate the familiar voices taking them on a new adventure that they can actually participate in, rather than sit back and watch. Many of the creatures we encounter throughout the game, from the original cartoon, have fun and strange voice acting talents. Funny and awkward characteristics are applied to many characters voices, such as the Lumpy Space Princess, who is a little bit of a brat and it's portrayed well in her voice. It's always light hearted and a strange mix of fantasy and obscure comedy.
Overall, the audio is never overpowering but the sound design and music could be closer together in the mix. It's a simple and weird game, for all ages and the music echoes this in its young and bouncy approach to the video game adaption of Adventure Time. Recommended if you are a fan of the series, even if some of the missions are a tad repetitive, it is aimed slightly more to a younger audience. Happy Investigating!
To watch me play Adventure Time: Finn and Jake Investigations:
Official:
Twitter:
Facebook:
We hope you enjoyed Alyx's review, check out others in our Reviews section :). Don't forget to sign up to our Monthly Newsletter to make sure you don't miss out on our reviews and interviews. 
The Sound Architect