Review by Alyx Jones
Edited by Sam Hughes
ARPS is a percussive virtual instrument by the clever souls at Umlaut Audio. It can be used in many DAWs as it is designed for Kontakt (works perfectly on the free version), so is pretty easy to setup and get go, out of the box. ARPS is also set up to work with Komplete Kontrol keyboards and Maschine, so offers good hardware support with very little effort.
Interface
ARPS isn't a hugely complex piece of kit, which is great because there's no huge learning curve in getting it to work, it's intuitive and straightforward. It features an arpeggiator and steps control (this basically divides your loop into equal sections) so you can then use the bars to draw in how loud/soft each hit/beat is. The "Latch" button is pretty handy to keep the instrument playing while you change any effects or controls in real-time. ARPS does support the multi-rack approach, if you want to route your input/MIDI controller through every instance of the instrument, and you can mix between each instance with the volume and pan sliders. The lower half of the interface features effects including: Filter, Distortion, Lo-Fi, Transient, Compressor, Delay and a Spatializer to shape the sound in more detail.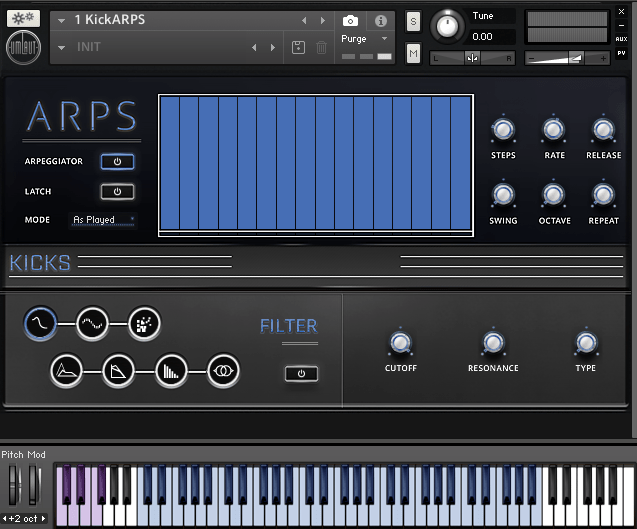 Usability
It's definitely worth watching a quick tutorial by Umlaut Audio on how to use the different features and controls, especially if you're less familiar with this kind of instrument, but overall it's so easy to use, to get good results, with such an easy to understand layout, there's not too much to say. Kudos to an instrument with a clean layout and a 100% user friendly experience!
Sound

This is such a good piece of software, to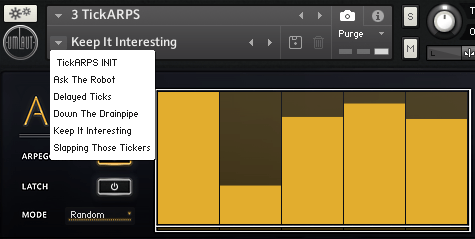 quickly get some nice sounding percussive beats, straight off the bat. ARPS is split into 4 instruments: Kicks, Mids, Ticks and Percussion (referring to the more lifelike drum sounds). Each instrument has 6 presets if you're not quite sure where to start, so overall you get 24 presets. It might have been nice to have a few more presets, but honestly they provide a good springboard to get anyone started, to then edit patterns, and change effects, and get the best experience out of ARPS. The playable range of the instrument can add a lot of dimension to the sound by using multiple keys at once, as well as the amount of variation that can be achieved from the effects panel.
Overall
So although I think the price is slightly steep, that's probably because of the cost of licensing anything to run with the free version of Kontakt player. At the end of the day if you need lots of percussive rhythms in your music, this is a very neat and effective instrument to add to your collection. The main problem it causes me, is that it makes me want to buy their "PADS" instrument too! You don't need to take my word for it though, you can grab a free trial and check it out for yourself!
Hear a short demo here:

LINKS
ARPS
We hope you enjoyed Alyx's review, check out others in our Reviews section. Don't forget to sign up to our Monthly Newsletter to make sure you don't miss out on our reviews and interviews. 
We're also running a Patreon campaign to make sure we can keep bringing you regular, high quality content if you're feeling generous! 
Thanks for even sharing! 
The Sound Architect