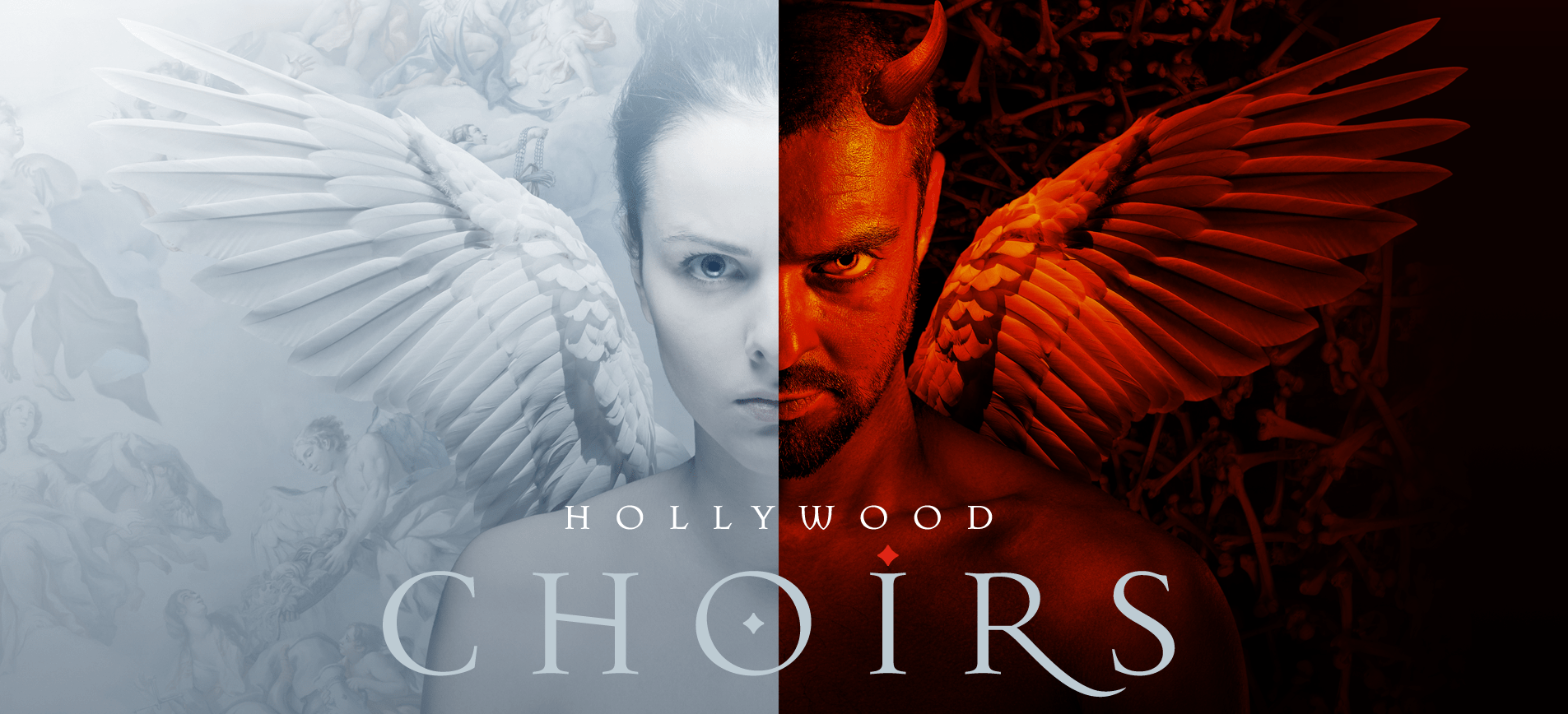 EastWest has released Hollywood Choirs, a new vocal virtual instrument.
Produced by Doug Rogers and Nick Phoenix, Hollywood Choirs is the follow-up to 1999's Voices of the Apocalypse and 2005's Symphonic Choirs, a best-selling virtual choir. Hollywood Choirs features a choir made up of male and female sections that will transform your next project into a cinematic masterpiece; together they combine to deliver dynamic and realistic sounds.
Hollywood Choirs features an improved WordBuilder plugin that allows the composer to type in any word or phrase and have it sung by the choir. It also includes 110 new pre-built phrases in English, German, and Latin unique to Hollywood Choirs, which can be effortlessly dropped into your mix or be used as a starting point to create even more custom phrases.
Hollywood Choirs Diamond Edition includes a 13 microphone-user- controllable setup (including a Neumann Dummy Head) designed for surround sound and virtual reality, which is particularly useful for film, TV, and game composers. The Gold X Edition, included in ComposerCloud X, features Main and Surround mixes. All purchasers of Hollywood Choirs and all ComposerCloud subscribers will also receive a free license to PLAY 6, the new and improved generation of PLAY that includes an instrument database search engine. This brand-new search engine will help you order ambien online usa quickly navigate all of the instruments in EastWest's catalog, by instrument, genre, and style, and allows you to save your favourite instruments and create your own custom descriptions.
"Hollywood Choirs is the third choir EastWest/Quantum Leap has sampled," says EastWest producer Doug Rogers, "we learnt a lot from the previous productions and Hollywood Choirs is the culmination of that experience. In particular, the choirs' ability to sing any word or phrase has been significantly improved resulting in much more realism; and there are many more sound options to enable the user to sculpt the sound to their requirements."
"In the past 12 years, there have been many attempts by others to improve on what EastWest/Quantum Leap achieved with Symphonic Choirs"; says EastWest producer Nick Phoenix; "Small improvements were made to various aspects of choir sampling, but the emphasis has been on pre-recorded and severely limited phrases. If composers are not tired of hearing the same faux Latin phrases repeated over and over, those listening certainly are. No single choir virtual instrument has managed to deliver a fluid, intuitive and great sounding choir that was capable of singing any words in any language, soft or loud … until now."
Hollywood Choirs is available for individual purchase ($599 for Diamond version, $499 for Gold version) and as a free addition for ComposerCloud subscribers.
Have you used Hollywood Choirs? Tell us about your experience with the new tool!
LINKS
Follow EASTWEST on Facebook and Twitter
More information on Hollywood Choirs
To stay up to date on more audio news, sign up to our monthly newsletter to make sure you don't miss out of news as well as our reviews and interviews.
We are also running a Patreon campaign to help support our team and help us bring you more awesome content at even higher quality!