Alyx Jones recounts her trip to this years EGX 2015! Read more below:
From the 24-27 September, thousands descended upon the Birmingham NEC for EGX, the UK's biggest ever video games event. Lots of the most anticipated new AAA games were available to play on hundreds of screens such as: Assassin's Creed: Syndicate, Star Wars Battlefront, Call of Duty: Black Ops 3, Just Cause 3, Rise of the Tomb Raider, Star Fox Zero and the new Tom Clancy titles to name a few. EGX also features a lot of indie games in the Rezzed section, with the indie leftfield collection backing onto it. We also welcomed the Indie Megabooth to the ever expanding world of indie games. There were lots of chances to try out various VR headsets and games, as well as a variety of panel talks from developers and gamers across the four days.
I was particularly interested to play Assassin's Creed: Syndicate since Austin Wintory was recently revealed as the composer for this title. It was also really exciting to get to play as the new character Evie Frye in the demo mission that had us climbing buildings in the streets of London and staging a kidnapping to get close to our target. One or two violins accompanied our journey, just setting the scene in a subtle way, while we took our first steps into industrial London. The new Assassin's Creed is set to be released on October 23rd.
After picking up my limited edition Assassin's Creed t-shirt from Insert Coin Clothing (yes I'm a fan girl!), I headed over to the developers sessions to see Mike Bithell give a Q&A (Sunday) since his recent success with Volume and his previously well known game Thomas Was Alone. It was definitely an interesting talk that touched on the importance of "riding the waves" of the current trends in indie games as well as the rapid advances in the industry keeping indie game developers on their toes. Bithell was quick to discredit his own advice as "out of date", urging those looking for advice to seek newer successes. Although honestly, is anybody really going to share their own secret to success?
You can watch the whole talk here (as well as many other developer sessions):
Since indies are my passion and fascination, I did spend alot of time around the EGX: Rezzed section. The indie game sector has grown this year at EGX, with the main EGX: Rezzed Booth, the Leftfield Collection (sponsored by SEGA) and the addition of the Indie Games Megabooth all available to indie exhibitors. There's alot of cool games here, but I want to mention a few that caught my attention.
The game Just Shapes & Beats was really fun to get stuck into with 3 oth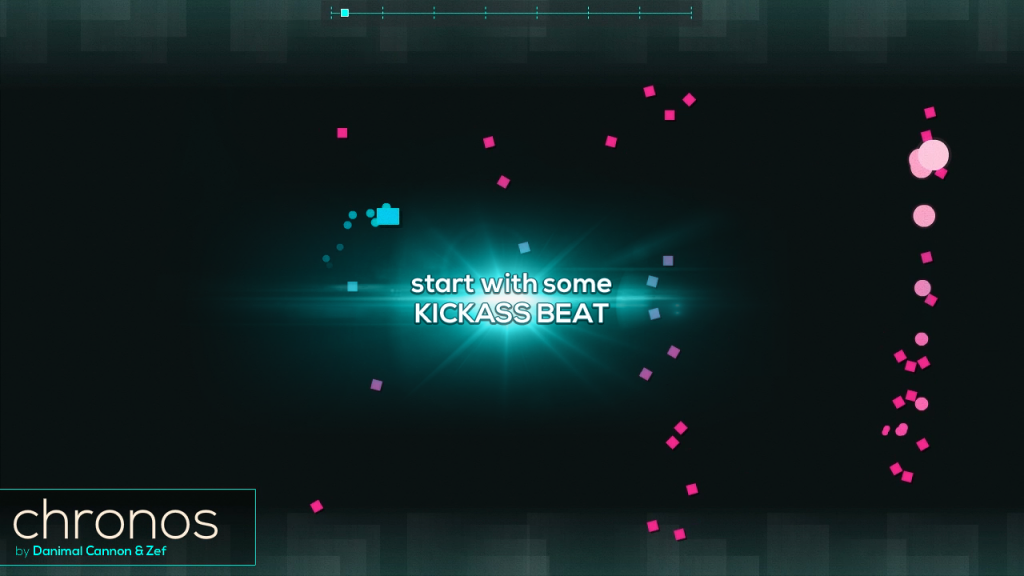 er people, we managed to get through the demo levels by saving each other and conquering this music driven game. I had a quick chat with one of the developers who told me the game was completely designed around the music. They took a track they liked, got permission to use it and created the level completely based on the track; all artwork, mechanics etc. It's a really cool, innovative way to approach a games level design, definitely check them out!
Another game that takes an interesting approach to audio is Super Mixtape. It is described as a 2D retro-fuelled, rhythm-based platformer with a fully reversible world. You play as a cassette tape who can flip and tumble its way around this strange world. The D-Pad gives you options to switch between layers of the current track that's playing. Doing so alters the music as well as the environment, certain coloured platforms are only activated when a certain type of music is playing. It's a curious way to us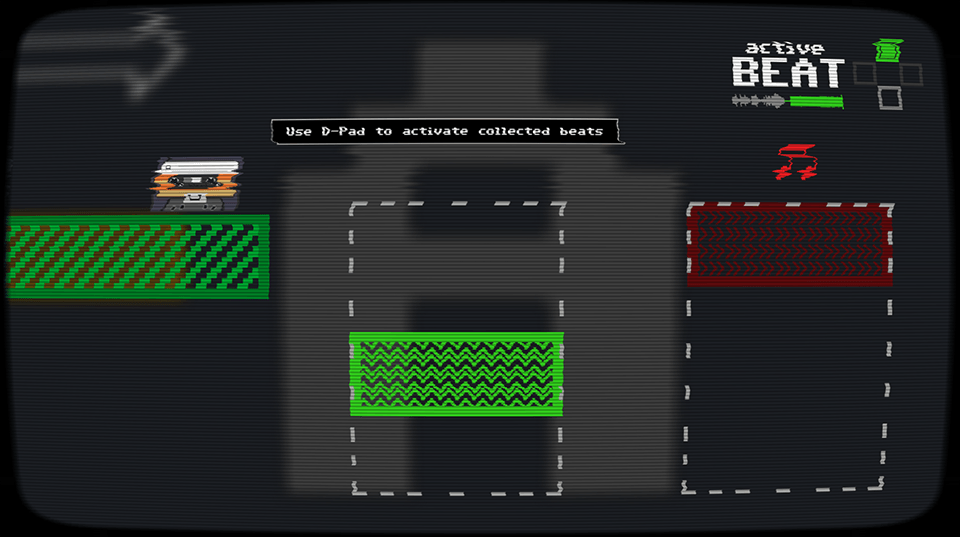 e music as a game mechanic to alter the environment and is very effective once you get a hang of the movement/tumble controls. Another one to watch for the future!
Memory of a Broken Dimension is the last game I want to mention just as I was very intrigued by it simply because I had no clue what was going on. It features a monochrome world where the world is constantly flowing made up of thousands of granulated pixels. When you hold still for long enough the world starts to form solid shapes and you can just about make out the walls, floors and pipes that make up your surroundings. It was very much like looking into the "Matrix" for me and the dark ambience created by drones in the soundtrack reinforced this strange, surreal experience. It seems to be an exploration based game that gives you no instructions other than some vague emails to open on the menu screen. It will be curious to see what this game is about and how we've ended up in this weird place!
With EGX: Rezzed set for March next year it might be a while before we see some progress on these in-development indie's but hopefully it will herald a return and progress! That's it for this year, if you're feeling the post-EGX blues, tweet us at @SoundDesignUK and tell us your EGX highlights or games that caught your eye!
Alyx Jones
Sam Hughes also caught up with Andrew Bennison and Matt Griffin of Prospect Games, to chat about their game, UNBOX!
Welcome guys!
AB: Hello
MG: Thanks for having us.
Let's dive straight in, how did the process begin when you were starting to prep the audio for Unbox?
MG: Well I started with a Foley session and a cardboard box. I managed to get into a recording studio, SSR, which is near our studio, and started throwing the box at the floor while pointing a mic at it. It's pretty much as simple as that! I knew we were going to need a lot of box impacts because the whole game is a tumbling cardboard box. Yeah I spent 6 hours or so just throwing a cardboard box at various surfaces, and seeing how it sounded. It's actually quite dull at first, you need to mess around with mic placements. I thought Little Big Planet did a great job of it on the first two games. Kenny Young did a really good job on that, making something quite dull sound quite lively and interesting. So yeah that was my first port of call.
How did you make it sound fun and interesting after realizing it was kind of a dull sound?
MG: Well a combination of all the sounds. We've talked endlessly about the box movement, audio and the mechanics of that, we were originally going to build this whole system, for making it sound much more dynamic, the flat surface of the box hits a surface and it would create a different noise on a corner. We actually created something a lot more simplistic, but really it's the fact that the box movement is the core of the noise around everything else. When it's hitting different surfaces you get different noises and there's always music and explosions going off anyway.
AB: We've always talked about creating sounds that are realistic, but not boring, realistic. It's got to be exciting, sort of comical but also grounded. But until you came on board, it was pretty much a mass of copyright infringements, pulling audio from anywhere, always putting it off, like oh we'll find someone, somebody will replace it. Finally Matt came in and pointed out that you can't just take other peoples audio, which we obviously weren't going to use!
MG: That's what I love about this industry, it's amazing, the in depth, long talks you can have about the sound of a cardboard box.
AB: We've discussed it for hours, prototyping. We were going to have something inside the box at one point, we were going to have it holding some rubbish and then it didn't communicate very well to the player so we just kind of stuck with the impacts and then we had the different surfaces system in place now. A lot more connected to the box as the player.
In terms of the audio system, is there anything particularly interesting you've done with Unboxed that you haven't done with another project?
MG: gain, it would be the box. I can't think of another game where you play as a cardboard box. There's a lot of physicsy stuff in there, so, using a lot of parameters within Fmod to trigger different sounds. A light, medium and heavy impact for each object, and then the pitch and volume automated depending on the velocity of the object hitting the ground. There's a lot of stuff you can bang into it, I've got an awful lot of work to do still.
AB: It's early days, it really is a case of visually it's very visceral, with all the explosions and bouncing into surfaces and falling off huge cliffs and towers, the audio really needs to match that. A lot of people are using Fmod in games, but in Unreal 4 we seem to be one of the main independent teams using Fmod.
It always seems to be Wwise with Unreal and Fmod with Unity. Have you found any reason why that might be?
MG: No I mean we have a couple of problems but the guys at FMOD have been really good, especially considering they're in Australia. It's quite hard to communicate with someone on the other side of the planet.
AB: I think it's also because Unreal is relatively young.
MG: FMOD has only been doing support for that engine, integration wise, since, November, so there's still a couple of teething problems and we've got over all those now. I really enjoy using the programme, I think it's awesome, incredibly powerful, and limitless what you can do.
AB: GX has also been our first showcase for the audio side of things, along with the new worlds and levels, we've got a lot of good responses of people saying it sounds great, putting the headphones on.
MG: It was breaking my heart. I was putting lots of last minute tweaks on the audio, and people leaving the headphones off. We're always an afterthought aren't we? Like when people play mobile games and leave the volume off.
As Captain of the ship Andrew, it sounds like you've had audio in the back of your mind for quite a while from the start. That's good for someone of that level to be thinking about audio in advance.
AB: I didn't want to leave anything to the last minute. I've worked on a lot of games before. We actually worked on a Left 4 Dead mod back in the day. So with that, we already had the underlying principles of the game made, it meant audio was a lot sooner, we started making custom tracks and started doing voice acting. I realized we were going to end up in a situation with an independent team, with small budget, small time scales and if we don't start working on, not just the music, but more importantly, the sound effects, earlier on; then it's going to be this mad dash and sound horrible. So because of all that I knew I needed to get Matt on board as soon as possible really and start getting stuff figured out.
It's good that you knew that, a lot of indie developers find that out later. When you go, right, now audio, it becomes a bit of a race, it's good you've had him on from the beginning. So you're doing the music too?
MG: Yeah, yeah. It's a lot of work. It's the first title I've managed to do a full composition for. Again with FMOD, I'm trying to make it as interactive as possible, even with really old games like Banjo Kazooie, you still have that interactivity like when you move area and the instruments switch, it wouldn't miss a beat but completely change the feel of the area you're in. We're trying to reflect that as much as possible. It's a bit difficult with digital audio. That would mean having a lot of tracks going off at once. We're trying to make it interactive, give the player feedback, really enjoying doing the music. The relationship between the sound design and the music, leaving holes in the EQ, it helps a lot, me doing it all.
We can tell a lot has changed since we saw you earlier at Rezzed this year. When is the target release date?
AB: We're aiming for PC release in May 2016. Beyond that, a lot of people say it's a couch based game. Nothing's confirmed yet, but we'd love to see it on Xbox and PlayStation. We've got to take it one step at a time; we're an indie team with a small budget, not trying to go beyond our remit.
Don't run before you can walk.
AB: Exactly, it's a long tailed game. We've got to make sure Unbox is in everyone's minds for years, being able to stagger those releases will help that.
The best lesson you can learn, is patience, people have got to remember, it's the long game you're playing, not just "quick make a game, throw it out there".
AB: A bad game will be easily forgotten, if you delay a game, people will always remember it.
MG: That definitely applies to the audio too, I was keen to get started but until we had the worlds, and the levels made, if you don't have a world or storyboard you can't start making the music for it. So we tried out different musical variations, the music has changed quite a lot since the start, it was a lot more Jazz orientated.
AB: We've realized the difficulties of getting that to work, now it's taking more of a tropical, steel drums, calypso vibe. That really came about from patience and taking our time with it.
MG: Doing 10 drafts of a track where you finally agree.
AB: Yeah there was a lot of me like Nahhh, it doesn't feel right haha.
There's also the multiplayer feature too, how's that been?
MG: Multiplayer is a different beast to single player. It's about trying to help the player make sense of the chaos; there's constant fireworks and explosions. It's about trying to use ducking points in the mix tell them what they've been hit by, when they need to get out of the way. Multiplayer is a totally different animal.
AB: I think we struggled with that for longest, because we were used to audio that was tied to the HUD, and it doesn't quite work with split screen. If an audio notifier isn't specifically tied to a visual, no one knows who that noise is directed for. We also had fun with multiple listeners, we spent quite a while with only one audio listener so player one could hear all this amazing audio. It was figuring out the setting in Unreal and FMOD, teething problems, then we started to figure out the more we played, the more split screen should be balanced. There's not that many points of reference, for the last few years, most are online.
MG: Yeah it was a good excuse to get some older multiplayer games out.
Getting some Bomberman out?
MG: Definitely!
Awesome well all the best and thanks again Matt and Andrew!
AB/MG: Cheers!
LINKS
Official:
Twitter:
Facebook:
We hope you enjoyed the event check out others in our Events section :). Don't forget to sign up to our Monthly Newsletter to make sure you don't miss out on our events and interviews. 
The Sound Architect