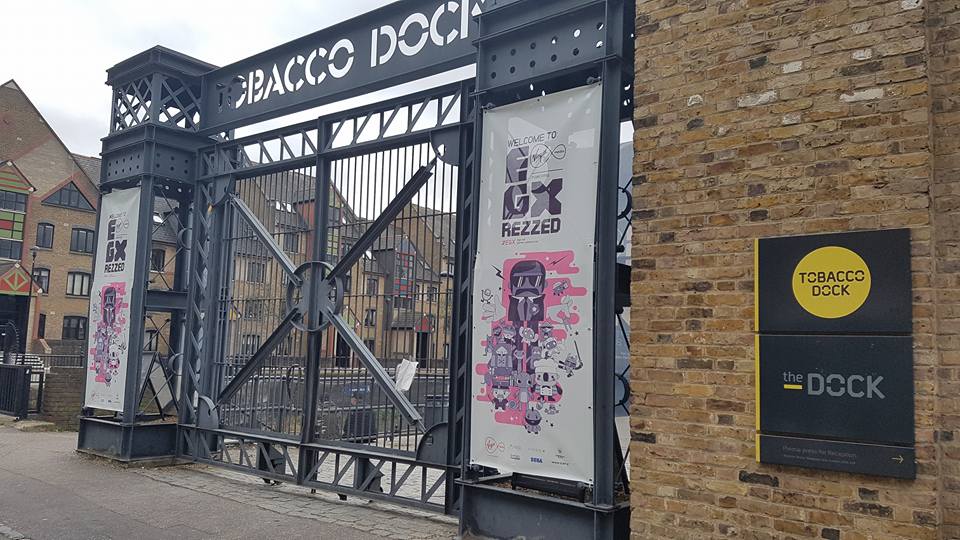 Article by Alyx Jones & Katie Tarrant
EGX Rezzed came back to Tobacco Docks for 2017, drawing massive crowds and a sold out Saturday! Rezzed brings together all of the best up and coming indie titles, including a massive indie section, the leftfield collection and BAFTA games section, with hundreds of exhibitors in rows and rows of amazing new games! We bring you our game audio highlights day by day, if you want to see our favourite game picks from all 3 days click here!
Thursday
Alyx: The Thursday at EGX Rezzed is always a slightly more chilled out day, with slightly smaller queues, to get behind sought after titles, with a relaxed feeling about the day, as everyone gets into the swing of things. Ken Levine kicked off the talks and panels for the day, at The Developer Sessions, talking about his own love for games and setting up a studio. Then a session about help getting tax relief as a video games company followed shortly, on the other side of the building at The Rezzed Sessions. There sadly weren't any game audio specific talks over the 3 day event but we managed to pick out a couple of times it was mentioned amongst the talks we attended!
At 1.30pm there was a panel over at the Rezzed Sessions called "It's Dangerous to go Alone: Making Games for Nintendo Switch". Phil Duncan (Overcooked), Shaun Roopra (De Mambo) and Kevin Andersson (Flipping Death) discussed what it's like developing for the Nintendo Switch as an indie developer. It's still a slightly closed off process for indies to get to develop for the Switch at the moment but when asked about audio, the panel agreed "Often the audio is more important than the visuals", highlighting the importance of good sounding games, even on a small budget!
Friday
Katie: Friday was naturally busier than Thursday but still quieter than the unsurprisingly sold out Saturday. There was a fantastic vibe in the Tobacco Dock that stayed live throughout the day. Despite spending the majority of my day solely playing games, I still found myself only covering a fraction of what was actually available to see. My first port of call was The Town of Light from Wired Productions, a game I had seen numerous snippets of online and was eager to explore for myself. I found myself playing for over half an hour, immersed in the game's unique environment that is based on a real-life psychological asylum in Italy.
There were some fantastic games on the multiplayer front and one I particular enjoyed was Blockships, a 4-player game in which players must build the biggest baddest ship they can whilst simultaneously taking out their enemies' ships. It's fast-paced, enjoyable and requires quick thoughts and fast actions. With every player for themselves, it can make or break friendships but thankfully our rounds ended with nothing but laughter, and I was overjoyed with the huge stick of rock I was awarded for becoming the overall winner!
On an important note, it was wonderful to see how many developers invested in the marketing of their projects. Another game I played, Dead End Job from Ant Workshop, had a ghostbusters-esque concept where you saved your workplace from aliens by shooting them down and hoovering them up when they were dazed. As part of the promotion, developers were handing out workplace ID cards in lanyard holders and small finger puppet monsters which I thought was a nifty and memorable way for them to capture the interest of passsers-by. Additionally, Ruby Rei, a game designed to teach players new languages, also had a giant cardboard cut out of their main character Ruby which did well to make their booth stand out amongst the crowd.
Back to gaming, a fast-paced favourite that I stumbled across was Caromble from Crimson Owl Studios, a modern brick break game with a unique art style that almost reminded me of Borderlands. The game crossed a wild range of level designs and the collection of power ups, add-ons and difficulty progressions ensured it was always engaging to play. The difficulty system that was included was great, in that you could go from casual play to button-mashing madness and the game would only ever rank your score for the difficulty you were playing at, meaning those who were less competitive, preferred calmer game-play or were even less-abled could still enjoy the competition and climb the ranks without having to worry about the harder levels.
The standard 6 0'clock closing time saw things quietening down and people migrating on to any post-convention social events, including the EGX after-party which kept the buzz going until Saturday morning rolled around!
Saturday
Alyx: The last day of EGX Rezzed saw a sell out, as exhibitors started to look a little more worn and the crowds picked up as the weekend hit! There were some great talks such as "The Saga of The Banner Saga" and a Yooka-Laylee playthrough with Playtonic ahead of their release in a few weeks. Audio did seem a bit overlooked in the sessions available throughout EGX Rezzed, but we tried our best to listen out for any game audio tips and advice that got mentioned, even if it wasn't the focus of the talks!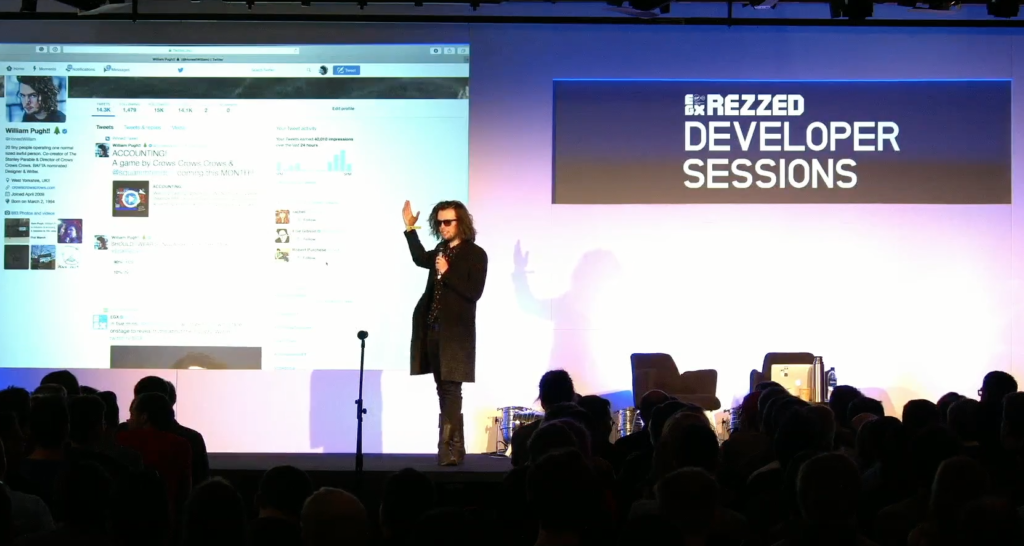 William Pugh returned after his first 18+ talk on Thursday, but this time for a Q&A session, hosted by Phillippa Warr, in the hope of giving some insights into game design from Pugh's perspective. They started to talk about the importance of different aspects of gameplay, such as the sound design, where the "audio opens up" as you move into a certain space, that are designed to be subtle emotional cues. William Pugh says that alot of his inspirations were games like Dear Esther (The Chinese Room) and Radiator (Robert Yang), where the games are essentially just environments, where dialogue plays and it made him realise that "You don't need a big production team to make a game that is emotionally touching". I asked how important audio was, in his own creative process and he answered: "Most of the games I've made require a central voice, a guiding narrator" and how important it was for him to have this early on in the process even if it was just temp dialogue or getting a friend to record some narration for him. For Stanley Parable they used a lot of room tones, ambiences, footstep sounds and door openings from Half-Life 2 and Portal during development rather than taking the time out to do foley work, it was important for them to put sounds in as early as possible and then iterate on that.
Katie: Saturday was everyone's last chance to play or re-play their games of interest, albeit with some slightly bigger queues to contend with along the way. Although despite being sold out, the event never felt over-crowded which was an important factor in ensuring everyone present got a chance to try what they wanted.
White Paper Games' The Occupation was another game that I found myself lost in for much longer than I anticipated but the thing that I loved the most was that the team had a dedicated computer set aside to show people behind the scenes features of the project, such as how certain textures or animations were made, and even some insight into the audio! Audio designer Nj Apostol was generous enough to sit down with me and go over exactly how aspects of the audio had been recorded and implemented in to the game. Many people seemed to be benefiting from the ability to see the game's development under the surface and it was a wonderful thing to see the entire team so driven about sharing their knowledge with others.
I also got to check out the highly popular Gang Beasts, a comical multiplayer fighting game in which you play brightly coloured gelatinous characters whose only goal is to wrestle one another off of various ever-changing environments. This was followed by a final observational lap I did of the venue purely to absorb everything that was taking place, including ID @ Xbox, Unreal Engine, BAFTA, Square Enix Collective, SEGA, Nintendo Switch and so much more. EGX Rezzed is always full to the brim with an incredible amount of talent and wonderful people to connect with. Three days is always the perfect amount of time to get a strong look in to what's current in the games industry, and it's always a pleasant touch for the convention to wrap up on the Saturday so everyone can take Sunday to recover!
LINKS
Official
Twitter
Facebook
We hope you enjoyed Alyx and Katie's review, check out others in our Reviews section. Don't forget to sign up to our Monthly Newsletter to make sure you don't miss out on our reviews and interviews.
We're also running a Patreon campaign to make sure we can keep bringing you regular, high quality content if you're feeling generous! Thanks for even sharing!
The Sound Architect