Review by Andrew Overfield
Edited by Sam Hughes
Developer: Fracture Sounds / Will Bedford
Reviewed on: Kontakt 5.5 / Mac / Logic Pro 9.1.8
Granulate 2 is a reboot from Fracture Sounds, with many new features added that were sought after in 1.0. It is an audio manipulation engine for use with Kontakt 5, that allows for powerful granular manipulation to transform any audio file into a range of pads, drones, textures and rhythmic sounds.
There are four areas of Granulate 2 I want to focus on for the sake of the review. The interface, the usability, the value and the overall sound. The aim of this review, is to analyse the product and check its performance in an out of the box scenario for new users.
Interface
Granulate has developed a lot since I got my hands of the very first build. By loading up a preset sample, you will be greeted with a simple and self-explanatory screen to start. Your audio file or sample sits in the very centre, giving a clear visual indicator of where the current grain is in the file and a real-time indication of what's happening with the sample. I was a tiny bit overwhelmed when I first loaded up Granulate, however, bear in mind I've not delved much into the world of synth, let alone this new variation of granular synthesis. It didn't take longer than five minutes tweaking the knob icons to figure out what I was doing.
A clear Sample Tracking box, holds the information of where the sample will begin within it's locators, how fast the trigger will move through the sample and a randomiser to alter the random cursor effect. These settings can also be reversed in most cases. Your standard Attack, Delay, Sustain, Release are provided with the option to use velocity to control the dynamics of the sample. Now here's the fun part. Your first window alone will allow you to alter the behaviour of the grain pattern and it's parameters to suit your taste. This includes a tempo sync, the shape of the grain, panning, tuning volume and length. Before I continue, I'd like to offer an insight into what the grain is. You will notice upon loading a sample that it is split into very fine chunks, these are your grains. As opposed to having a filter or effect throughout the entirety of the sample, Granulate splits the sample into grains which can all behave differently, and to a random effect as you desire. The benefit to this is the ability to gain much more control over your synth. This has its counterbalance of using more CPU to render this, however the pros definitely outweigh the cons. A nifty press on the Modular Routing key at the bottom will then allow an overlay over each setting to allow control over the modular routing for each knob. There's also a cheeky chappy at the bottom with it͛s own button; CPU Friendly Mode. I'll admit, I'm not 100% sure what the button does in terms of memory usage and hunger, I can happily say I didn't need to use it, and that's sitting on a late 2012 MacBook Pro with 16GB RAM running the entire program from an external standard HDD.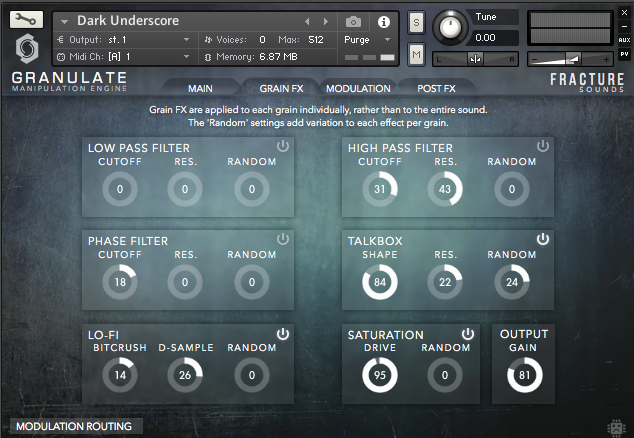 Further down in the front page, you͛ll notice slots for up to four different samples for yourcurrent granular synthesis patch and a master controller. The master controller is pretty self-explanatory. For the purposes of this demo and review, I left the master controller alone to see what sort of default sound I got. Going back to the top of the page you are offered four different tabs; Main, Grain FX, Modulation and Post FX. Each of these are also independent from each other and operate each different sampled slot in a singular fashion. Can you see where the fun is yet? You are essentially able to completely manipulate to your taste, up to four different audio samples independently from each other to create your own sounds. And yes, this even includes the ability to manipulate the provided preset samples. This helps to offer straight out of the box, the ability to create something unique and individual by simply playing around with knobs and buttons.
But Granulate is much more than just that. What do I like about the interface? It's simple, it's clean. It follows the very same format for every sample slot and the colour-coding of the modulation routing to the modulation tab allows the user to quickly snap to where they want a particular LFO to operate and what is assigned to it. No longer are you worrying about whichport you have assigned to which LFO, or how much tweak you've placed on a signal chain by tracing your steps. Everything has a colour you can relate back to with ease. The distinction of the text from the background is clear and there's a complete lack of jargon. I believe even a new user, without any prior synthesis experience will learn to understand the format of the engine very quickly. This will allow a much better learning process of the engine and ultimately a better workflow. What didn't I like about the interface? In some very small, (and I mean only one or two occurrences) the sprites for the knobs would overlay the Kontakt Player settings when I was loading in one of my own customer samples. However, a quick tab out and back into the project sorted this. I would put this down to potentially the way I was running Granulate and not using the CPU friendly mode possibly.
Usability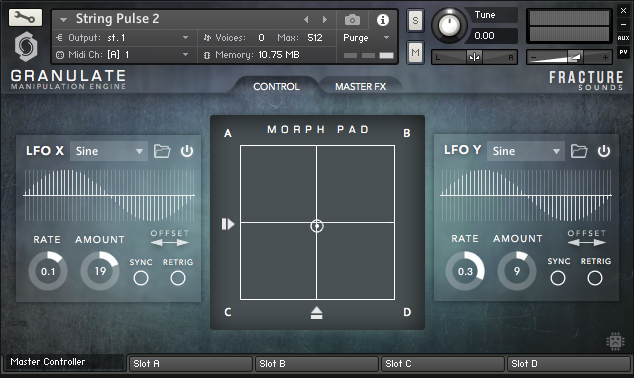 This pretty much echoes my thoughts on the interface. I did have some trouble in 1.0 loading a customer sample into the engine, however a short Skype session with Will (who was extremely helpful) gave me a wonderful insight into how this works. I do believe there are YouTube tutorials available also which I should have checked first! From an out of the box point of view I can't fault the usability. When loading a preset bunch of samples, whether it be percussive or tonal you are all set to go. With the option to tweak as much or as little as you can you can start working with the engine without delay. It's also very easy to monitor the progress of your current sample selected as everything operates in real time. As a note or sample is played, the faders, knobs and other settings show their current working process. Which makes the workflow easy to pinpoint any adjustments required.
Value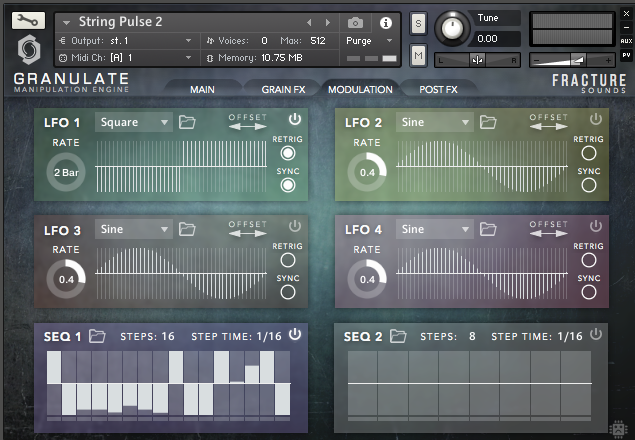 Let's discuss whether you may get a bang for your buck or a crappy sparkler. The current Granulate build offers just shy of 500MB of samples and presets, which by todays standards doesn't sound much for a sample library. However there's a twist. You are given the samples as singular files, meaning you can also use these to create your own 4-slot presets without even thinking about adding your own custom samples. You also get two variants of the Granulate Engine, a Quad variant allowing you to create the 4-sample presets or the Solo variant allowing you the use of a singular sample on its own. There may be times when you don't want to use four different samples, and instead of opening the larger Quad version, you can streamline your processing power by using Solo. This is a big bonus in my eyes as it allows me to monitor single sets of samples and have them labelled individully in my DAW. In my example exercise I created some simple monster type sounds using my voice. Pitched them, a little EQ and compression and labelled them individually as things like Monster Downer and Monster Riser etc. You will hear some of this in the short demo I wrote; Granulunderscore (yes I know, very original right!?). So not only do you have the flexibility of using as many or as little as the presets provided, you have a limitless array of samples you can create and use yourself. Allowing that individual touch which all producers and composers want for their compositions, especially when working in the box.
*At time of print, Granulate is priced at £39, with a £29 introductory price.
*Owners of the first incarnation of Granulate will be granted with a £25 coupon to redeem.
Overall Sound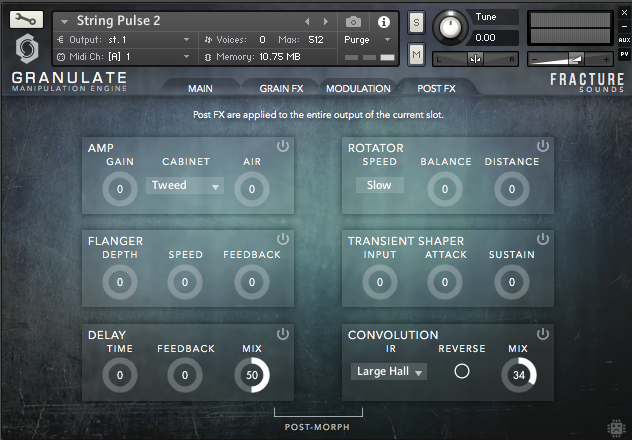 It's hard to say whether or not this engine sounds good or bad because it's entirely your choice. You create and sample whatever you like to incorporate into the engine and play to your hearts content. That being said, the Granulunderscore demo I wrote (which is 100% Granulate too) is aimed at writing something with the provided presets and playing straight from the word go. I added a small number of my own samples to the demo (pitched monster growls and such) to help create my own risers and downers for transitional purposes. The mix you hear in the demo is virtually completely dry. All I added to the mix was a tweak of compression and reverb to sweeten the deal. I made sure to keep every instance of Granulate as natural as possible to get a clear indicator of the quality of sound to expect. This has turned out very fruitful and I'm extremely happy with the pre-loaded sounds. The only warning I must advise is that if you are using your own sampled audio, make sure the quality is good. Any misplaced nuances or bad audio can be picked up very easily by the engine as it splits it into grains. This isn't an issue if you have good clarity on your samples. But if you are using something a little more raw, then I'd advise cleaning the audio up BEFORE adding it to Granulate to avoid the confusion later. Like I said, it's not a big deal for anyone meticulous enough to make good quality sampled audio.

Conclusion
Welcome to the world of granular synthesis. In fact welcome to the world of synthesis! Granulate is ideal for someone (like me even) on the cusp of synthesisers and LFOs to get their teeth stuck in without worrying about routing paths and chains. It͛s an all-in-one engine that allows you to manipulate pretty much any sound you can think of, accommodating melodic, percussive and atonal sounds to incorporate into your composition. The installation process is smooth and as simple as loading the library up to be prompted for the path to the license file. That's it! The sleek, colour-coded interface makes it very easy to navigate from LFOs to step sequencers and helps you easily identify which effect module is operating which sound.
The support is second to none. Every time I've messaged Will at Fracture, I've gotten a response in no time at all and if particular fixes have been needed, he's been accommodating to me as the user. It's very low-priced for the amount of options you have available.
Considering based on your tastes and efforts, the library has an infinite amount of possibilities of sounds and tones. I would say for anyone wanting to experiment with granular synthesis or anyone wanting to get into digital synths then this puppy is for you. It's easy to fire up, use and get working with straight away with a clear aesthetic feel to help you understand the path of your sounds-to-be!
LINKS
Andy's Demos
https://soundcloud.com/andrew-overfield/granulunderscore
https://soundcloud.com/andrew-overfield/cant-sleep-a-granulate-demo
Fracture Sounds
We hope you enjoyed Andy's review, check out others in our Reviews section :). Don't forget to sign up to our Monthly Newsletter to make sure you don't miss out on our reviews and interviews. 
The Sound Architect