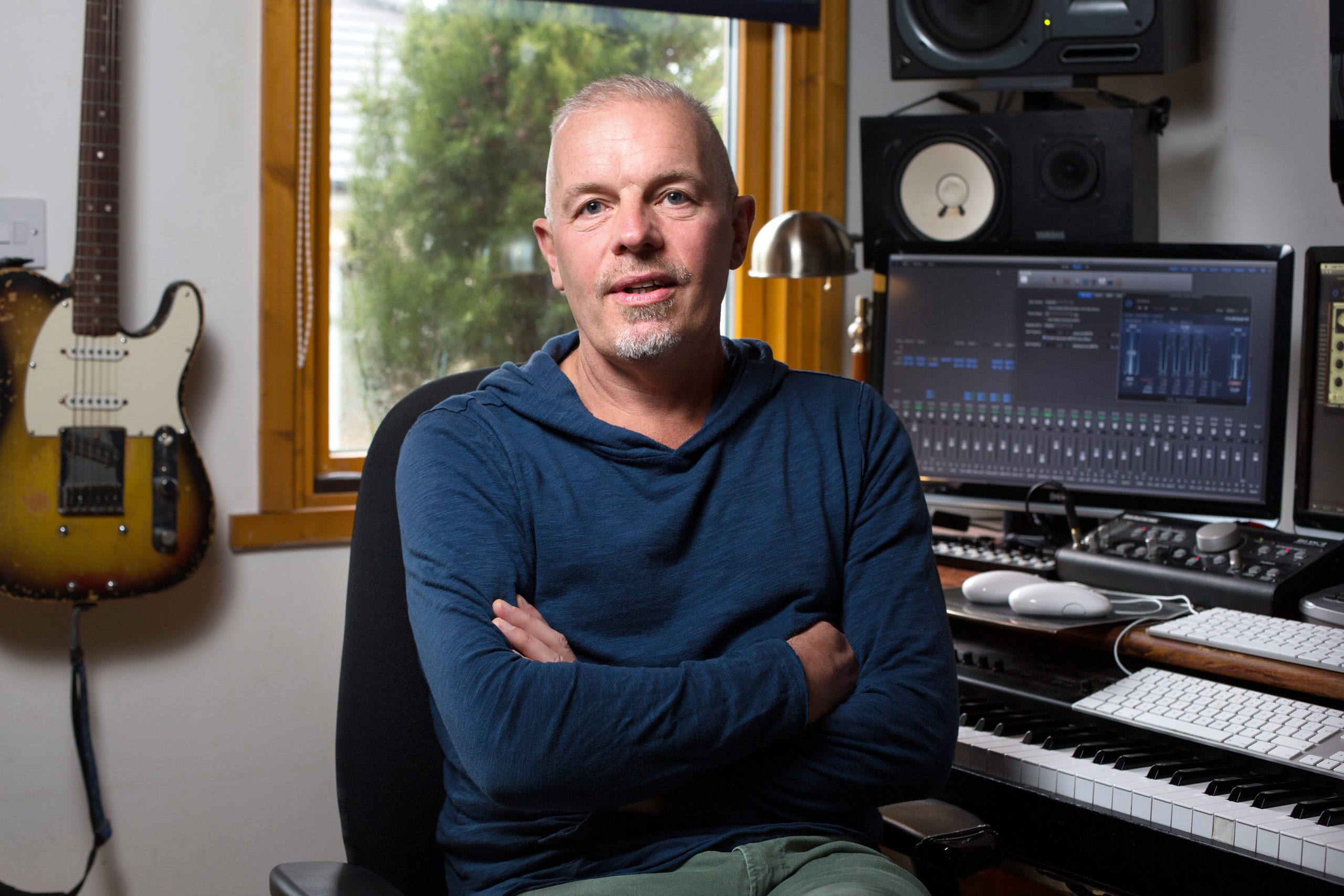 Edited by Katie Tarrant
Damien Walsh speaks to the legendary Film & TV Composer Ray Harman about his work on the multi-award winning film The Young Offenders and gets some very interesting insights into Ray's life in the business. Ray's most recent work includes the Feature Documentary The Farthest directed by Emer Reynolds, the F1 Documentary Crash and Burn directed by Sean O'Cualáin, and A Dark Song, directed by Liam Gavin, and currently in cinemas.
Can you give us a little insight into your path to becoming a composer for film and tv?
I started as a guitarist, self taught, in a band called Something Happens in my late teens. We were moderately successful in a period that was good for college circuits, lots of gigging and tour support from a record company that we were lucky enough to sign with. Great fun. Then, as we lost record and publishing deals, we looked around for day jobs and I assembled office furniture for a while until I (and my wife Sinead) figured I might be able to make composing work for TV, film etc.
I did a lot of unpaid short films and was extremely lucky to get a series of early breaks from film makers; Emer Reynolds, Alan Gilsenan, Niamh Fagan, Robert Quinn amongst others. These talented people were all working on low to medium budget films and took a big risk with me. The early results are mixed but it was a huge, valuable, stressful learning curve!
At the same time, I worked on a radio music quiz show called Vinyl Curtain where, one day a week, I had to arrange and record four famous songs in the style of another artist for the guests to puzzle over. So one week it could be The Jacksons ABC in the style of Neil Young, or The Wombles tune in the style of Anton Karas (The Third Man), or Elgars Nimrod in the style of Queen. Yes, they really were as feckin' bonkers as that, thanks to the question master and late genius George Byrne. That show and the intense work and reverse engineering were a hugely valuable college for me. I have no formal training so I picked up stuff where I could. Another great (free!) tutor for me was Pat Fitzpatrick, the hugely talented session pianist who played with Something Happens and was selfless and generous with his musical genius. So, I stumbled from gig to gig really. I said yes to everything – still do!
Your most recent success was the multi-award winning feature film The Young Offenders. I've listened through the score and really love the thematic development and instrumental variation. What did the initial music brief from the director look like? Did he use temp music for example?
Peter Foott, the writer and director of The Young Offenders called me about 6 weeks before the film was due to be mixed. I was doing a school drop and he said he would send me the trailer to watch. When I got to see it, I emailed him back and said that if he dared ask anybody else to score it, I would hunt him down. The 3 minute trailer had enough gags for a full feature. Hilarious, still is. Peter had very carefully temped the film, but with music that he wasn't attached to from various libraries and other sources. The important thing was that the temp worked for him in a very specific tonal way that we had to achieve and improve on. It had to be upbeat, innocent, cocky, and reflective of the type of music these two kids listened to. Peter repeatedly said that if we nailed the tune that they danced to in the alley way, the rest of the score would come from that. He was right. I spent most of my time trying to nail down that sort of cue, basically a 'Jumpstyle' riff that would easily transfer to an arrangement for a small string group.
I tried many different versions, often playing them to Peter over Skype and not getting the right vibes back. Then one morning, literally shitting myself, I bashed out the theme tune with minutes to spare before Pete's scheduled call. I played it to him and could see immediately that he knew it would work. One of those moments of gaping, yawning horror turned into success that everyone has now and then. So when we had that thumping, 140 bpm 'Jumpstyle' tune, it just required maybe 3 or 4 more secondary themes that were easier to come up with. I recorded/mocked up everything in my home studio and we augmented the string parts with some great student players in Cork. Comedy is one of the harder things to score. The correct tonal balance is really tricky to get and timing and spotting has to be incredibly precise. It's great fun though!
As a full time composer I'm sure that you are creating massive amounts of music on a yearly basis, how do you manage this with regards to tracking royalties of music that is out in the public domain and also data management, do you use some kind of software for this?
Pretty much all the music I write is attached to a specific show and that music is documented and logged on cuesheets which are part of the deliverables for those shows. So there is a clear tracking path. I haven't felt the need to use publishers or software yet though I'm sure waveform tracking software is a smart thing to do. I would like to avoid publishers [for] as long as possible.
Networking and finding projects is a massive part of being a composer, what methods worked best for you when starting out and building your client base?
Even saying the word 'networking' makes me cringe. Most of the connections a composer makes come from their peers, natural social groups and people they would naturally connect with, who have a shared passion for the art of storytelling in film. So I would say that you just have to be yourself and buy generic levitra online seek out like-minded people and your natural affinity will set you up when you bump into the right people. Speaking for myself, I just sent out CD's, made phone calls, and hustled a lot. I suppose in hindsight, I was quite forward but I don't think it's a bad thing. Film makers generally will be happy to have a list of people to call on, so they won't mind you making contact and keeping in their eye line, as long as you are not pushy.
Can you give us a typical day in the life of Ray Harman?
I work from a home studio so my day starts either very early before the family wakes, or later after they have gone to school and work. Generally, the first thing I try and do is write something. It's often shite but the process helps get me going and the odd time I get something useful! Invariably then I have some specific cues to finish or tweak. This might mean writing a new cue to fill a hole or re-arranging a cue for a TV version of the film which might be shorter and will involve hair pulling cuts and edits and tricky tempo changes. I find that most days feel a little frustrating but the arc is in the right direction so that by the end of the week I've achieved, hopefully, more than I thought.
Any tips for The Sound Architect listeners who are looking to forge a path in writing music for all kinds of visual media?
I can only tell you the important things that worked for me, I guess:
Write a lot.
Say "Yes" to every gig
Try to spot niches that might work for you. This is more important everyday.
Get a good system going, e.g templates, workflow that will allow you to work fast.
Do lots of projects with your peers, unpaid. Your peer group who can't pay you now will be the same group who will make TV series and big features in the near future.
Write a lot.
And finally, if you could have a drink with any musical artist dead or alive, who would it be?
Dead, Igor Stravinsky. He would wake up wondering why there was a dribbling Irish guy staring at him.
Alive, The Posies, the only other band I would like to have been a member of, circa Frosting on the Beater.
LINKS
Official
Twitter
Facebook
We hope you enjoyed Damien's interview, check out others in our Interviews section. Don't forget to sign up to our Monthly Newsletter to make sure you don't miss out on our reviews and interviews.
We're also running a Patreon campaign to make sure we can keep bringing you regular, high quality content if you're feeling generous! Thanks for even sharing!
The Sound Architect