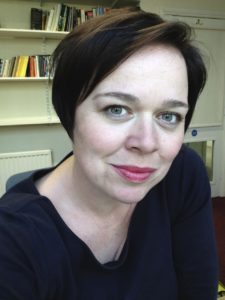 The Sound Architect had the pleasure of catching up with composer, Jessica Curry. 
Jessica is a BAFTA-nominated composer and Co-Director of The Chinese Room. She spends much of her time writing music that makes people cry. She was responsible for the Dear Esther score (for which she won Best Audio at the TIGA awards, a G.A.N.G. award – as well as being a finalist for Best Audio at the BAFTAs, IGF Excellence in Audio and the Music+Sound awards.)
Her Amnesia: A Machine for Pigs score received a hugely positive reaction from fans and critics alike. The game won Best Audio at the TIGA awards and is currently a finalist in two categories in the Music+Sound awards and at the SXSW Gaming Awards (Best Audio.)
She's now working on The Chinese Room's forthcoming PS4 title Everybody's Gone to the Rapture and she still can't quite believe that she gets to do what she loves every day. Other organisations that have tolerated Jessica's sad music in the past include The Royal Opera House, Welsh National Opera, Arts Council England, PRSF, Prix Ars Electronica and The Royal Society of Arts.
Jessica will be speaking at the international video game music conference Game Music Connect 2014 in London on September 24. www.gamemusicconnect.com
Read the full interview below: 
Firstly I'd like to say thank you for speaking with The Sound Architect Jessica, we're very happy to have you, it was great meeting you at Develop in Brighton this year! One thing that definitely came across in your talk is your passion for music in games and its integrity. Tell us about your journey into composition and where that passion came from? Have you always wanted to work in games?
Absolutely not! Until Dan [Pinchbeck, Creative Director at The Chinese Room] asked me to write the music for Dear Esther it wasn't something I'd even considered.  I just didn't think that there was anything interesting for me to contribute.  I had a limited knowledge of games and made the assumption that it was all about blowing stuff up and wielding huge guns.  Now I know that guns and blowing stuff up only constitutes 98.7% of the industry so all is well.  Seriously though, the landscape of games is changing and growing and I still can't quite believe that I get to be a part of it.
What has been your proudest moment in your career so far?
Being at the BAFTAs was an extraordinary experience.  Dear Esther was our first game so to get five nominations was mind-blowing; it just felt totally surreal.  Other highlights include airplay on Radio 3 and Classic FM – I always exclaim "I sound like a proper composer!" and my family all roll their eyes because the only person that this seems to come as a surprise to is me.  The emails that I get from fans also mean a great deal to me.  I can never get over the fact that people take the time to write: often they talk about why the music has had such an impact on their lives and that's the biggest compliment I could ever receive.
What has been your biggest challenge so far?
The biggest challenge is making interactive music that doesn't sound bland.  A film is a linear beast and so you can absolutely highlight those tiny moments and control with precision the emotional journey of the audience.  Gamers wander all over the bloody place- what a pain! This makes life 50 times more difficult and I curse you all every single day.
Do you have a dream project that you'd love to work on?
I would love to work with Peter Greenaway- I think he is an extraordinary film-maker and I am a drooling, obsessive fan of his work and that would be a dream for me. (Ben Jane, our new Art Director has just come in and told me that I can't use the word drooling: he has suggested salivating, which I think is worse, so let's just say that I am avid in my admiration.) Anyway, the fantasy answer to this question is that I'd like to work with The Prodigy.  If I got another lifetime I would spend it as a D.J./music producer of hardcore techno.  In essence my spirit animal is David Guetta. With better hair.
Is there a piece/composition that you particularly fond of?
One of my own compositions?  I think at the moment that I am most proud of Dust and Shadow.  I think that there is a maturity there and it's a step forward for me in terms of compositional technique and restraint.  In terms of other people's work, I don't think that I will ever be able to top Bach's Cello Suite No.1 in G.  For me nothing even comes close- it is simply perfection.  I must have heard it a thousand times but I get a lump in my throat and the hairs on the back of my neck stand up every single time. I feel Bach reaching directly out to me when I hear it – and that's what I aim to do with my music- to forge that intimate and beautiful relationship with my audience.
Are there any particular techniques that you are employing within the soundtrack to Everybody's Gone to the Rapture?
Rapture is going to be my most mature score to date.  It has a strong choral element and this is just a wonderful experience for me.  It's where my heart lies and it's absolutely right for this project.
Tell us about your talk at Develop in Brighton and what inspired you?
Well, first of all I should say that I never planned to bodypop in that session- it just came out of nowhere and I still remember Dan's face when I did it.  Priceless.  Our talk was about communication between composers and developers and it was useful for us too because prior to the talk we really delved deep into our working process; about what has worked for us in the past and what we jettisoned along the way.  I was really inspired by the day- Kenny Young's talk really resonated with me and the general passion that came across from both speakers and audience was amazing.  There is an energy that comes from a group of obsessives gathering together – everyone has the same goal- to make the best audio that they can for their projects.  That always leaves you in a really good place and you go into work the next day buzzing.
What are you looking forward to most at Game Music Connect 2014?
Lots of things- it's going to be a great day.  Firstly, It's a wonderful opportunity to give advice to people who are starting out.  I feel a real duty to pass on what I've learned- I had unofficial mentors when I was starting out and their generosity in terms of time and knowledge enabled me to grow and progress. Now it's my turn.  Not that I'm saying I know it all of course- it's also a great opportunity to learn from one's peers.  Composing can be quite a lonely old job and we're all so busy so it's also a great opportunity to see old friends and to make new ones.
What is your preferred software/hardware to use?
I'm lo-fi, old skool and slightly Luddite.  I use a Mac that runs Logic.  Kontakt samples of all kinds, LASS and VSL.  Word.
What advice would you like to give to aspiring composers?
Be talented, be tenacious, be polite, be funny, be easy to work with, be inquisitive, be there on time and most importantly be original.  Don't be arrogant, don't be late, don't be fooled, don't be shy.
Would you say there are any major Do's and Don'ts along the way?
See above!
What does the future for you?
Well, the end of the world is keeping me awake quite a lot right now.  After Rapture, who knows? I've had a desperately unstrategic career up until this point and I don't think that that's going to change anytime soon.  I will keep doing projects that interest and delight me- that fill my head and my heart.  What more could a girl ask for?
Thanks for speaking with me, I very much look forward to meeting you at Game Music Connect 2014!
Thanks so much for talking to me today- see you soon…
Keep up to date with Jessica Curry at these links:
The Chinese Room:  www.thechineseroom.co.uk
Personal Site: Jessica Curry 
Twitter: @jessicacurry2
For more info on Game Music Connect 2014 click here. Or click on the banner to the right!
Enjoy!
The Sound Architect
 Interview by Sam Hughes
Uploaded 17/09/14