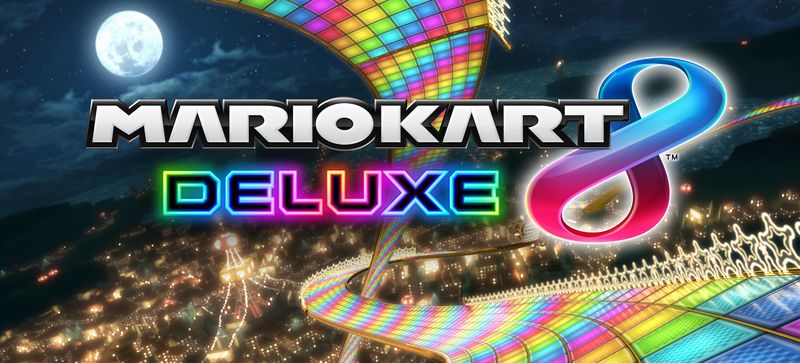 Review by Willy McCarter
Edited by Katie Tarrant
Developer/Publisher: Nintendo
Composers: Koji Kondo, Shiho Fujii, Atsuko Asahi and Yasuaki Iwata
Performers: The Mario Kart Band
Sound Director: Kenta Nagata
Reviewed on: Nintendo Switch
Introduction
As I finally sit down to review the next addition in the classic 20 year old Mario Kart series, I am still trying to piece together the unforgettable fun, but harshly competitive, feeling that nearly drove a group of my longest friends and I to a sudden fallout forever. Similar to the way that various internet memes and resources will say games like Monopoly have broken bonds between loved ones, the Mario Kart games have always left me throwing down the controller and stomping out on my family or friends… sometimes vice versa.
Similar predecessors to Mario Kart 8 Deluxe include Mario Kart Double Dash and Mario Kart 64. Normally, a new Mario Kart title would mean a bundle of new characters, courses and new weapon systems. However, as this instalment is a port copy of Mario Kart 8 for the Wii U, the game comes with all of its items included, but does promise for more potential DLC madness. I now invite you to enjoy my review on yet another game that could be the reason for many fallouts between my family and friends.
Music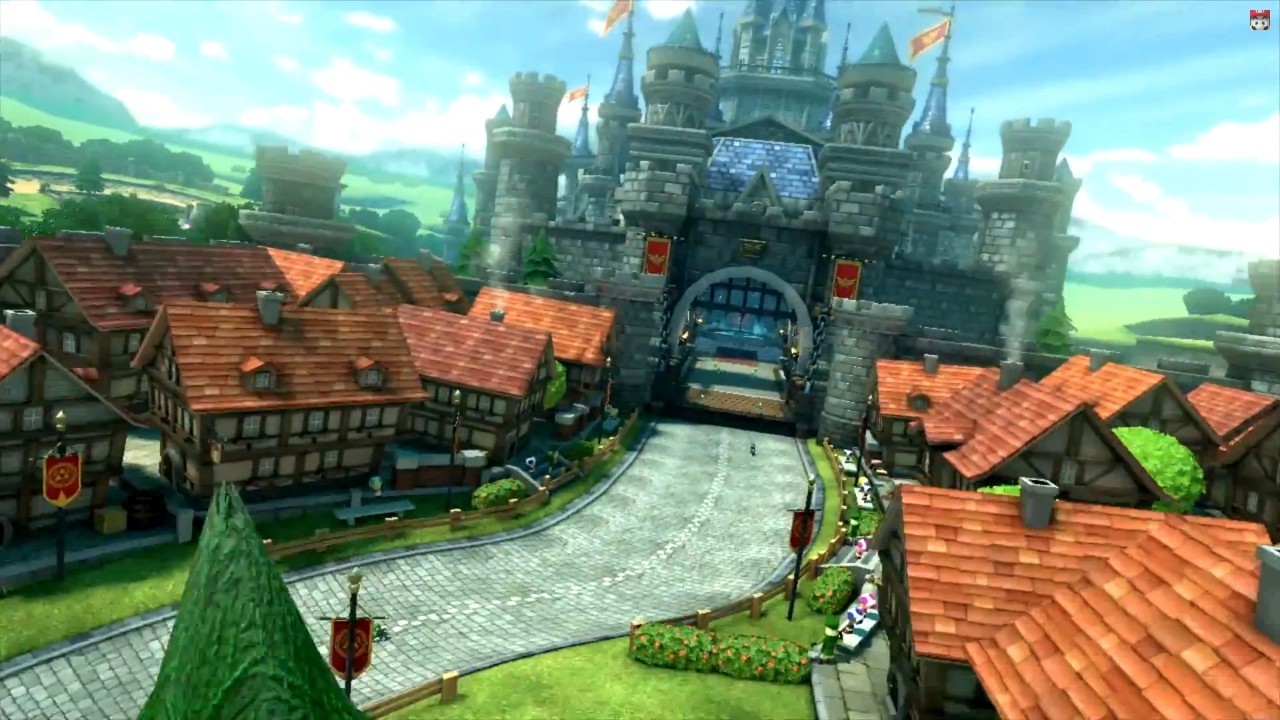 First and foremost, the soundtrack of this game welcomed me with a spine chilling, upbeat new direction of fast paced big band jazz from the recently discovered Mario Kart Band. All music in the game is performed by this band of highly skilled musicians under the musical direction of longtime Nintendo composers Koji Kondo, Shiho Fujii, Atsuko Asahi and Yasuaki Iwata.
When the main menu screen appeared after loading the game, I was lost in the sound of big brass, toe tapping funk bass, shredding over-driven guitar and, from time to time, synth solos. It provided such a live feel to the gaming experience and, due to the nature of the Mario Kart series itself, it made me feel like I was about to enter into a 1970's car chase movie. The main theme certainly followed through on the task of getting the players pumped up for a long and intense race. The new musical direction also adds to the shiny charm and nature of a typical Mario game.
Despite only having the chance to play a few of the 48 courses, I could instantly hear that The Mario Kart Band have provided a diverse new theme for each race course. One of my personal favourites in the game was a course titled 'Electrodome'. The course is set in a huge discotheque-like stadium made up of giant piano keyboards and buttons, and is supported by heavy disco beats with a Mario Kart style underscore that goes hand-in-hand with the visuals.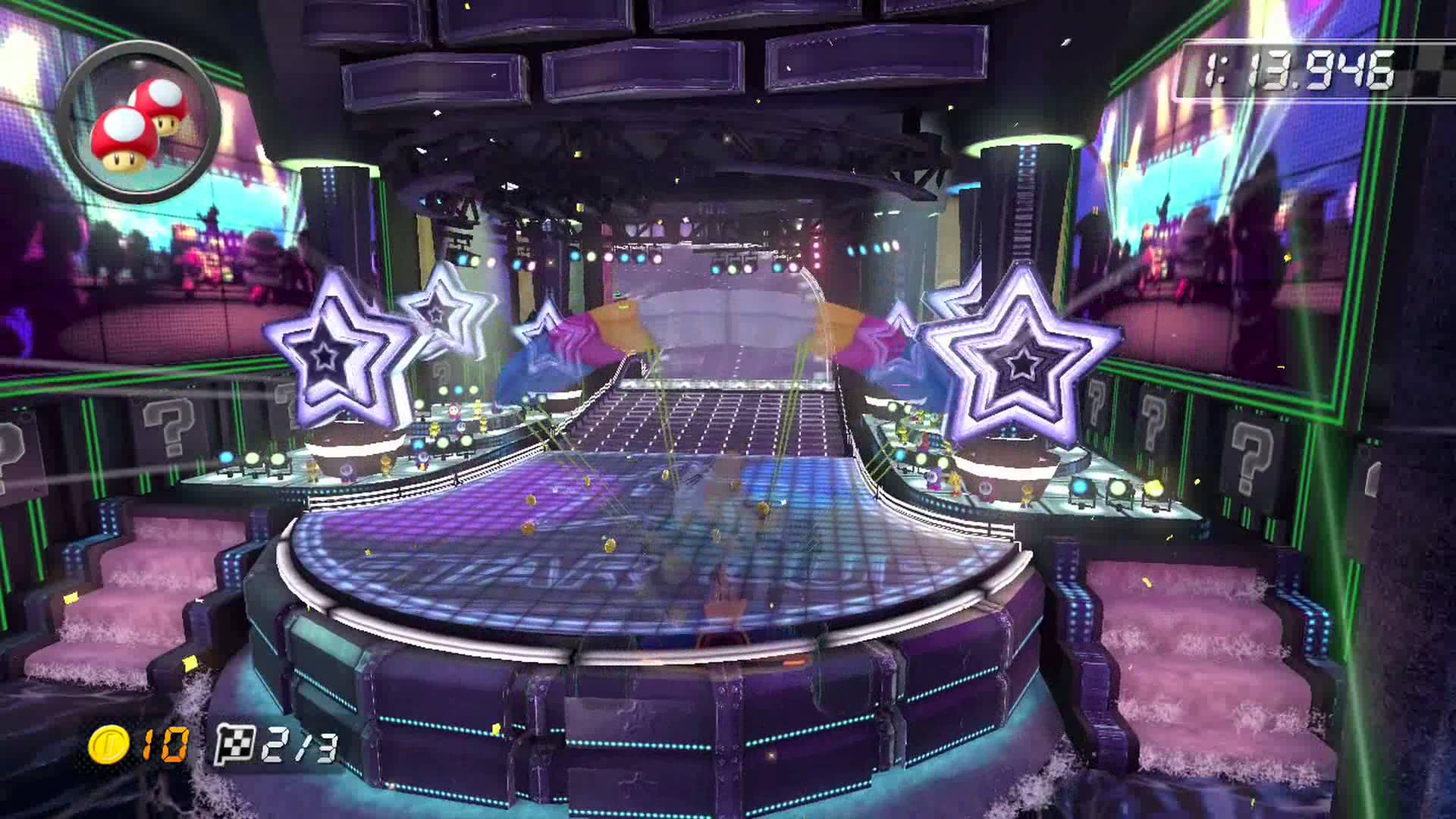 Mario Kart 8 Deluxe has also brought some old tracks from past instalments of the series and even went as far as bringing in tracks from other game franchises. So far these include Hyrule Circuit from the Legend of Zelda and the iconic Mute City from rival race series F-Zero. Firstly, to hear a jazz/rock cover of the LoZ theme was really a bonus and it felt almost too surreal to be playing a LoZ-like race course in a Mario Kart game. Nevertheless, it was truly a pleasure to hear. As for the F-Zero course, it was on another level of racing intensity! Being familiar with the franchise, it features a lot more heavy grit and character, so to flip an F-Zero track into the Mario Kart universe and bring that distinct 80's metal lead guitar to start the race was beyond amazing. To then add to this by providing the Mario Kart Band's own jazz cover of it really added to the need for speed!
Overall, the soundtrack for this game was like listening to a greatest hits album in a classic video games franchise. Be sure to check out some performances of the Mario Kart Band here and here.
Sound Design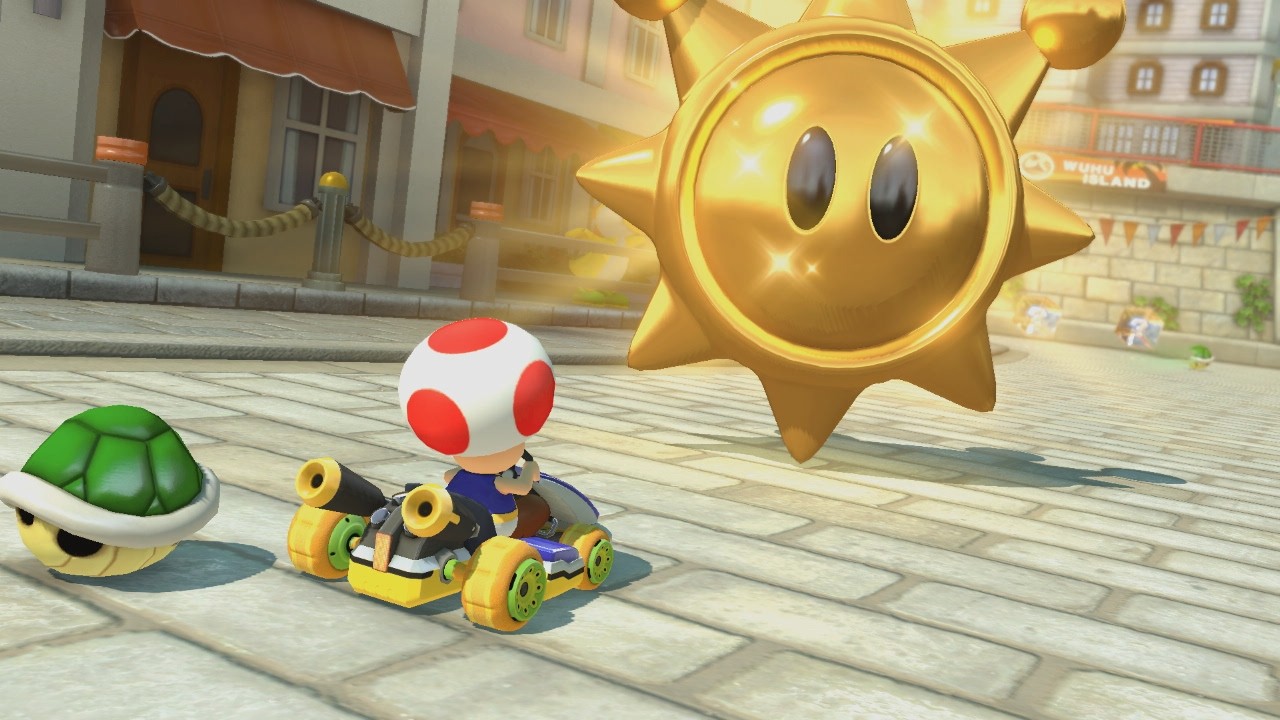 The sound design for this game largely took a 'back seat' (pun intended) role during the game-play. It was fairly standard for what you would expect from a racing game, with revs, turns and scrapes that blend in well with the aesthetic. During the racing modes, my personal highlights were the sounds for speed ups or hidden shortcuts. Additionally, the satisfying sound of a weapon or item pick up that you expect from every Mario Kart game in the series was there to maintain the engagement. This was even more satisfying when using said weapon or pick up and hearing the characters cheer or cry whenever they were executed successfully on a foe.
The game's battle modes are where I felt the sound design became more exciting for the player; from picking up coins, to balloon battles to the mode known as 'Shine Thief', which brings a new layer of adaptive sound design that provides that feeling of having a 'one up' in a battle mode. There were other enjoyable snippets throughout the game. Referring back to the Hyrule Circuit, the developers managed to sneak some classic LoZ sound bytes to fit the theme of the race course, and this created a nice moment of integration between the sound design and music.
Overall, I would say if you want to hear where the sound design thrives in the game, head straight for the battle mode. That is if you haven't already lost a number of friends who are willing to play you by then!
Conclusion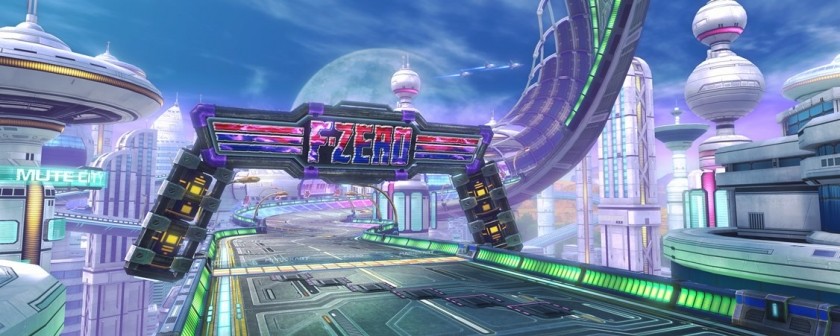 In conclusion, this is my second ever title to play on the Nintendo Switch. I have a soft spot for the Mario Kart series and adore the rush of lovable high-intensity racing. To have that rush alongside an abundance of high quality musical performances and engaging sounds is greater still. I would definitely recommend this game, previous fan bias aside!
My only real qualm is with the more detailed and larger race courses. There was the odd drop in frame rate which caused lag in the audio. On top of this, referring back to the introduction, can i buy levitra online the game being ported from the Wii U with content already unlocked inevitably took away from the completionist factor that only these games can offer. Although, as aforementioned, Nintendo report to have more DLC and content coming out in future to keep this game alive.
With the wide variety of characters, courses and customisable karts, bikes and vehicles to choose from, you will definitely have hours of multiplayer fun. Mario Kart 8 Deluxe has been a great pleasure to review. I have a feeling that the Mario Kart series is long from retiring. If you're a soul that has the courage to get back up after being bombarded with various weapons and obstacles after striding for first place then this is definitely a game for you.
LINKS
Official
Twitter
Facebook
We hope you enjoyed Willy's review, check out others in our Reviews section. Don't forget to sign up to our Monthly Newsletter to make sure you don't miss out on our reviews and interviews.
We're also running a Patreon campaign to make sure we can keep bringing you regular, high quality content if you're feeling generous! Thanks for even sharing!
The Sound Architect