Article by Alyx Jones
Composers for video games have long been talking about a new PRS model for video games. As of 2016, the games industry is a £90billion industry with 2.1 billion gamers across the globe. PRS hosted this event to try and shed light and explore the current situation, as well as looking at the importance of licensed music in games.
Panelists for Part 1: Music in Gaming – Why are we here and where are we going?
Miles Jacobson: Studio Head, Sports Interactive
Andy Payne: Appy Nation and UKIE Board Member
John Broomhall: Composer and Games Expert
Richard Jacques: Composer
The event opened by taking a look at how game music is very different from linear music (for film and TV), with a short presentation by Richard Jacques on his work on "007 Blood Stone", a recent James Bond video game. It showed the detail necessary in music for games and the need to change the layers based on gameplay. It does prompt the question of how much licensed music has a place in games, as linear music.
There is absolutely a place for pre-existing tracks, especially in titles such as Grand Theft Auto, Fifa and the Need for Speed series, however in many titles where gameplay can exceed 100+ hours, the amount of licensed music required is often outside of the budget. Video games composers are used to creating music that has alot of variation and reusability, that a licensed track just doesn't have.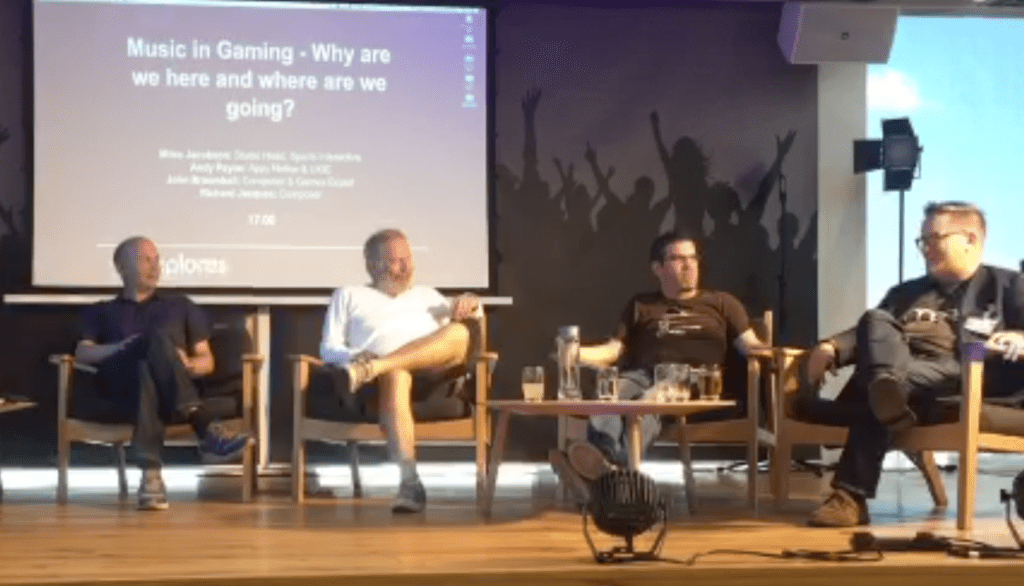 John Broomhall suggested that a hybrid is often the best solution where licensed music is concerned. He gave the recent example of Assassin's Creed: Syndicate, that took alot of licensed music from the Victorian Era, that was woven into the games score by composer Austin Wintory.
Andy Payne said that the problem with music licensing is that even if small studios want to license a track, the process can be time consuming and expensive, so where AAA studios have whole departments dedicated to the process, it's inaccessible to smaller companies. Miles Jacobson also mentioned a past venture to have an in-game player, such as Spotify, to stream music from, but at the time, the deal didn't work out, due to various factors such as lack of servers to cope with the traffic.
Panelists for Part 2: Future Proofing – Does the buyout still work for music?
Lance Phillips: Lawyer (Digital Media), Sheridan's
Alastair Lindsay: Head of Music, Sony Computer Entertainment Europe
Andy Harrower: Director of Broadcast, PRS for Music
Andrew Howell: Senior Creative Synch and Licensing Manager, Warner Chappell
The second panel was focused on the buyout model, and if it was still an appropriate way of working. Some audience members were of the opinion that it's still a good model, that works. Alastair Lindsay said that it was important to consider what's best for each individual project. Lance Phillips echoed this by saying that flexibility was important and not to try and have a "one size fits all" model, that other industries suffer from. He goes on to say that deals with a lower upfront fee, where composers can keep their rights but negotiate terms such as exclusivity within video games, can be a much better option for many teams. He's also clear that composers also need to accept there are circumstances where they should be prepared to give up their rights.
The new trend in live performances of video game music was also brought up by an audience member, with the intention (recently talked about by Jessica Curry) of creating a Game Music Prom. Licensing the music for these kind of events isn't a big issue as long as the music is licensed by PRS. The problem comes where games companies own the IP, and licensing the IP for such events is the difficulty.
Moving on to the potential model for the future, Lance Phillips says that an option is one similar to the music industry where companies would pay for something equivalent to a PRS streaming license, that would enable PRS to then presumably make payments to their members, in more of a royalty payment model than a buyout. He says it's important for companies to see this as a beneficial partnership rather than as another "tax". Nick Edwards said that PRS really need to work with the games industry closely, because there is a lot of work to be done. He also touched on the fact that there are fairly unexplored areas such as potential royalties from gamers who stream on Twitch or Youtube. While it is possible to claim royalties through Youtube, the current system penalises those who make "Let's Play" videos, which can have a negative impact on games companies, it's a model that needs fixing.
There's definitely alot of work to be done in this area, and one thing to take away from tonight is the importance of having different models to work with different situations. It's definitely nice to see PRS making an effort to tackle these issues by hosting events like this and while of course, many issues will take a long time to improve, it was particularly beneficial to hear from Lance Phillips, on the legal side of things, as this is a viewpoint often not represented at many game music events.
You can watch the first half of the event here: https://www.periscope.tv/w/1gqxvBPmQbAxB
LINKS
PRS for Music
We hope you enjoyed Alyx's review, check out others in our Reviews section :). Don't forget to sign up to our Monthly Newsletter to make sure you don't miss out on our reviews and interviews. 
We're also running a Patreon campaign to make sure we can keep bringing you regular, high quality content if you're feeling generous! Thanks for even sharing :)!
The Sound Architect