Reviewed by Willy McCarter.
Edited by Sam Dudley

Developer & Sound Designer: Thomas Rex Beverly
Publisher: Thomas Rex Beverly
Reviewed on: Macbook Pro
Introduction
Earlier on this year, I was lucky enough to pick a copy of the sound library Ringing Rocks produced by Thomas Rex Beverly who is a sound library creator and field recorder based in Philadelphia. I had won this library from a competition hosted by the SoundBytes podcast who provided very in-depth reviews and topics in-game audio. More information on SoundBytes can be found here.

When getting a chance to dive into the 200+ files of pure tones generated from simple impacts on rocks I was overwhelmed by the sheer quality and clean sonic tones that can be produced from striking the tone with the correct tools of choice. The impacts include using items such as crowbars, hammers, and sledgehammers and come from a variety of motions such as striking, scraping and general percussive action.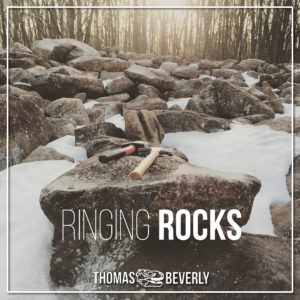 The Library
The library bundle came very neatly packaged with a folder full of the variety of sounds all recorded and processed, a behind the scenes pdf. And spreadsheet and a quick video of how the sounds were recorded. The main library folder came packed full with 218 sounds in stereo channel with 24bit/192kHz and all recorded using a Sennheiser MKH 50 and Sound Devices 702.
The library's main sound focus is based on the striking actions of various rock surfaces and the relationship with the different tools along with the general air ambiance of the field. Each sound file contains a very natural and timbrel characteristic sound and impact variation along with exceptional ringing sounds. Alongside this, the sound files are a mixture of single hit impacts and impacts layered with scraping and the biggest surprise of all was all recordings were clean and natural with no processing! Ringing Rocks brings a whole new concept of sound play and expression and brings out a natural new image and outlook on Rocks as a musical instrument.

When examining the sounds in more depth, I had noticed the naming convention had included tags such as 'Db' and 'D7' and when played back, the sounds produced a very melodic and buy accutane online singapore colorful music note. There were many times I had to replay the sounds to convince myself that the tones came from rocks, however, Thomas Beverly has managed to create musical timbres and rings from the rock strikes which creates more, if not limitless possibilities for the sound library.
As mentioned earlier, the impacts are made using a number of tools to produce a series of musical notes and unique sound quality, when hearing the produce of the rock chimes it creates a new outlook on natural environments for me. Thomas has managed to somehow use the texture and body of everyday rocks and turn them into a sort of eco-sonic orchestra. On top of this, the use of the natural scraping and brushing sounds are very clear and direct which can be used as a solid sound foundation to create more fascinating sounds in general sound design.
Overall
The Ringing Rocks Library is available on the Thomas Rex Beverly home page for the very handsome price of $79.00. I would strongly recommend the Ringing Rocks Library along with other products from Thomas Rex Beverly. For great sound quality, the large number of recordings and the use of unique natural sound play, this sound library can act as a secret weapon for many projects in both sound design and also for creative musical play.
LINKS
Official
Twitter
Facebook
We hope you enjoyed Willy's review, check out others in our Reviews section. Don't forget to sign up to our Monthly Newsletter to make sure you don't miss out on our reviews and interviews.
We're also running a Patreon campaign to make sure we can keep bringing you regular, high quality content if you're feeling generous! Thanks for even sharing!
The Sound Architect