JOHN BROOMHALL to host videogame panel at THE SCHOOL OF SOUND INTERNATIONAL SYMPOSIUM 2015
Wednesday – Saturday – 8-11 April 2015 – Southbank Centre – London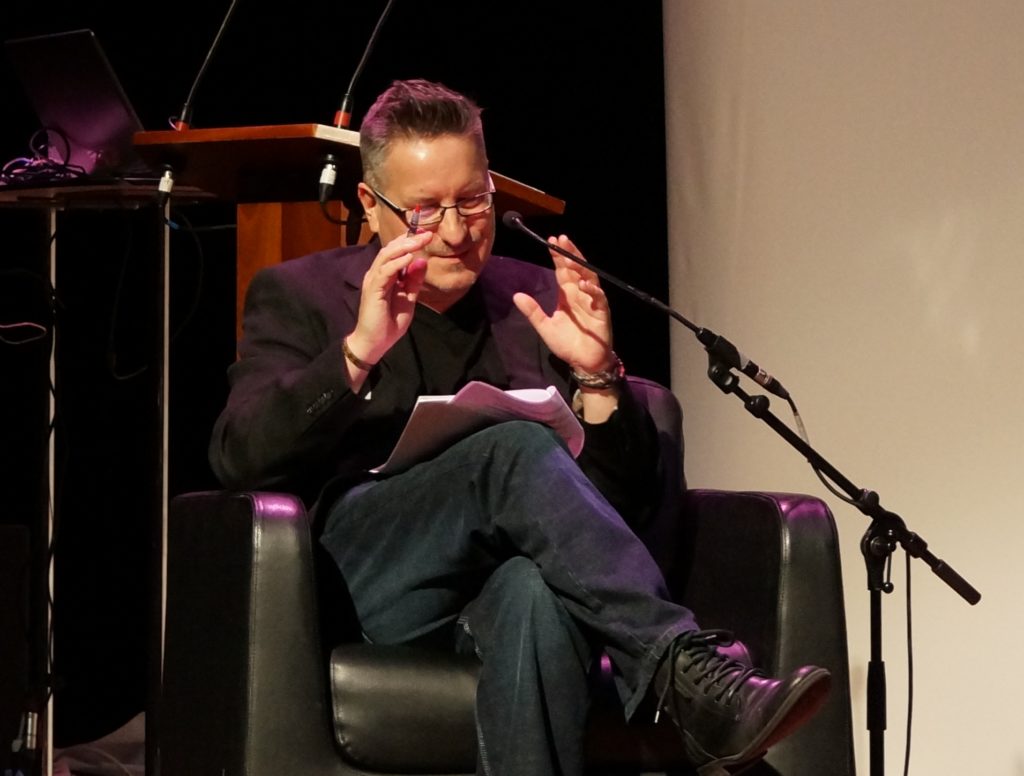 The Sound Architect catches up with John about his appearance at The School of Sound and how he was inspired by this event. 
 Hi John, it's good to have you on The Sound Architect again, thanks for answering some more questions! Tell us about the School of Sound and your involvement this year…
It's a pleasure to be back, always good to talk with you, and congratulations on all the great work you've been doing. Thanks also for your interest in and support of Game Music Connect over the last couple of years, which we really appreciate.
So The School Of Sound is this unique, fascinating series of masterclasses which explore the art of sound. It takes in film, TV, the arts – basically all media – including from time to time, videogames. I'll be contributing to, and in fact hosting a 'games panel' with special guests, Joanna Orland and Martin Stig Andersen.
Joanna is Senior Sound Designer at Sony Computer Entertainment Europe and Martin is the audio auteur behind Playdead Games' acclaimed Limbo. They're both such interesting people who care passionately about, and think very carefully about the work they do in videogames. Both come from essentially a non-'gamey' background so in their different ways have brought something fresh and vibrant to the industry. I'm really looking forward to discussing the state-of-the-art with them.
When did you first get involved with The School of Sound?
I attended the very first SoS event back in, I think, 1999 or thereabouts. I then spoke at the second event a year later as part of a similar panel to the one we're doing this year about games. So it seems an ideal opportunity to reflect a little on the progress of interactive sound in the intervening years between that original games panel and this 2015 one – as well as celebrating and exploring the ever-growing sophistication of today's (and tomorrow's) game sound.
Let me return to that very first School Of Sound event for a moment – I have to say it blew my mind – it had a really big effect on my thinking about the use of and power of sound. I was exposed to ideas and insights I'd never encountered before – quite an epiphany actually. In particular I found it very enlightening hearing Walter Murch talk about his work on both the sound re-make of Orson Welles' Touch Of Evil and of course, the original sound design and mixing for Apocalypse Now. I'd never heard of Mr Murch at that time but found his presentations spellbindingly instructive. It was only later I realised what a towering figure he is in sound for the moving image. So you can imagine when I heard that he's returning to speak at this year's event I was delighted. I feel extremely honoured to be on the same programme. Hopefully at some point, I can personally thank him for that profound influence. I've literally been referring to his sessions and quoting him ever since.
That first year, I also met Larry Sider, the creator of the event and Professor Stephen Deutsch, both brilliant and eminent people who have also influenced and informed my thoughts about the story-telling potential and power of sound for many years.
So what kind of topics will this year's games panel cover?
I'll open the proceedings with some personal reflections on game audio's journey – its development over the last twenty years, which I see as a movement from 'figurative' through 'scientific' to 'dramatic'. This is very much on my mind as I just did a big interview for academic journal The New Soundtrack along these lines.
It's very interesting how the relationship and power balance between technology and creativity has changed and continues to change and how that's reflected in what we've heard in our videogame experiences over the years. Content-wise, having escaped the bleeps and bloops of the early years, there followed a quest for a literal description of 'reality', scientifically accurately rendered. But now I think we're seeing a much more dramatic, artistic approach – borne of the frustration that in the end, we find that a literally accurate sound world may be a useful starting point but in and of itself it can be unentertaining and at worst, cacophonous.
Instead of asking 'what can the player character theoretically hear?' we ask 'what do they need to hear?'  We think about communication through sound – conveying concepts and ideas, subtle and telling sub-texts to support the narrative; there's an emotional and story-telling dimension to the sound choices we make and a more thoughtful approach to the mix balance of them.
Then via both group discussion and some 'show and tell', Martin and Joanna will share from their experiences about their day-to-day approach to creating sound for today's interactive experiences and the working relationships they have with the wider game development team.  We'll talk about creating and delivering an 'audio vision' and fingers crossed, we might even persuade Martin to show some clips from Playdead Game's latest work in progress. I hope we can also talk a little about issues around creating interactive audio for VR experiences, an area Sony are pioneering right now.
Thanks again John and we'll see you there!
Find out more about The School of Sound and John Broomhall at the links below:
http://www.schoolofsound.co.uk/
FB JohnBroomhallMusic
Interview by Sam Hughes
Uploaded 19/03/15
Like what we do? So do we! To keep going and bring you even better and higher quality content (plus getting more awesome writers involved) we've set up a Patreon page! 
https://www.patreon.com/SoundDesignUK
We hope to continue giving back to the audio community and with a little support we can go a long way.
Whether you donate, share the link or just read the interviews we're very happy you stopped by and psyched that you like our content!
Thanks a lot!
Sam – Lead Editor