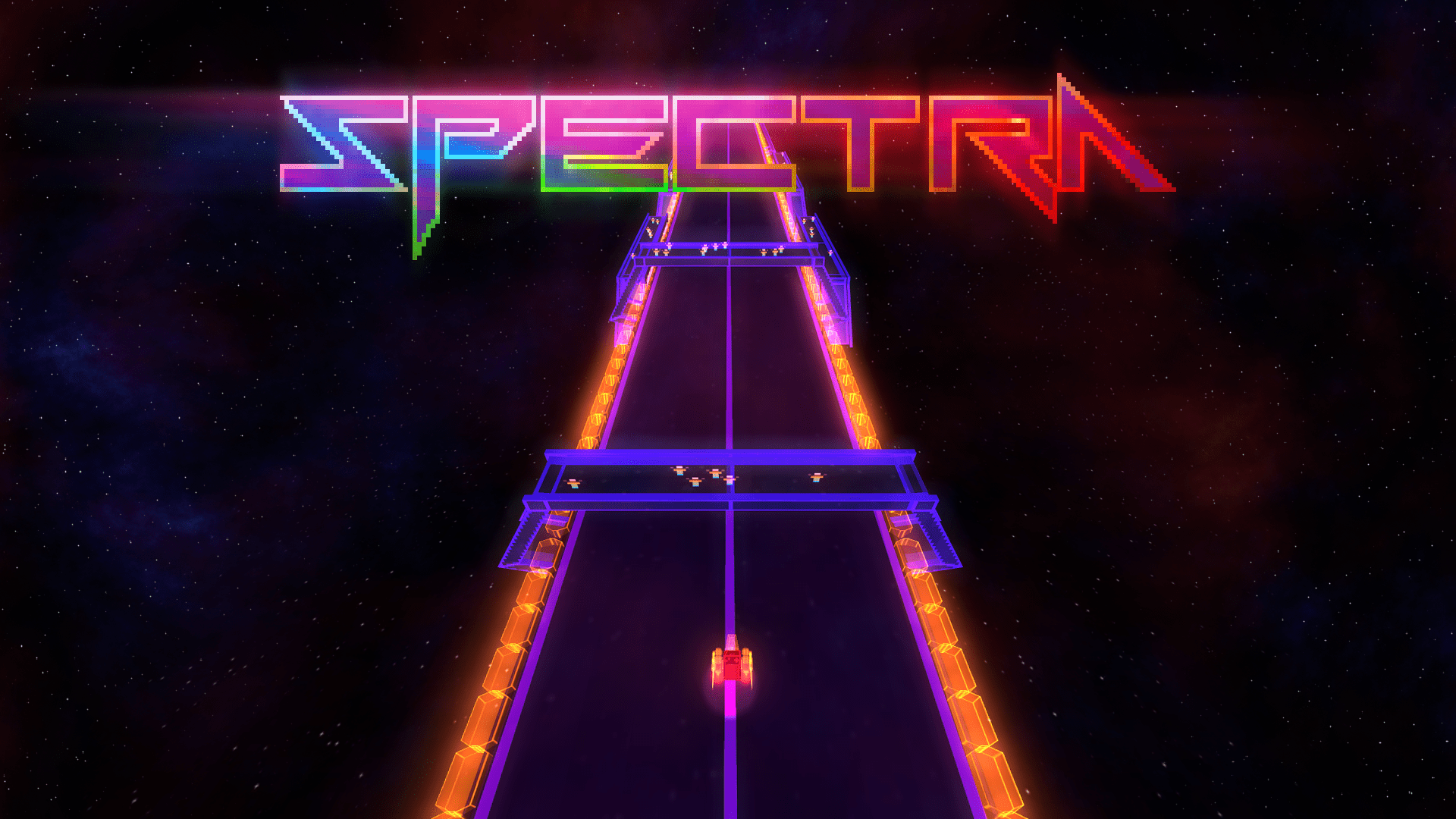 Review by Doug Waters
Edited by Sam Hughes
Developer: Gateway Interactive
Composer: Niamh Houston, aka Chipzel
Reviewed on: Steam for Mac OS X
Building upon the classic arcade games of old, comes Spectra, in which you control a nimble space ship shaped somewhat like a Gameboy with wings! Using your skill and reflexes, you race along bright and colourful tracks, avoiding obstacles and collecting coins, all to the amazing music of chip-tune artist, Chipzel!
The game is split into 10 levels of increasing difficulty, each of which features a different track by Chipzel, effectively making Spectra a 'playable' album of sorts. As well as being available on Steam for Mac and Pc, Spectra is also available on Windows Phone and Xbox One, not bad for a game that, as Gateway Interactive's Louis Deane states, "started off as a gamejam game"!
Composer Chipzel, brings her unique style of energetic music to Spectra and delivers a soundtrack of driving chip-tune pieces that support the high adrenaline action of gameplay and nod to classic tunes from iconic Gameboy and arcade games. Whilst playing you can often find yourself just lost in the enjoyment of the music, although up-beat and clearly influenced by modern electronic and dance music, Chipzel's work is also highly melodic; traits that span the entirety of her discography so far.
For someone who might be a fan of her music, this game offeres the opportunity to jump into the creative process of putting together a track of Chipzel's, that as you raced and collected coins you could experience being rewarded with more upbeat and lively blips, beeps and beats. However, as fun and enjoyable as the gameplay and music might be, it doesn't feel like a true translation of Chipzel's music into a video game setting. As I stated previously, each level features a single track of Chipzel's music; the tracks are however, just played repetitively from start to finish, with exactly the same beginning every time and with gameplay coming abruptly to an end once the music is over. There's no variation from play to play and little to no interactivity during gameplay (bar a high pass filter on the music when you hit an obstacle and a fade out when you fall off the race track).
It might've been nice to see some vertical layering within the music; that perhaps when the player has collected a certain number of coins, it 'unlocks' the next layer of music. Or maybe using a method of horizontal re-sequencing, similar to what is seen in 2003's Tron 2.0 as mentioned in Winifred Phillips' talk at GDC earlier this year, a system in which the tracks are cut up into 4 bar sections which the game engine plays in a randomly selected order. Employing either of these example systems would undoubtedly make the music much less repetitive and possibly make the game more enjoyable, which begs the question, why wasn't it done? It was sad to think that, particularly with the harder levels, you might never hear all of Chipzel's amazing music in the game.
If you're a fan of Chipzel's unique brand of chiptune, then the game is definitely worth purchasing! Learning to control your ship can be a little tricky to begin with, but sit down with a group of friends and you're guaranteed to have fun playing Spectra and listening to some awesome chip-tune while you do!
Links
Spectra
http://www.spectragame.com
@SpectraGame
Gateway Interactive
http://www.gatewayinteractive.co.uk
@GwayInteractive
Chipzel
http://chipzel.co.uk
@chipzel
We hope you enjoyed the review check out others in our Reviews section :). Don't forget to sign up to our Monthly Newsletter to make sure you don't miss out on our reviews and interviews. 
The Sound Architect