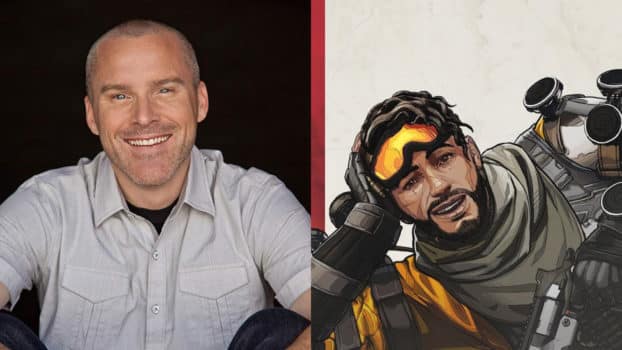 Apex Legends is one of the most popular battle royale games that has been out for almost two years. Since the game industry is very competitive, game developers need to pay extra attention to detail to stand out.
Thankfully, the voice actors of Apex Legends did an amazing job. They add personality to each legend, which was the whole point of having voice actors.
Let's look at every legend individually and find out more about the voice behind your favorite character.
JB Blanc – Caustic
Many people love Caustic just because of his strangely appealing voice. He is a hard-core scientist that is not afraid of anything. Blanc did a great job of adding personality to Caustic and made him one of the toughest legends in the game.
This is not Blanc's first voice acting job. He has a wide portfolio of games such as CoD: Black Ops 4, Darksiders 3, and Spyro Reignited Trilogy.
Erica Luttrell – Bangalore
Ever wondered who's behind the hard-core girl that cares only about the mission? – The truth is, Erica is kind of the opposite of Bangalore in terms of toughness. However, she elevated the character to a whole other level.
Besides movies, Erica appeared in various games such as Fallout 4, Cheetah in Injustice 2, and many more.
Shantel VanSantan – Wraith
The most famous character among players (Wraith) that has no feelings was made to perfection using Shantel's voice. Behind the scenes, Shantel is another actor who doesn't correspond to the feelings and emotions of Wraith, but she did an amazing job with Wraith.
VanSantan is relatively new to voice acting in video games, and most of her career had to do with acting for TV shows.
Mela Lee – Lifeline
Lee is quite known in the video gaming industry since she appeared as a voice actor in games like Super Smash Bros Ultimate, Celice in Xenoblade, and Fallout: New Vegas.
This character is great since it adds a bit of diversity into the game. Lifeline is a Latin-American character covered by Mela Lee, and she did an amazing job of adding some personality into the legend.
Roger Craig Smith – Mirage
The cockiest character in the game, mostly known by his funny phrases, is played by Smith, who has quite a good portfolio of games he voice acted on. For instance, he appeared as Bruce Wayne in Batman in Arkham Origins, Assassin's Creed Series, Sonic in Sonic Boom, Captain America, and many others.
Allegra Clark – Bloodhound
Most people are surprised when they hear that Bloodhound is actually a female voice character. Allegra Clark made Bloodhound so good that it is hard to determine who did it.
She has voiced characters in many games, and some of her greatest successes are starring in World of Warcraft, Mass Effect, and many more.
Nicolas Roye –Octane
The speed daredevil will be nothing without its interesting phrases. Roye is responsible for elevating Octane to perfection.
He has starred in Horizon Zero Dawn, Tomb Raider, and many other popular games.
Darin De Paul – Revenant
The scary voice of Revenant is actually played by a really calming guy called Paul. He is the most famous and experienced actor of the bunch, who has voiced many games such as Overwatch, Doom, World of Warcraft, Owl in Sekiro, and many others.
Justine Huxley – Wattson
Huxley made the biggest success in her career after starring in Grand Theft Auto V and Red Dead Redemption II.
Even though Huxley is not that popular in the voice acting world, she added personality to the character making it even more charming.
Johnny Young – Crypto
Johnny is mainly an actor, but recently he also started doing voice acting. He was a die-hard fan of Apex Legends even before becoming a voice of Crypto.
He still plays the game, and it is really interesting to watch him stream as he does popular voice lines.
Branscombe Richmond – Gibraltar
Maybe his name won't ring a bell, but you will definitely know him as Bobby Sixkiller from Renegade. The voice of Gibby was his first voice acting attempt, and he did an amazing job.
Fryda Wolff – Loba
Wolff has plenty of experience behind voice acting as she appeared in Mass Effect, Mira in Killer, Heroes of Newerth, and even in Street Fighter V.
Maybe Respawn made the character based on her name, who knows.
Chris Edgerly – Pathfinder
Pathfinder is the preferred choice for many players just because of his calming robotic voice that is always polite. Chris has stared in many games and series such as The Simpsons, Infinity Blade III, Mass Effect, and many others.
Anjali Bhimani – Rampart
The latest character that Respawn introduced is an Indian girl played by Anjali Bhimani. Fans already know her from Overwatch and many other films and TV series. She did an amazing job with Rampart, adding a bit of spice to the mixture.
Final Words
These are all characters up to Season 6, and we are excited to see what's coming next. The game wouldn't be the same without all of these voice actors. It would be like watching football games without the famous cornerbacks of the NFL: they are the stars of the show.
We are glad that Respawn decided to add character diversity, and the story behind all the legends took to perfection by the voice actors.
Thanks for Reading! You can stay up to date on all our content, such as reviews, interviews and of course our podcast, via our Monthly Newsletter!
We run the site voluntarily and like to keep the lights on (and the hosting up to date) so any support via our Patreon is also much appreciated!
Stay up to date via our Monthly Newsletter as well: www.thesoundarchitect.co.uk/newsletter