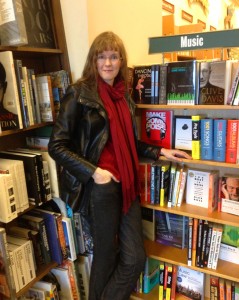 The Sound Architect speaks with professional game music composer Winifred Phillips. 
Winifred is an award-winning composer and author. Some of her video game credits include Assassin's Creed Liberation, The Da Vinci Code, God of War, LittleBigPlanet 2, Speed Racer, Shrek the Third, Spore Hero and many more.
She has received a Global Music Award, an Interactive Achievement Award / D.I.C.E. Award from the Academy of Interactive Arts and Sciences, two Hollywood Music in Media Awards, five Game Audio Network Guild Awards, an IGN Best Score Award, a GameSpot Best Music Award, a GameZone Score of the Year Award, a GameFocus Award, and three Gracie Awards from the Alliance of Women in Media.
She has released fifteen albums. Her soundtrack album for the Legend of the Guardians video game was the first video game soundtrack album released by WaterTower Music, the film music record label of Warner Bros.
In her ten years as a game composer, she has been profiled in books such as Keeping Score by Tom Hoover, Cash Tracks by Jeffrey P. Fischer, In Her Own Words: Conversations with Composers in the United States by Dr. Jennifer Kelly, and in Music Connection Magazine, which described her as a "Superstar of video game music."
She spent the last two years dividing time between her many music composition projects and the completion of a forthcoming book for the MIT Press. Entitled A Composer's Guide to Game Music, the book explores the art of video game music from the viewpoint of an award-winning game composer, and offers guidance for musicians and composers who want to deploy their musical creativity in a dynamic and growing industry.
We speak to Winifred about her career and her book!
Read it here: Interview with Professional Composer, Winifred Phillips, Author of A Composer's Guide to Game Music
Enjoy!
The Sound Architect