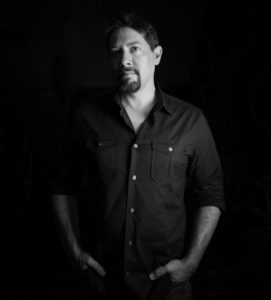 The Sound Architect™ speaks to brilliant composer, Cris Velasco. Cris is a multiple award-winning composer of epic orchestral, dark experimental and modern hybrid music scores for video games, film and television. After graduating from UCLA with a degree in Music Composition, Velasco pursued his passion to write music for visual media; his first major release was composing for Sony's blockbuster God of War.
A prolific and versatile composer, Velasco has become one of the most sought-after composers in interactive entertainment, scoring many major titles including Company of Heroes 2, Mass Effect 3, Borderlands 2, ZombiU, Warhammer 40,000: Space Marine, God of War 3, Tron: Evolution, Borderlands, God of War 2, Darksiders, Clive Barker's Jericho, and many more.
Cris Velasco lives in Los Angeles and is represented by Soundtrack Music Associates.
Read the full article below:
Thank you so much for speaking to The Sound Architect™ Cris, it's great to speak to you!
Thanks for having me!
You have worked on some amazing projects; tell us how you got into composition for games? What would you say has been your most challenging project so far?
Ever since I graduated from UCLA, I wanted to write music for games. My interest in music always skewed towards orchestral scores that were epic in nature. Games were entering a new era at the time. The days of the "bleeps" and "bloops" were long gone, and the bar was being considerably raised for music. It wasn't an easy road though. I paid my dues, made contacts, and practiced my craft for eight years before I got my first professional gig as a composer for games. That first game was Battlestar Galactica. From there I was able to get on board God of War about a year later. That definitely helped get me on the map!
Every game presents its own challenges of course. After 60+ games though, I'd say that Clive Barker's Jericho was one of the hardest for me. Not only was it almost two hours of music written in about three weeks (plus recording live choir at Skywalker), but I was writing for my creative hero. All my professional life I wanted to work with Clive. That put a huge amount of self-inflicted stress on me while I strove to write something that would make Clive proud.
Are there any that you would say are your proudest?
I'd definitely count Jericho as one of my proudest moments. I'm proud of every score I do though. I try to give each one a unique voice. I've been very fortunate in my career to have worked on so many amazing projects. I'd count titles like God of War, Mass Effect, Borderlands, and Assassin's Creed as highlights for me.
What software/hardware do you mainly use?
I've been using Cubase as my sequencer since the beginning. I had no idea what I was doing when I started out. I went to Guitar Center and told somebody, "I want to write music on my computer". That particular guy liked Cubase so he recommended it to me. I've been using it ever since. I have probably every sample library available. I also record my own proprietary sample libraries with orchestras and choirs.
God of War is an amazing trilogy, where did you draw your inspiration from for such an epic story?
I'm a big mythology fan, so I was pretty familiar with it's Ancient Greek background. There's a lot of inspiration to be drawn from those stories. Especially from a lifetime lover of monsters like myself. The game itself though was such a breakthrough at the time. God of War redefined "epic" for games. For me, this was really a dream project to be working on. The music literally could not be too big. Just when I thought I'd written the biggest, loudest piece ever, I'd get feedback for the next cue that was "the last track was great! Can you please make this one a bit bigger?" It was so much fun!
Working on Jericho must have been amazing, what was it like working with Clive Barker?
I've said this in lots of interviews before, but it bears saying again. Clive is one of my biggest creative influences. Just being in his presence is like getting a jolt of creativity. You leave, and you just want to go home and write, compose, paint, build, etc. He's truly inspiring. Sometimes when I'm feeling tired or burnt out, I think to myself "what would Clive do?" and then I go back to work with a renewed sense of purpose. So working with him on Jericho was a dream come true for me. And now, after all these years, I get to work with him again on Books of Blood! He's bringing his anthology of short stories to the brand new medium of motion comics. Each story will get its own issue and I'll be scoring all of them!
How did your process differ when working on Mass Effect 2 & 3?
Stylistically, it was very similar. The Mass Effect franchise has a definite sound and I didn't want to stray from that. One aspect that was quite different though is that for Mass Effect 2, I just worked on the DLCs. For Mass Effect 3, I was able to write around an hour of music for the full game. This meant I had much more input on things like themes (such as the Reapers) and emotional content which is incredibly cool. I was also asked back to do a bunch of additional DLC content for ME3 as well. One of my favorite moments was scoring the very final scene of ME3 on the Citadel DLC with the track "The End of an Era". This track essentially closed out the trilogy and it was such a thrill to write it.
What was your approach when working on Company of Heroes 2?
I've done a few Company of Heroes games now. The first one I wrote was for the Eastern Front. That score was heavily influenced by the Russian masters like Prokofiev and Shostakovich. The next one I did for CoH2 was the Western Front Armies. This time, the music was supposed to buy gador xanax represent the Americans. I initially tried to incorporate that Americana type sound that you'd associate with composers like Copland. Ultimately, that didn't work for this particular game, and I just stuck with a Western (not country western) type score without any hint of the previous Eastern Front soundtrack. What really ties these scores together though is that they're fully orchestral. No electronics here. I really wanted to spread my wings in these scores and push myself to write some intricate music. If you pay attention, there's even a fugue or two within the combat music.
How did you get involved with composing for Assassin's Creed Unity: Dead Kings?
I got a call from my friend Manu Bachet at Ubisoft Paris. We've worked together on games like Beowulf and ZombiU. Out of the blue he asked if I'd loke to work on a new project with him. I said yes immediately, without even knowing what is was. When he told me it was Assassin's Creed, I nearly dropped the phone.
Did you use any interesting or unusual techniques?
The game takes place just after the French Revolution. So music-wise it falls around the Baroque or early Classical era. We didn't want to go completely historically accurate with the music though. So the score has a modern orchestral sound, mixed with touches of the period music. This is a pretty dark game to play through and the music also reflects that. Lots of low strings, bassoon, contra bassoon, bass clarinet, bass flute, and of course…harpsichord!
Do you find working on DLC much different when there is already a score for the main game?
Not really. For Dead Kings, I was working on the score before Unity ever came out so I never heard what that music was like. That's why a good audio director like Manu is so invaluable.
What do you hope the audience feels from this score?
I hope that they feel the weight and the darkness of the catacombs coming through in the music. I hope that they feel the music succeeds in feeling modern while having a definite nod to the Baroque era. Above all I hope that they feel it enhances the gameplay and is enjoyable to listen to. Especially, if they (ahem) buy the soundtrack on iTunes…
Was there anything that was a particular challenge?
It was a bit of a personal challenge for me just because of all the amazing Assassin's Creed scores that have come before. I really wanted to write something that would sit well amongst the other scores. There was also a time crunch on this one. Not because they didn't give me enough time to write, but because at the beginning of the project, I left for Spain to get married! I was gone for about three weeks and came back into full blown crunch mode to get it all done in time. It had to be written, orchestrated, and recorded (by the amazing Cinema Scoring in Los Angeles) in about 10 days.
How did you draw your influence for this project?
From the game itself mostly. I was given lots of gameplay videos and walk-throughs to get a good impression of what the overall experience would be like. I also studied up on my Baroque and Classical era music to make sure I had that specific sound in my head. I tried to make my old composition and music theory teachers proud by "following the rules" on a lot of this score.
What advice would you give to aspiring game composers?
Be better than everyone else. That seems like a trite statement, but it's true. Strive to separate yourself from the pack. If you have the opportunity to have your music listened to by an audio director, it needs to sound better than all the other music they're considering. It needs to stand out. So strive to be better than everyone. Don't ever think "that's good enough". Put in the hours and make sure it's the best that you can do.
Any major DOs or DON'TS?
Do love what you do. Write music because you have to. Because you're passionate about it.
Do play games. If you're not excited by games, ask yourself why you want to write music for them.
Don't look for shortcuts. Put in the time to hone your craft. Study the fundamentals of music. It will make you a better and more interesting composer in the long run.
Don't have an attitude. At the end of the day, this music is written for a product that many other people have worked on. Your music is there to support the game, not vice versa. If you need to rewrite something, it's for the good of the game. If you can't accept criticism in what you write, this industry may not be for you.
What lies in the future for you now?
I'm currently still working on Clive Barker's Books of Blood. I'm also scoring a very cool survival game called The Long Dark. There's a bunch of other things I'm involved with now (or have already finished), but I'm just not allowed to discuss them yet.
Thanks again for speaking to us Cris, I hope you enjoyed the interview!
Thank you so much for having me!
We hope you enjoyed the interview!
The Sound Architect™
Interview by Sam Hughes
Uploaed 08/03/15
©Copyright of The Sound Architect™
Like what we do? So do we! To keep going and bring you even better and higher quality content (plus getting more awesome writers involved) we've set up a Patreon page!
https://www.patreon.com/SoundDesignUK
We hope to continue giving back to the audio community and with a little support we can go a long way.
Whether you donate, share the link or just read the interviews we're very happy you stopped by and psyched that you like our content!
Thanks a lot!
Sam – Lead Editor