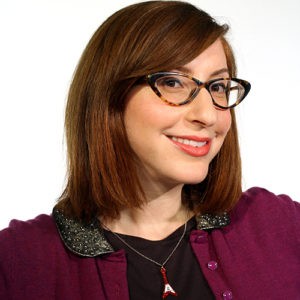 The Sound Architect speaks to the brilliant Sound Designer, Joanna Orland!
Joanna is currently  Senior Sound Designer at Sony Computer Entertainment Europe.
Joanna began her career in the games industry at EA Criterion in 2005 where she worked on the critically acclaimed Black and Burnout franchises. After 2.5 years at Criterion, she made the move to Sony Computer Entertainment Europe's London Studio as a member of the central Creative Services Group where she continues in her role as senior sound designer.
In addition to working in the games industry, Joanna has spent three years in the role of University Lecturer in the MA Audio Production course at the University of Westminster. She was well suited to this position, having obtained her MA in Audio Production from the university, as well as a Bachelor of Applied Arts in Radio & Television from Ryerson University, and a Post-Graduate Certificate in Interactive Multimedia from Sheridan College.
In addition to her careers in sound design and lecturing, Joanna is also producer, editor and journalist for pop culture web site Loose Lips.
Thanks for speaking to us Joanna, we're very happy to have you!
Thank you for having me!
Tell us a bit about yourself, how did your career in game audio begin?
I was studying for a Bachelor of Applied Arts at Ryerson University in Toronto (where I'm from) and had at first thought I wanted to focus on television production, as I was in the Radio & Television Arts course.  The first year it was mandatory to study radio, with the second year's focus being television.  I immediately fell in love with radio (and audio) production and completely forgot about my initial television intentions.  In third year we could choose our major, for which I chose Audio Production, with a minor in Multimedia.  This eventually led me to do my Master's degree in Audio Production at the University of Westminster, which is what also brought me to London.
After graduating, I decided to stay in London and saw an ad on a web site saying that the team who make the Burnout Franchise were looking for a junior sound designer.  At the time, Burnout 3: Takedown was the only game that I was playing, and in fact the first game I had played in quite a while at that time.  I hadn't actually considered sound design for games at this point, but knew I wanted to do sound design, and loved playing Burnout, so decided to go for the job, and the rest is history.
What has been your proudest project so far?
Ironically, I was disappointed at first when Criterion Games put me on FPS game BLACK instead of the Burnout Franchise, but I quickly realized that it was the best thing that could have ever happened to me.  I'm fortunate that the first game that I got to work on professionally is also my proudest.  I got to work with a fantastic team who taught me a lot, and the final product is something we are all still proud of, even after all of these years and consoles later.
Is there one that has been your most challenging?
God of War 3 was particularly challenging as the team developing it were based in Santa Monica and I was helping out with all of the ambiences from London, UK.  The time difference and not having a build meant communication was very limited and we had to have a process in place to make sure we could get it to work.  Luckily the GOW team were very accommodating and helpful and it was a great project to work on!
How does the process usually work from start to finish on a project?
It does vary from project to project, but generally I like to do research and define an audio style guide during the pre-production phase of a project.  This involves a lot of research including watching similarly styled films, or perhaps evening reading up on psychological theories of sound and emotional affects.  I then put together a document piecing together my discoveries and proposed audio vision for the project.  I accompany it with a ripomatic of key clips from my viewed films to articulate the ideas I'm trying to illustrate.
Once I get sign off on the audio style of the project and production has kicked off, I then try to realize this vision.    The style guide is a great thing to have during the production process, especially if you have conflicting audio requests coming through, you can always go back and refer to it to see if these requests fit in with the larger audio vision. 
The audio / tech teams will make sure we have all of the systems in place to realize our audio vision, and once everything is created and implemented, we usually are able to squeeze in a short but essential post-production period.  Here we may revise some assets that we didn't get quite right in production, but most of all it is here that we focus on the mix.  The mix is hugely important in creating an audio experience and while we may not always have as much time as we like for it, it cannot be overlooked.
Is there a sound/piece of audio you have created that will always stick with you?
The wilderness ambience from BLACK is one sound that keeps coming back to haunt me.  I was still a relatively new sound designer when I created this ambience, and thought to use a sample of distorted wind to articulate how cold the wind was.  Perhaps now I wouldn't be so brave, but at the time I was still not long from living in Canada and felt that the blustery distortion of the wind was reminiscent of walking down a Toronto street in the dead of winter – when it's about -20 degrees Celsius.  So without questioning it, I used the asset and it luckily proved to be a success!
What do you think is a great example of great audio in a game, new or old?
It's very difficult to choose just one example – I love the ambiences in Red Dead Redemption.  They do an excellent job of setting both the location and mood for each area of the game.  The detail in the sounds across that entire game is brilliant! 
What would be your dream project to work on?
Something like Red Dead Redemption, Uncharted or Tombraider would be great.  I love 3rd person action/adventure.
What software/hardware do you use?
I use a Mac for creating most of my sound design, and a PC to do anything gameside.
On my Mac I run Pro Tools with a Waves Diamond bundle for plug-ins.
I use SoundForge on the PC for quick one shots, loops or editing some of the assets from the game.
What would be your advice for aspiring sound designers who want to make it in the games industry?
Get together a good showreel focusing on sound design, not music.  Learn any software that you can on  your own (Wwise, FMod).  Get involved with game audio mailing lists, communities and networking events.
Major DOs or DON'TS?
Do:  Have dynamic range in your mixes!
Don't:  Forget about the mix!
How do I stand out from the crowd?
Take time to design sound, not just tracklay.  Through this you'll discover your own voice in the sound design world and people will start to take notice.
What do you think is the future of game audio in your opinion?
Anything goes, but in the near future, binaural audio is at the forefront.  Especially with the future of VR in gaming.
What lies in the future for you now?
As usual when working in the games industry, it's safer not to say.
We hope you enjoyed the interview as much as we did! Keep up to date with Joanna at the following links:
Official: www.joannaorland.com  Blog: Loose Lips