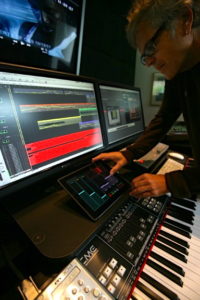 The Sound Architect speaks to excellent Fallout composer, Mark Morgan. Mark is a composer of film, television and video games who lives and works in the Los Angeles area. Influenced by some of the more fringe elements of music making, Mark has developed a style embracing an electronic, industrial, ethnic, and acoustic palette that is not only sonically cool but emotionally deep as well.
Born and raised in Southern California, Mark was surrounded by a diverse artistic environment. His father was an Architect well versed in modern design and his mother a classically trained pianist. In this creative environment Mark started piano studies and began listening to different genres of music from Stravinsky to the Beatles to Miles Davis. Upon completion of high school Mark moved to Boston and enrolled in the prestigious Berklee School Of Music to further his piano studies and add composition as well. During his studies Mark was introduced to the theory of sound manipulation by way of electronic music, this completely changed his life.
With this new found sonic freedom Mark embarked on a more experimental and minimal approach in both his performance and composition.
Read our interview here: Interview with Professional Composer, Mark Morgan
Enjoy!
The Sound Architect