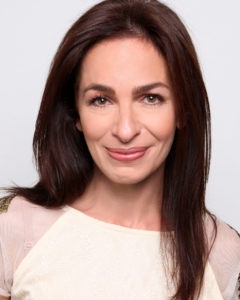 Official Site: www.saffioti.com   Twitter: twitter.com/mamasaff    Facebook: Salli Saffioti Actress
The Sound Architect is very excited to have spoken with amazing voice actress, Salli Saffioti.
Salli  is a professional actress, known for playing roles in video games and movies including Ingrid Hunnigan in Resident Evil 4, Resident Evil: Degeneration, Resident Evil: Damnation, and Resident Evil 6, Ming in Lost Odyssey, Razia in The Prince of Persia, Mistral in Metal Gear Rising Revengeance, Black Widow in Spiderman: Web of Shadows and Whirlwind in Skylanders. Salli is also famous for voicing Clawdeen Wolf and Cleo de Nile in Monster High.
Salli has been a regular voice for such accounts as McDonalds, Proactiv, Ikea, Baby Einstein, Shaws and Star Market on both radio and television nationwide.
She has a large on camera career guest starring on many television shows including ER, NYPD Blue, In Plain Sight, In Justice, The Agency, Tracey Takes On and In the House as well as many more. She has acted opposite Nicole Kidman in Rabbit Hole and Melissa Leo in The Space Between.
Enjoy!
The Sound Architect
Interview by Sam Hughes
Uploaded 08/05/14