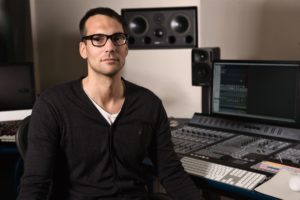 The Sound Architect has the pleasure of speaking with the fantastic composer for Killzone: Mercenary, Walter Mair. Walter has previously created dramatic original scores for feature films such as The List, Seamonsters and Alone In The Dark as well as commercials for BMW and Mercedes-Benz. His previous video game scores include the Ivor Novello nominated Empire: Total War and Viking: Battle For Asgard. We talk about Walter's career path and gain valuable insight on how he works and how to work towards composing professionally.
How did your journey into music composition begin?
I started playing music instruments from an early age, playing the recorder for a few years before I entered the family of brass instruments, the trumpet. At that time I also taught myself to play the piano by playing along to songs on the radio. I quickly discovered my interest for synthesisers but also decided to take on piano lessons to learn to play the instrument properly. I progressed from classical into jazz and improvisation, and on the other hand I was programming sounds on my synthesiser (Korg MS20). It was when I bought my first Akai 1000 sampler that I also started to get into my first DAW where I would re-arrange bars and beats and produced electronic music. This whole approach was very hands-on and very experimental. In order to take this to the next level I went to study music composition at Vienna University followed by another study in Composition for motion pictures in Salzburg. The former education was very classical but together with my electronic skills it seemed to be the perfect match for projects yet to come.
What is your proudest project so far?
Being what some people call a hybrid composer, working on movies and video games alike, I would have to name a project for each genre. On the game side, I would say that 'Killzone' was definitely an amazing project to work on, with an awesome brief and the opportunity to record live instruments and combine them with synths and other electronic instruments. On the film side, I would have to name 'Alone in the Dark' which was an awesome project for multiple reasons: It was my first full orchestral score that was recorded live and I got to see the full sound post from ADR-ing Christian Slater and Tara Reid, to the final dub and the red carpet premiere in Los Angeles. This project had me wowed, addicted and made me want to continue my career to become a proper composer.
What has been your most challenging project so far?
Thanks to my amazing clients I've had the pleasure to work on many projects I really enjoyed working on. These all have their unique briefs and musical requirements which keeps my line of work so interesting and challenging alike. 'Empire: Total War' was one of the more complex projects I worked on with many recording sessions. My music was recorded live with an 80-piece orchestra but we also recorded a massive selection of ethnic instruments ranging from flutes to bowed/plucked and percussive instruments.
The logistics for such an elaborate recording was intense. We had to mix the soundtrack afterwards but also decide which of the sampled instruments we wanted to bring back to the mix in case we wanted to play with the sound and provide a bigger impact using some of the more epic sampled drums. At the end it was worth all the hard work as the sound track received excellent reviews. The game itself was nominated for a BAFTA award and the music was nominated for several awards including an Ivor Novello award.
What would be your dream project to work on?
A project that allows me to create a musical sound-world for this particular project. Where I can create unique sounds and layer them with more familiar instruments.
I like the challenge of producing a soundtrack that is unique in many ways but partly uses
known sounds and sources of music that were treated in such way that the origin of the instruments are disguised. This always results in a soundtrack where you think you know what you are listening to but just can't put your finger on it.
Is there a piece that you've written that will always stay with you?
It is the theme for 'The Road Home,' a film I wrote the music for in 2011 which played at major film festivals and also got shortlisted for the Oscars last year. The theme is simple, played by string quartet and piano with a few synths on top. The overall sound texture is very organic, yet interesting by adding a few layers of synths. I often use this piece and play it to film directors to see what direction they want me to go for their score. I would then have the strings on one fader and the synths on another fader and see what balance the director/producers prefer for their movie. As we all know music is a very subjective topic and when a director wants you to create a realistic soundtrack using only live instruments he might not be aware that by adding only a hand full of synths this might add a subtle texture that greatly benefits the score.
What software do you use to compose your music?
I use Logic Pro with a vast selection of plug-ins and software instruments which cover most of the big orchestral libraries including VSL, East West, Symphobia, LASS.
But I also use a palette of software synths e.g. Spectrasonics, NI, 8dio, Tonehammer. Some plug-ins like Altiverb are part of my everyday template in Logic. But I also use a lot of effects and sound manglers e.g. Iris, Reaktor, Sound Toys and Stutter Edit, amongst many others. For a year or so I've also been using apps and effect units on my iPad which are great fun to play with.
What's your process , where do you start?
Once I have a clear idea of the script and what the director wants to achieve with his film/game and its music I will start creating some soundscapes which could be little motives, rhythms or more abstract harmonic beds which I would then play the director to get his initial thoughts.
I then continue with specific cues and the basic structure for each cue – find the right tempo to hit all the cue points. Then I lay down the chords and motives. Writing the main theme can be time intensive but it is crucial to show the director/producer that one understands the story and characters of a film. Some cues might be more ethereal or pad-heavy, and it's important to spend time to get the sound right and tweak the instruments accordingly, regardless of them being soft or hardware synths. Action cues which are fast-paced and percussion heavy require a different procedure. In order to get the balance right I mix and map percussion libraries and then program a beat with many variations. This defines the core sound of the track and makes it easier to add strings, brass and synths as and when they are required. Once the director is happy with the cue I prepare the Logic file for the orchestral recording session. On bigger and time critical projects I pass the Logic file on to an orchestrator who adds the final touches like expression marks etc.
Once the music is recorded and pre-mixed the only step left is the final dub. A process where all the key sound people of a project are present, from director/producer to music supervisor, sound designer, … and composer.
So I'm aspiring composer for video-games, what should I do first?
Write music on a daily basis. Your skill gets better the more you practice. It is important to show that a composer understands the requirements for interactive music. If you haven't already worked on a game then use some in-game footage you can find online, mute the sound and score it in your own way. It is all about your own personal style that gets you the work and not just copying the already established composers.
Any advice for applications and show reels?
Take your best material and put together a showreel. Make it as easy as possible for producers/directors to view the content. Do your research and get your reel to the right people. Put the best work in front of your reel and keep the reel fairly short so people will listen/watch the entire reel. Most producers simply don't have time to listen to hundreds of tracks a week. If the first track they hear is great they are more likely to listen to more music.
Are there any major Do's and Don'ts?
Do follow up once you sent an email out but leave the directors/producers sufficient time to check the reel as they might be working on a tight deadline on another project.
What lies in the future for you now?
Having just finished a video game 'Killzone' and a movie 'The List' which will be released end of this year I am looking forward to my next bigger project. I had great meetings with developers in Los Angeles this month and am working on my next movie already. I am also in the process of moving to a new studio in Soho which is very exciting.
You can check out Walter's site for examples of his work here: http://www.waltermair.com and of course don't forget to check out Killzone: Mercenary to hear his amazing soundtrack for this game http://killzonemercenary.eu.playstation.com/killzone-mercenary.