We've not covered microphones yet, so welcome to our first ever microphone review, covering the STC-3X Pack from Sontronics! The STC-3X (like all of Sontronics microphones) was designed and developed in the UK by Trevor Coley.  Sontronics beta-test all their new mics with top producers including Flood, Paul Epworth and the engineers at Abbey Road Studios.
Firstly here's a few words from Sam Hughes describing the mic and also demonstrating it's suitability for spoken voice and acoustic guitar. The mic was recorded in the positions shown below for voice and guitar accordingly:
As mentioned in the clip this mic is great for spoken word and acoustic guitar but other users have recommended the STC-3X for these uses:
In cardioid mode:
Acoustic guitar, vocals (sung & spoken), piano, other acoustic instruments (flute, panpipes!, saxophone, other brass & woodwind), other plucked instruments such as banjo and harp, guitar amps, percussion
In omni mode:
Round-table discussion/interview, overhead for solo and ensemble instruments, choir, string quartet, drum overhead, room/ambient miking
In figure-of-eight mode:
1+1 interview, backing vocals (standing on opposite sides of the mic), cello, flute, other solo string and woodwind, etc, etc
The STC-3X isn't just a nice sleek and sturdy design. As stated in the clip, the STC-3X is very versatile and has quite a few options for you to play with. You have the high pass filter with options of linear, 150Hz and 75Hz: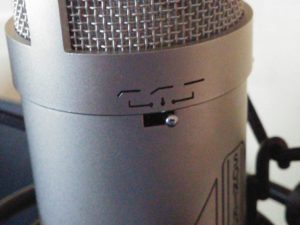 The polar pattern options of figure of eight, cardioid and omni-directional: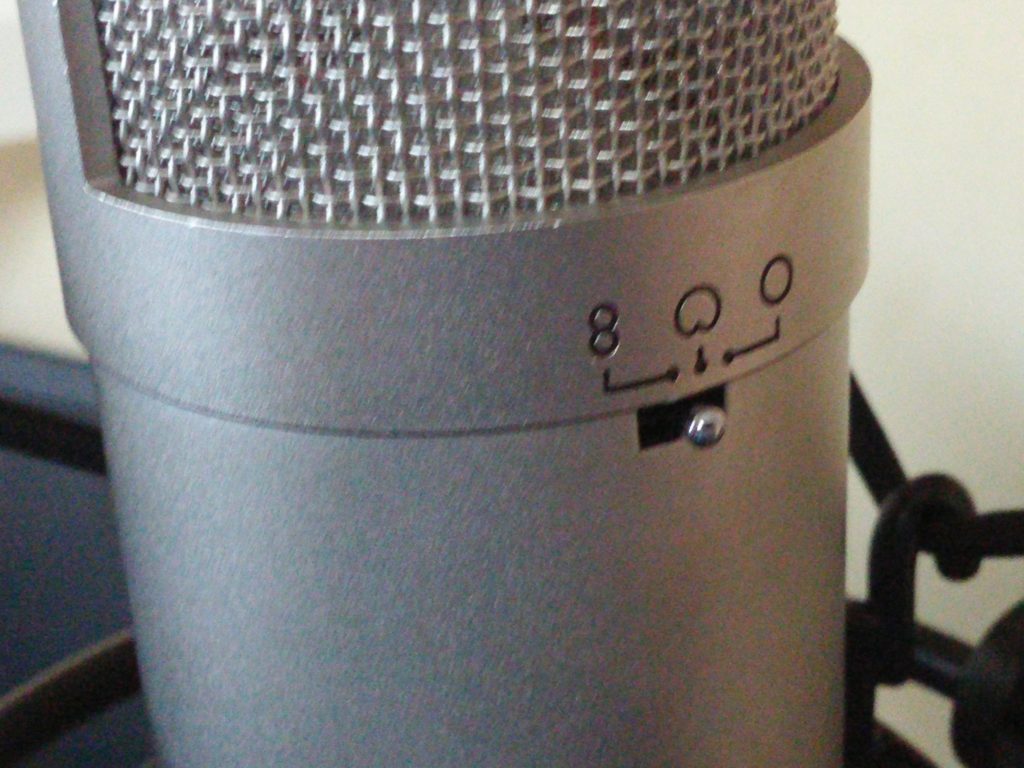 And last but not least the attenuation pads of 0dB, -10dB and -20dB.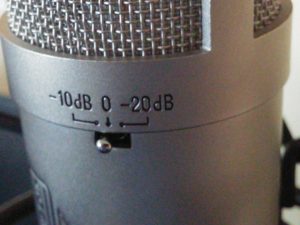 For the full tech specs see the picture below: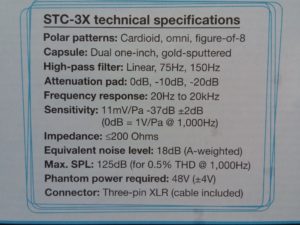 The pack has quite a selection of goodies that come with it. Along with the mic you also receive a Sontronics pop-shield, a spider-style shock mount, a 5m XLR cable and a zip up pouch. These aren't just crappy cheap accessories that come free with the mic, each component is high quality and well designed. Not only do you get all this hardware, you also receive a Toontrack EZMIX2 Lite in the box as well as the LIFETIME WARRANTY. For mics in a studio, whether it be at home or in a professional suite, a lifetime warranty is a big deal and this is the only mic company s far to offer it!
One of the nice features of the design of this pack is the adjustable pop shield that attaches to the shock mount. This provides a nice user firendly way of quickly setting up to record vocals or voiceover. Simply secure to two butterfly bolts and your away. No annoying flexi-arm which can be irritating, and no attachment to the mic stand. This lack of attachment helps you to record everything so much cleaner, especially in conjunction with the shock mount.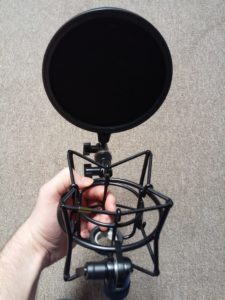 The shock mount itself is brilliantly crafted and eveything works smoothly, tightening without any movement or sliding problems. There are even two spare elastics for the shock mount. 
The only real downside we can come up with for this mic is the weight really, and even that's at a push. It's a bit heavy but after all the other perks and pros it's not really enough to be an issue. Plus, you expect that with the type of mic you're buying. Look at Neumann U87s, they're not exactly light!
So well played Sontronics, we can't really fault you at all with this mic, it does exactly what we expect it to do and more, great job!
Overall for the reasonable price of around £239.99, check here for some great promo deals at stockists www.sontronics.com/stc3xpromo.htm, which at some places also includes an STC-10 pencil mic.  
Links for Sontronics:
Official: www.sontronics.com
Twitter: @Sontronics
Facebook: Sontronics
Review by Sam Hughes
Uploaded 20/03/15
©Copyright of The Sound Architect™
Like what we do? So do we! To keep going and bring you even better and higher quality content (plus getting more awesome writers involved) we've set up a Patreon page! 
https://www.patreon.com/SoundDesignUK
We hope to continue giving back to the audio community and with a little support we can go a long way.
Whether you donate, share the link or just read the interviews we're very happy you stopped by and psyched that you like our content!
Thanks a lot!
Sam – Lead Editor