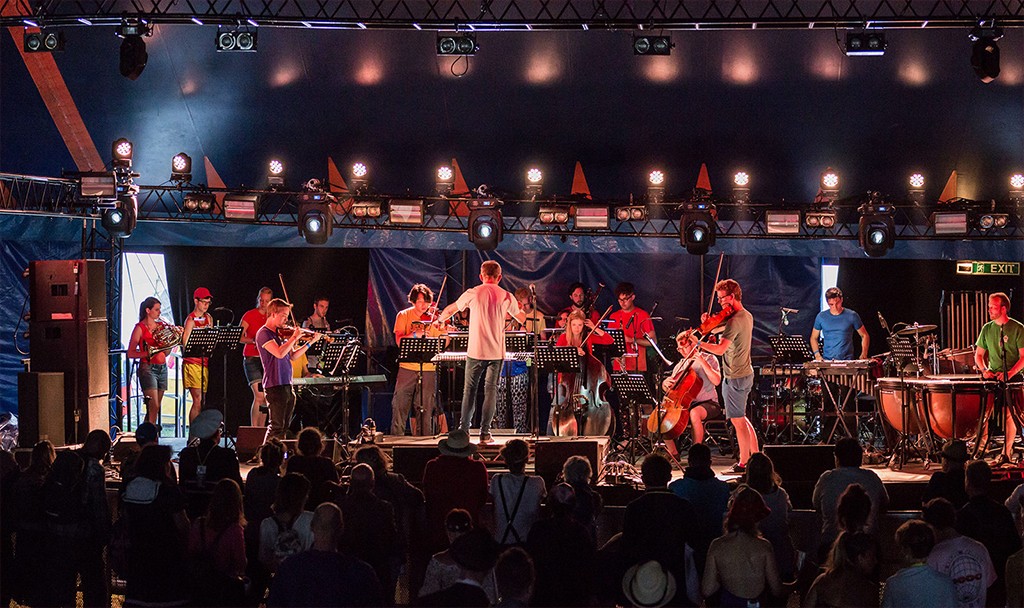 Review by Andrew Overfield
Edited by Sam Hughes
Artistic Director: Charles Hazlewood
Composer(s): Various
Venue: Leeds Town Hall
On the 20th March, Andrew Overfield and Sam Hughes checked out the PLAY! concert; a series of classical pieces performed alongside classic and modern video game music, by the British Paraorchestra & Friends, conducted by Charles Hazlewood. Read what they had to say!
Let's "PLAY!"
And let us begin at the venue. My hometown of Leeds, in the glorious Leeds Town Hall. The main reason I love this venue is the hugely immense 1856 Henry Smart organ, still in use to this day. Brilliantly powerful and genuinely awesome. This venue holds a lot of memories for me including my graduation and various events over the years. And PLAY! will definitely be up there with said memories.
The Sound Architect was kindly invited to experience the performance of PLAY! by Artistic Producer, Hannah Williams Walton and what a performance it was!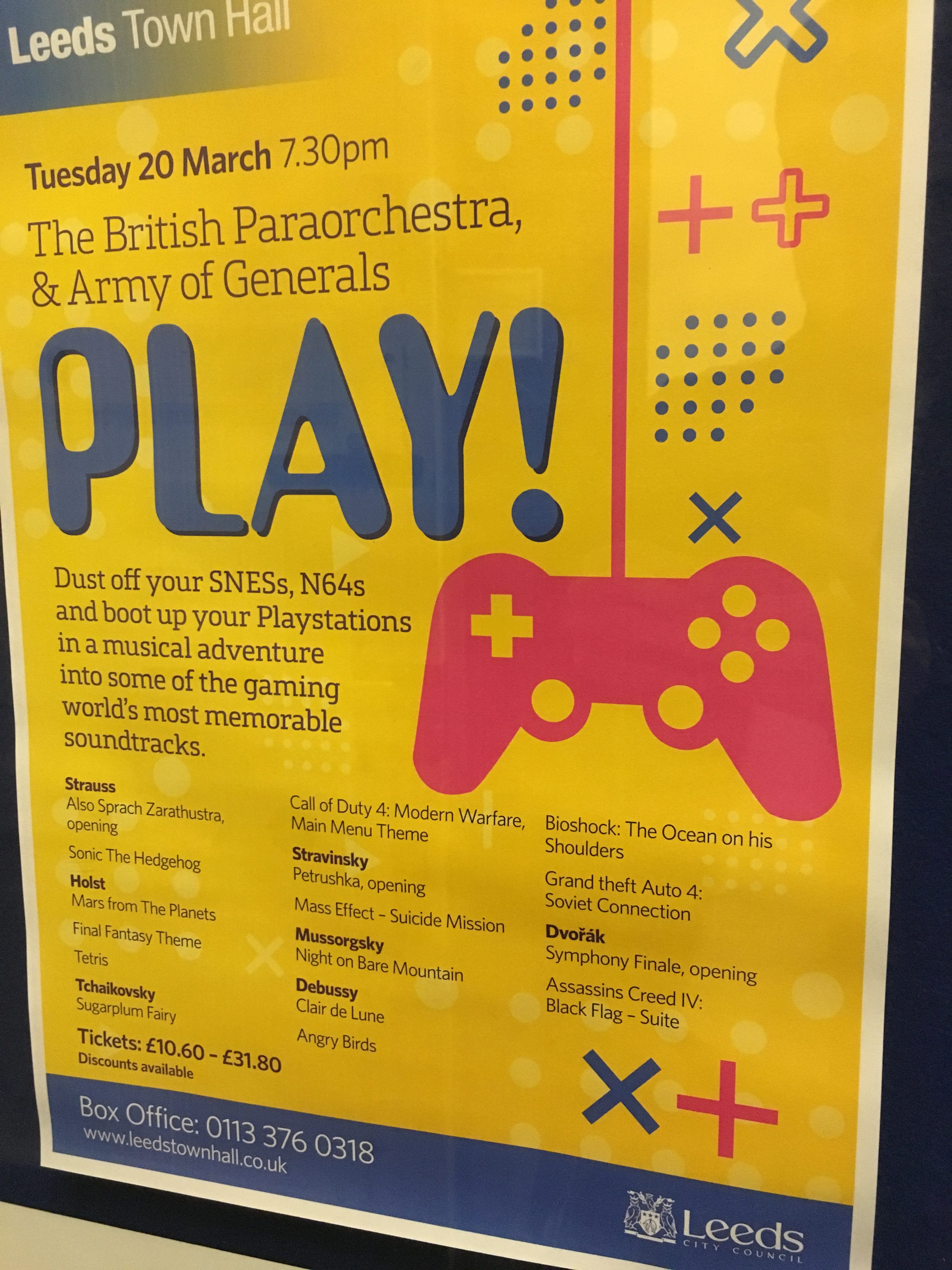 Let me give you a brief introduction to the event and it's origin. Founded by Charles Hazlewood & The Paraorchestra and Friends, the event encompasses Hazlewood's vision of exploring and breaking the boundaries of what is considered "classic" orchestral music. Blending the "world's only large scale ensemble for disabled musicians" with friends such as the Army of Generals and contemporary music, his ideas are brought to the concert hall with such vigour and passion it truly is an event to experience.
In recent years we have witnessed a large upscaling of video game music brought to the frats accompanied by a large ensemble of musicians, an orchestra and many other wonderfully talented individuals. This has greatly increased the appeal of not just contemporary video game music but the way classical music is viewed by many younger generations.
We've seen this in incarnations such as Tommy Tallarico's Video Games Live, Nobuo Uematsu and Arnie Roth's Distant Worlds and various other live video game music shows. Huge communities have been formed to celebrate video game music such as @WeLoveVGM over on Twitter, led by Prescilla Garland and Richard Stokes and our good friend Pete Boyle's DorkTunes. Video game music is becoming a much more popular form of entertainment and additional celebration of the hard work that goes into our hours and hours of enjoyment.
When we found out that this show was coming to my hometown of Leeds, we simply had to jump at the opportunity. And what an opportunity it was.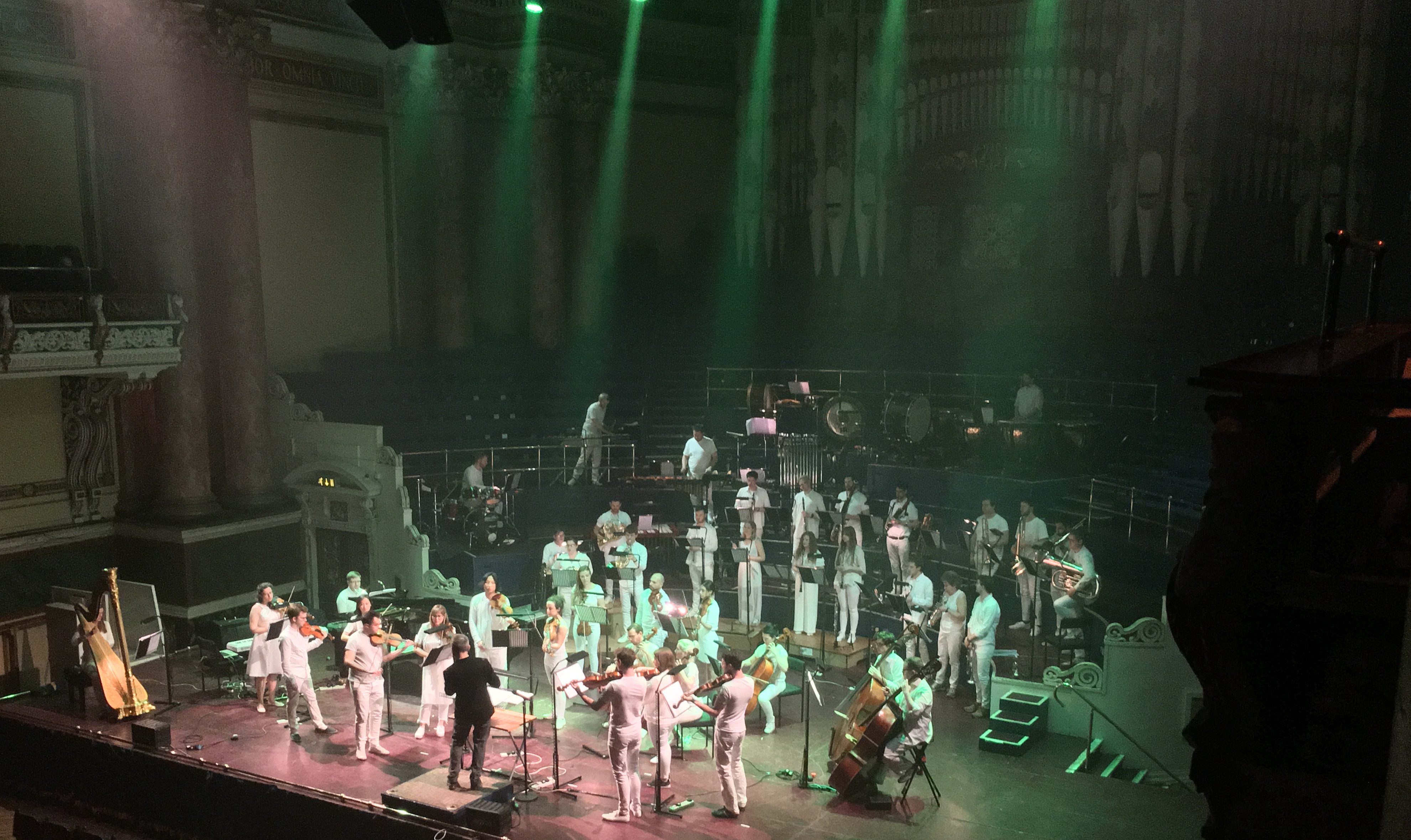 Hazlewood's production has carefully blended classical and revered music with contemporary and modern video game music to give us a fun and enjoyable mix. And it's not haphazardly placed together in some random order. The pieces that he has selected have had common ground with each other as they follow each other in the journey of the setlist. Each section celebrating similar tastes, styles or origins to bow a brief head to a classical composer. Strauss, Debussy, Tchaikovsky and many others are featured alongside modern greats such as Uematsu, Hans Zimmer and Garry Schyman.
The orchestra themselves are a real power. As I watched and listened throughout the evening I was in awe at their ferocity and determination. Yet all while looking like they were having some of the most fun in their lives. They were carefully balanced, in time, well-tuned and overall extremely tight together. Even when there wasn't much to accompany in the score, for example the harpist, Rachel Wick showed nothing but concentration on the next note. The arrangements were very fitting for the mood and tone of the event and without being too daring and straying away form their original incarnations, they were relatable, and emotional.
You can easily tell Hazlewood is no stranger to the world of the performing arts. He welcomingly greeted the audience in between pieces to engage with everyone, introducing a back story of the piece itself, and the connection with the next. Referring to video game nostalgia and a few witty remarks here and there kept the audience fresh, engaged and entertained. His experience in both the worlds of conducting large-scale orchestras and working alongside many modern popular music artists certainly shines in his presence as essentially the master of ceremonies and conductor for this show.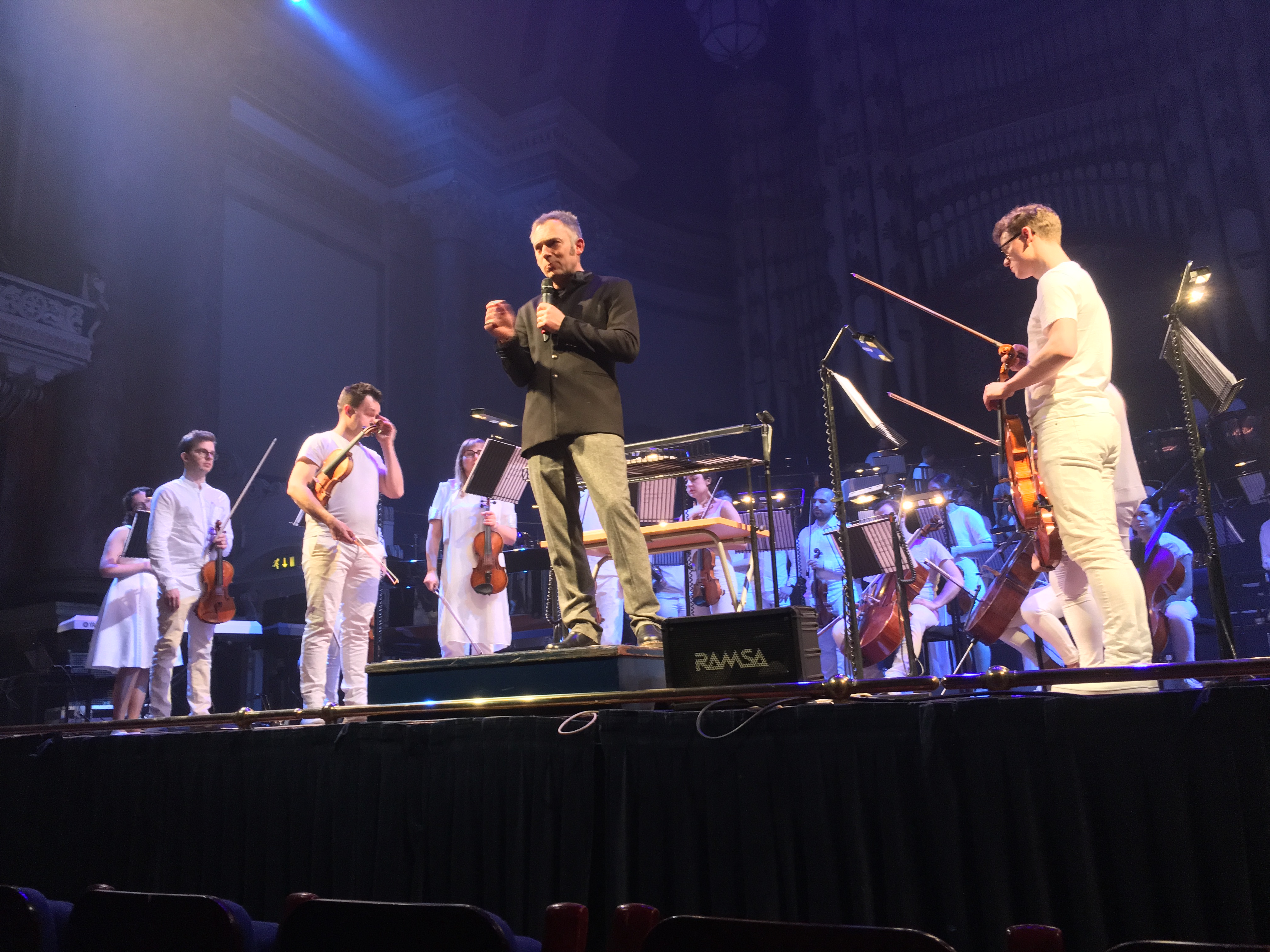 Highlights
Andrew
I particularly enjoyed the Call of Duty: Modern Warfare II main theme which I have included a video below. As a huge fan of the Call of Duty franchise it was refreshing to see it get it's moment in the limelight of live orchestral music. Without any introduction you can feel how the entire piece builds into a huge crescendo of emotion and force which is typical of an experience in the game. Brought back a lot of great memories for me. I also thoroughly enjoyed the main theme from Final Fantasy which, as many of you keen readers will know is my biggest video game soft-spot. Absolutely well done everyone on their performance!
Sam
I have to say I was enjoying the concert from start to finish, however one piece definitely got me tapping, head-bobbing and smiling all the way through. My highlight of the night was their amazing rendition of Brian Tyler's works in the Assassin's Creed IV: Black Flag Suite. Starts off with the main theme, and then just kicks in with that fantastic pirate jig feel with the epicness of the orchestra behind it. I'm a big fan of the ACIV: BF soundtrack anyway but hearing it live and played so fantastically really made me beam.
Overall
With only two shows in the plan for PLAY! I'm very sad to say that you have missed out on this current project of the The Paraorchestra and Friends. However, with a glint of hope I sincerely wish the foundation will bring more of this type of show to the masses. With enough momentum and backing, I believe this could turn into a much larger and welcomed project across the UK and even further afield. It's quite apparent that this type of celebration of video game music is widely accepted and the market is there and thirsty for more. I truly hope the team decide to expand their dates and return for more orchestral bleeps and bloops.
If this ever does come back into fruition, I can certainly guarantee that you will not be disappointed at what you will discover on this fun, energetic, well-played evening. Hats off to everyone involved. And we at TSA definitely hope to see you again soon!
Programme

Strauss Also Sprach Zarathustra – opening
Sonic The Hedgehog
Holst The Planets – Mars
Final Fantasy Theme Tetris
Tchaikovsky The Nutcracker – Sugarplum Fairy
Call of Duty 4 Modern Warfare Opening Titles
Stravinsky Petrushka – opening
Mass Effect Suicide Mission Interval
Mussorgsky Night on Bare Mountain
Debussy Clair de Lune
Angry Birds
Bioshock The Ocean on his Shoulders
Grand theft Auto 4 Soviet Connection
Dvorák Symphony No 9 – Finale, opening
Assassins Creed IV Black Flag – Suite
LINKS
Official
Twitter
Facebook
We hope you enjoyed Andrew's review, check out others in our Reviews section. Don't forget to sign up to our Monthly Newsletter to make sure you don't miss out on our reviews and interviews.
We're also running a Patreon campaign to make sure we can keep bringing you regular, high quality content if you're feeling generous! Thanks for even sharing!
The Sound Architect