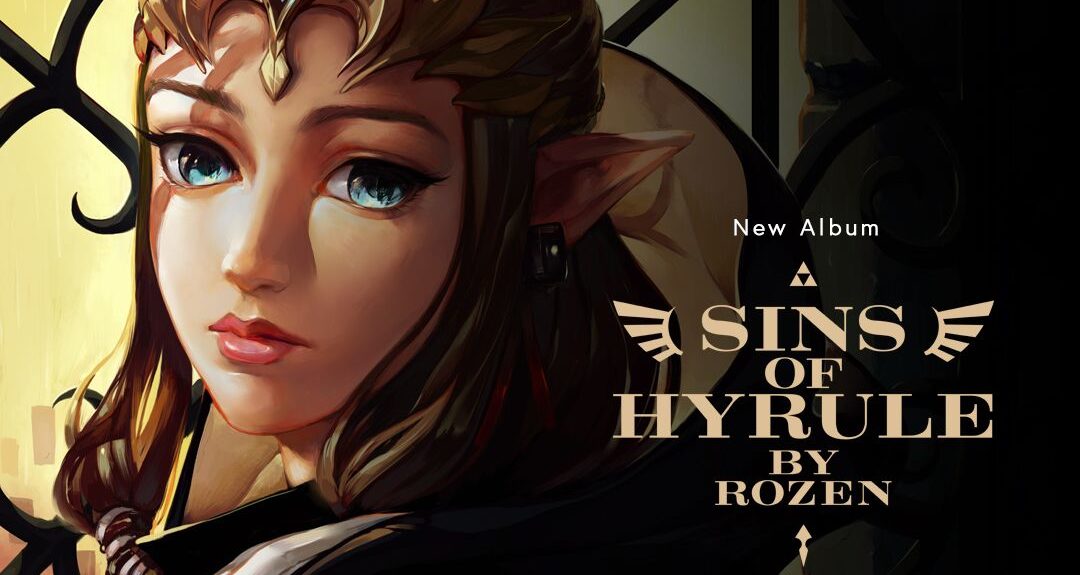 Artist Rozen explores mythology of Hyrule with epic re-imaginings from Breath of the Wild, Ocarina of Time, Skyward Sword, and Twilight Princess.
Earlier this month, Sins of Hyrule, a Zelda tribute album was announced. The album explores the eternal conflict between the Goddess Hylia and the Evil of evils, Demise, through 15 riveting arrangements. Sins of Hyrule delivers a sonic experience that embraces epic music with electronic flavours. Featuring music from The Legend of Zelda: Breath of the Wild, Ocarina of Time, Skyward Sword, and Twilight Princess alongside original works by composer/arranger Rozen.
The full track list for Sins of Hyrule is as follows:
The Ancient Battle (feat. Laura Intravia)
Ballad of the Goddess
A King is Born
Gerudo Legend (feat. Julie Elven)
Song of Hylia
Battle for the Sacred Realm
Monarchy in Shadows (feat. London Strings)
Thief Reborn
King of Light and Shadow (feat. ETHEReal String Orchestra)
Dark Lord Ganondorf
Breath of the Wild
Castle in Ruins
Calamity
Ganon's Requiem
Sins of Hyrule
"More than a straightforward orchestral remix album, this album goes deeper into retelling the mythos of Hyrule, scoring the key moments where humanity is the audience to the colossal battles between light and shadow," notes Rozen. "Through the use of live instruments, huge percussion, choir, hybrid elements, and dreamy vocals, experience the dark nature and the never-ending cycle of the curse trapped inside the divine-given Triforce.
Are you a fan of Zelda mythology? Let us know what you think of this tribute in the comments below!
The limited physical edition CD includes a six-panel digipak and artwork by Alderion-al and Diego Jimenez; only 300 copies have been produced. The team have also announced that they're bringing Sins of Hyrule to vinyl, limited to only 200 2xLP. Pre-orders for the vinyl are available on the album's Bandcamp page, and it will ship in March 2018.
More about Rozen
Rozen is a G.A.N.G. Award-winning arranger and composer who creates music for media. His arrangements, often orchestral and choral in scope, are praised for their immersion and emotional weight.  Rozen's orchestrations have been commissioned by the L'Orchestre de Jeux Video in Canada, the Angel City Chorale in Los Angeles, the Game Music Ensemble at UCLA, and the Folklore Guild in San Diego, CA.
LINKS
Learn more about Sins of Hyrule
Follow Rozen on Twitter, Facebook, YouTube and SoundCloud
Follow Materia Collective on Twitter, Facebook, YouTube and SoundCloud
To stay up to date on more audio news, sign up to our monthly newsletter to make sure you don't miss out of news as well as our reviews and interviews.
We are also running a Patreon campaign to help support our team and help us bring you more awesome content at even higher quality!