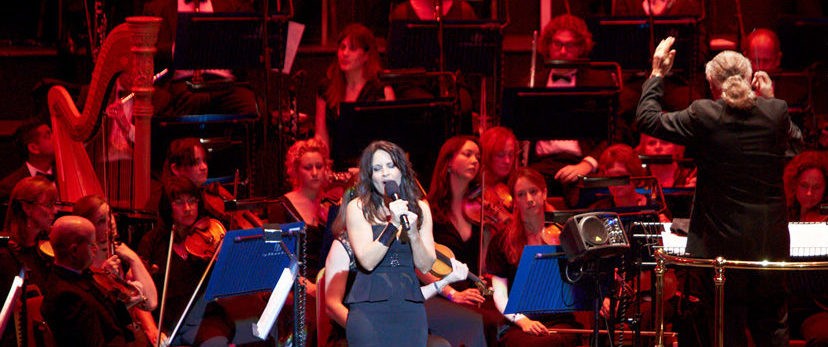 Susan Calloway, original vocalist from Final Fantasy XIV, joins Distant Worlds: music from Final Fantasy
Calling all Final Fantasy fans!!  Distant Worlds: music from FINAL FANTASY, the official symphony concert tour is coming to Paris on April 21st. Arnie Roth will conduct the Sinfonia Pop Orchestra and Chorus, with legendary composer Nobu Uematsu attending!
Susan will be the featured vocalist on:
FINAL FANTASY VIII: Eyes On Me
FINAL FANTASY XIV: Answers
Also added to these performances: FINAL FANTASY VI: Opera 'Maria & Draco'!
Overlook Events welcomes the global intermedia orchestra phenomenon Distant Worlds: music from FINAL FANTASY to the fabulous Le Grand Rex Theatre in the heart of Paris. Experience the incredible power of iconic FINAL FANTASY themes performed by over 100 musicians under the direction of GRAMMY award-winning conductor Arnie Roth. With revered FINAL FANTASY composer Nobuo Uematsu in attendence, an astonishing and fresh program of FINAL FANTASY music for massive orchestra and chorus, and exciting Square Enix video presentations exclusive to Distant Worlds.
Including iconic music scores from 30 years of FINAL FANTASY, music from the just-released FINAL FANTASY XV and much more to be announced! VIP tickets are also available, giving attendees the opportunity to meet Nobuo Uematsu and Arnie Roth at the end of the concert for a signing session and photo opporunity.
Are you attending Distant Worlds in Paris? Tell us about it!
About Distant Worlds
Launched in 2007, in conjunction with the twentieth anniversary of FINAL FANTASY, Distant Worlds features the music of the great video game series FINAL FANTASY and composer Nobuo Uematsu. The concerts are performed by symphony orchestra, choir, and renowned vocal and instrumental soloists, under the direction of GRAMMY Award-winner and acclaimed conductor Arnie Roth. With HD video presentations from the FINAL FANTASY game developers SQUARE ENIX projected onto giant screens throughout the concerts, Distant Worlds performs a diverse and constantly expanding repertoire of classic FINAL FANTASY music from throughout the thirty year history of the game series.  With a dedicated and phenomenal community of FINAL FANTASY music lovers, Distant Worlds is a unique multimedia concert experience that delights audiences all over the globe.
LINKS
To stay up to date on more audio news, sign up to our monthly newsletter to make sure you don't miss out of news as well as our reviews and interviews.
We are also running a Patreon campaign to help support our team and help us bring you more awesome content at even higher quality!