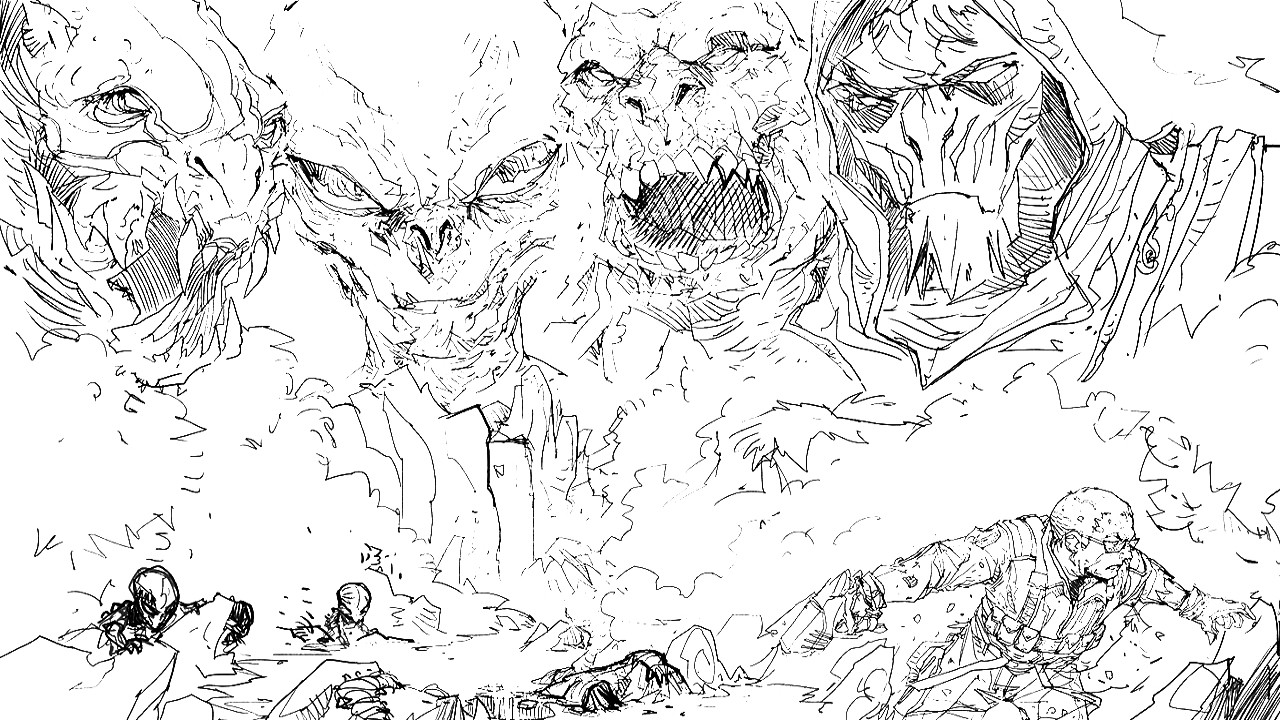 Interview with John Broomhall
JOHN BROOMHALL, composer, sound designer, co-founder of Game Music Connect and curator/chair of the Develop Conference Audio Track, recently returned to a game franchise beloved of millions the world over, whose first three hit titles he had a deep involvement in – both as original composer and audio producer. Sound-hound Sam Hughes unpicks an unusual and intriguing scoring and sound design project.
Thanks for joining us once again John it's always a pleasure to have you with us!
So let's talk about Deep Rising: A Tribute to X-Com. How did you first get involved in the project?
Firstly, thank you very much for having me.  It's always great to talk to you and congratulations on all the excellent work you're doing, Sam!
So – Deep Rising – well, I was contacted by these amazing guys Olav Lognvik and Pedro Bento, right smack in a layover between recording sessions in San Francisco and New York for Forza Motorsport 5.  Having just spent five days with the Forza audio team tracking strings at Skywalker Sound, I was feeling pretty good anyway – then this wonderful email from these two devoted players and fans of the original X-Com game dropped into my inbox whilst I was hanging out at a cafe in SF – and life got even better!
They presented me straight out the gate with a detailed plan and proposal for my potential involvement with their project, which was to create an online graphic novel/comic which would be a tribute to X-Com and feature a brand new adventure in pictures and words – and also in music and audio.
They'd thought it all through – everything was pretty much covered.  I was impressed with their organisation, clarity and attention to detail.  I knew right away I wanted to get involved – these guys were serious – they really meant business and no way did I want to pass up the opportunity to be commissioned to revisit this fantastic franchise whose first three games I was so deeply involved with, when working for legendary games publisher MicroProse, and the Gollop Brothers of Mythos Games' fame.
Awesome, how did it feel to return to a familiar title?
There was something of a homecoming about it but I also felt a keen sense of responsibility.  It was a challenge to do something new, yet true to the spirit of X-Com.  Especially when you consider that the original X-Com music I wrote was developed for primitive PC sound cards like the then ubiquitous FM 8-bit Soundblaster card from Creative Labs.  So with today's studio tech, this production was going to have completely different sonics yet somehow it would have to capture that same original vibe.
It's interesting though – the FM synth music from the original classic PC release really hit the spot with players.  I've had so much fan-mail in connection with that music – possibly even more than for the jazz music of Transport Tycoon.   Though it was lo-fi, there was obviously something about it that really, really worked and gelled – and helped create X-Com's addictive and compelling game experience.
Now it's a very unique platform, for the benefit of our readers can you just briefly explain what Deep Rising is?
Yeah, of course.  Well Deep Rising is literally a comic – a small graphic novel if you like – a story told through words and pictures over some 25 or so static pages, also 'illustrated' through music and sound.  To me, the artwork is stunning – absolutely beautiful – and you'd better believe Olav and Pedro totally know the subject matter – and their attention to detail which I mentioned earlier, shines through on every page – even down to the use of colour tones as well as the armour, weaponry and of course accuracy of script detail.  It's very 'X-Com'!  They even brought in David Ellis to help write the story.
You can view or download it for free here:
http://comic.strategycore.co.uk/
So it's definitely an interesting project to score for! How did you decide on your approach?
I suppose first and foremost I just responded naturally and creatively to those awesome images.  I created a couple of musical motifs to kick things off;  phrases that I could re-purpose musically for a thread of continuity but which could work in different guises depending on context.  I also constructed a distinct palette of instruments and synth sounds which I felt hit that X-Com vibe.
I constructed a massive video of the pages all in sequence – 27 in all – so I could view them like a weird very slow movie.  Every page was displayed as a still for around two minutes each.  The point was for me to be able to work with my instrument palette alongside the story, and develop the music to support the narrative and easily move around the project to cross-reference what I'd done earlier.  I tackled the pages in sequence, so it was kind of through-composing.
Later on as the story developed, I brought in some much bigger musical themes as a natural part of the process.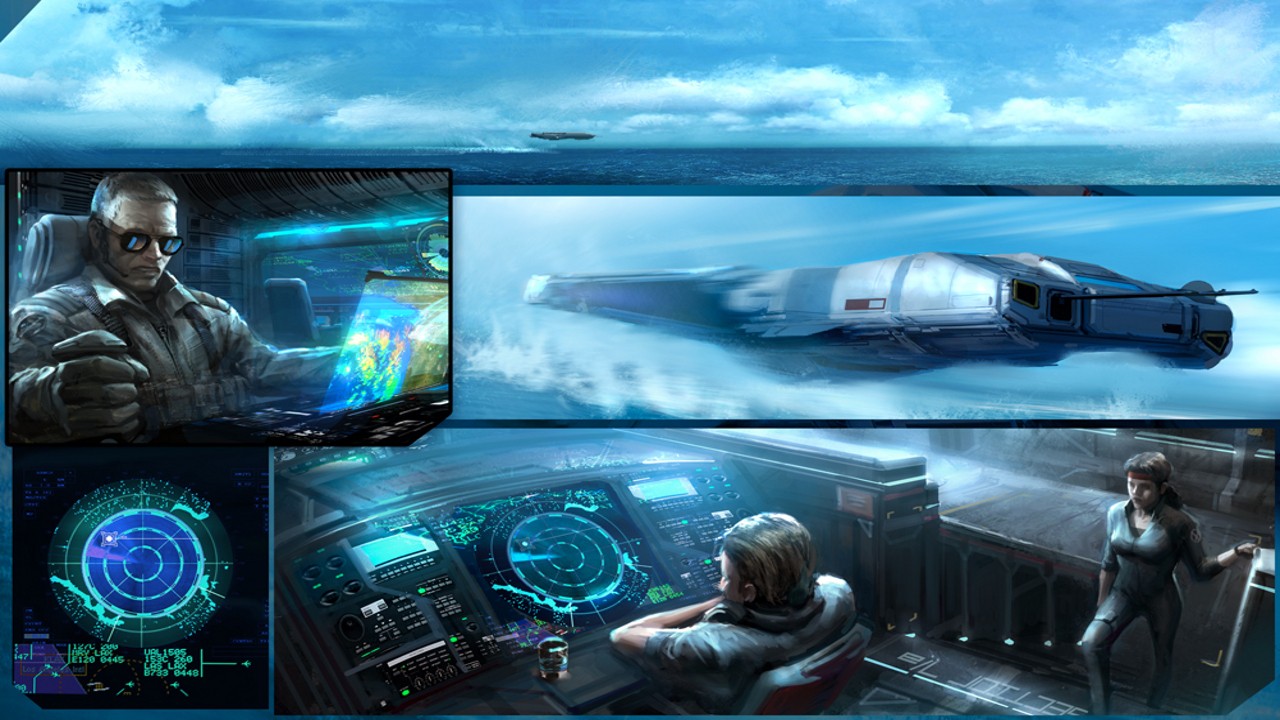 Cool, so how did you tackle obstacles such as people's reading speeds, no dialogue, nothing but the music to match the online comic?
Pedro and Olav stipulated that each piece of music (and audio) should be 1.5 minutes long.  By the way, I should say that it absolutely did include quite a lot of audio.  They wanted sound design elements to subtly reflect the atmospheres and environments – and also underscore certain events.  Though clearly, timing for sound events was always going to be a tough call.  If a major event like an explosion occurred at the beginning of a page – then fine but after that it really is a question of a) between the three of us making a judgement call on average reading speed and b) going for an impressionistic 'wash of sound' type of approach and generally trying to avoid anything too specific if it occurred midway on a page.
The lack of dialogue works great to my mind – your brain soon becomes habituated to the format and I think fills in the voices for you.  The music and audio experience glues it all together and creates atmosphere and pathos.
What was the biggest challenge?
Pedro and Olav gave me plenty of creative space and oodles of encouragement along the way.  It was lovely working for and with them –   probably my most chilled clients ever.  They even sent me an absolutely MASSIVE Hotel Chocolat Ostrich egg at one point.  Brilliant.
Luckily, they loved the first title page music I created and things went on quite smoothly for many cues.  But without wanting to give a spoiler, there's a point where our X-Com heroes have a major change of environment and find themselves deep in enemy territory.  My first pass on this was just not radical and different enough for P and O – and they were totally right.  I dug deeper, went back to first principles and created an entirely different sound palette for this part of the story.  And it works so much better.  Those new sounds seep into the soundtrack the deeper you get behind enemy lines and vice versa.  It makes for a real contrast.
Was there anything that you are particularly proud of about Deep Rising?
I think overall I'm just pleased that it feels like the whole is greater than the sum of the parts, you know? It's obviously an unusual production in some respects yet it really works – and again, it feels very 'X-Com'.  I believe that some of the creators of the latest XCOM games are digging it and 2K Games have given an official permission nod.  Plus, for me, best of all, Julian Gollop, the original creator of this whole thing, really likes it.
Awesome, and what lies in the future for you now?
I have an exciting new game in the pipeline but unfortunately it's way too early to talk about it.  Meanwhile I'm at the tail end of a couple of 'casual' titles plus re-jigging some music that just got signed for a production library.  And I'm very busy organising the Develop Conference in Brighton audio track which takes place on July 14th.
Oh and of course – playing as much live jazz piano as I can find time for 🙂
Interview with Deep Rising's, Pedro Bento and Olav Lognvik of StrategyCore, who conceived, commissioned and led the project
What made you decide to create an online comic as opposed to any other format?
It was simply the most logical move to make given the prospective work involved, the intersection of talent with games pertaining story writing, art and audio creative professionals, without the demands and complexity of game development or, say, movie production.
Though not without its own challenges in terms of the required attention to detail or perseverance needed throughout and the intricacies of deployment, a comic is, on the other hand, and ultimately, an extremely easy to consume format anyone can enjoy across a variety of devices with immediate worldwide availability.
Obviously the visuals are very important but you must have known early on how important the audio would be?
We've wanted audio to be an integral part of the experience from day one. Our earliest, very first proof of concept "comic viewer" already had audio present. There was never any doubt in our minds that the presence of audio would be transformative and we can't stress enough just how much of an added dimension it brings to what's visually on the page. It's not merely a matter of being evocative of what's on a page, it both complements and amplifies what you're looking at providing a far richer sense of context overall.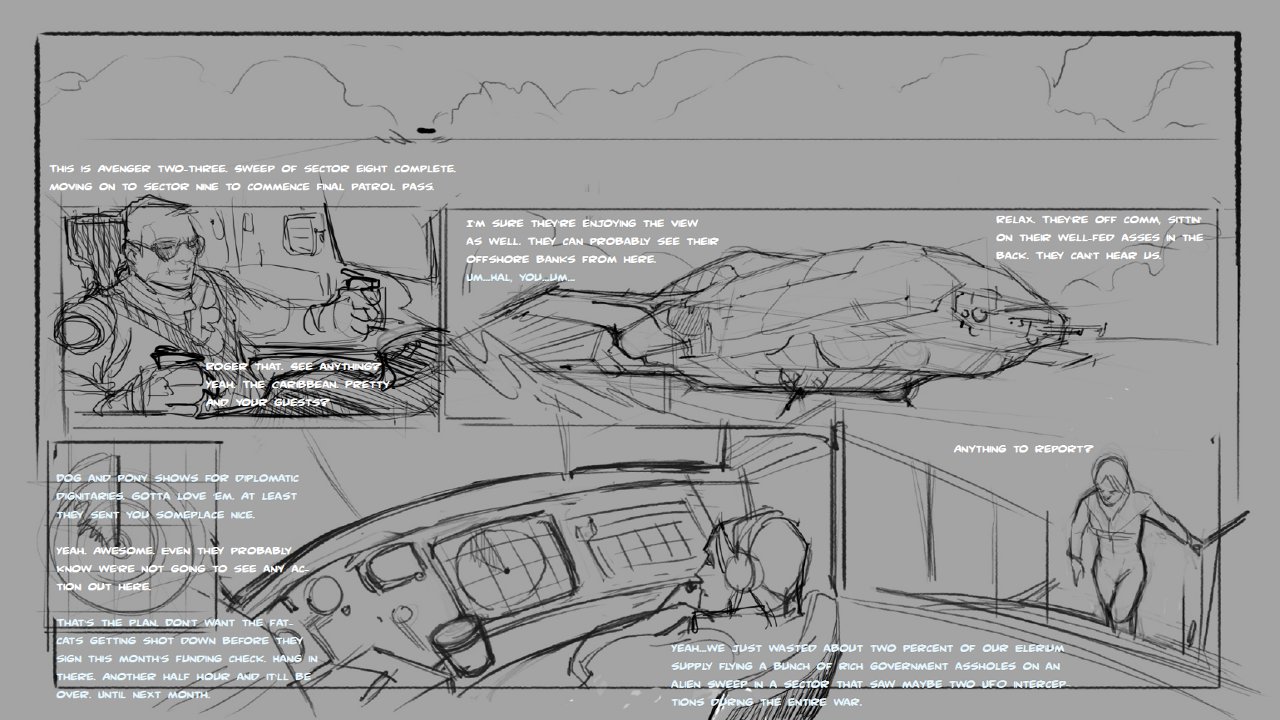 How did you consider the audio throughout your thought processes?
Thematically, X-Com has always had a significant aural imprint, so we wanted some of that identity to transpire and resonate with the audience, naturally. But beyond that base precept the canvas was wide open and composition was to be informed by the visuals themselves. We were mindful in terms of keeping the audio from ever becoming too dominant, so it didn't ever become intrusive in the process of contributing to paint a picture of the situations depicted. Affording the reader that ever-elusive frontier of personal space was therefore never forgotten. Still, music was desired to have a soundscape-defining component, to bring people closer to location. It was this measured interplay of things that governed our thinking in the approach to all audio.
What was it like working with John Broomhall on the project?
In a nutshell, a pleasure and a real privilege. Obviously, we've reached out to John knowing and admiring the quality of his work. One absolutely cannot think about X-Com, for instance, without remembering the mood, that whole atmosphere players inevitably got sucked into due to the music he so skillfully created. But not only at a professional level can we say it was a joy working with John, who had an exemplary performance hitting everything we wanted practically on the first try all along – he was also extremely down-to-earth and amicable when engaging at a personal level with us, which made this collaboration something outright unforgettable and very gratifying.
Will we be seeing another like it in the near future?
Not foreseeably. There are no plans for a follow-up, as stated in the comic's minisite itself – it's a very special, one-off publication. We've devoted six years of our lives to this project and pretty much poured our souls into it, so we feel we've gone the distance and accomplished our mission here.
http://comic.strategycore.co.uk/
We hope you enjoyed the interview, feel free to check out more of these at the Interviews page. Also, don't forget to sign up to our Monthly Newsletter to make sure you don't miss anything!
The Sound Architect