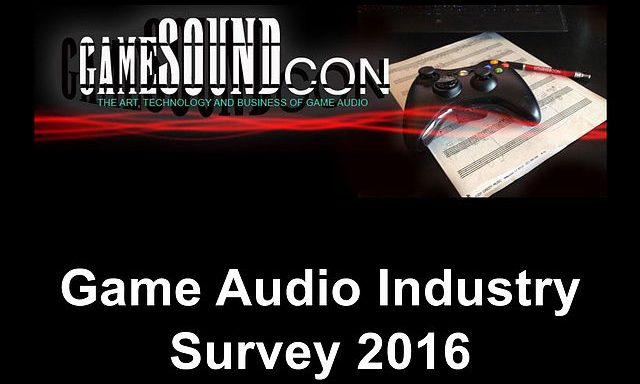 The GameSoundCon industry survey is back! The number of participants is growing all the time and last year, Executive Director Brian Schmidt was able to collect responses from over 600 Game Audio professionals. Based on this increased participation, which represented an 18% response rate growth over the prior year, the 2015 survey was said to be the most accurate picture of this growing industry to date.
The focus of the survey is to find out info about income, work & employment opportunities for game audio professionals and is open until the 31st May!
http://www.gamesoundcon.com/#!survey/c1hp9
 "Research and data, while incredible helpful, are often overlooked when it comes to creative fields," said Schmidt. "Participation in our annual Game Audio Industry Survey helps everyone from seasoned industry professionals negotiating their next contract to newcomers trying to get their first gig. Spotting trends, uncovering opportunities, and staying abreast of the latest technology are vital to success in game audio."
The GameSoundCon team "strives to reflect the most current trends in the industry". Questions related to compensation, work and environment, use of live musicians & middleware, how to find a job, music budget, education, and contract terms will be augmented by new questions on Audio for Virtual Reality and other topics this year.
GameSoundCon will welcome composers and sound designers to Los Angeles again in 2016 on September 27-28 in the Milliennium Biltmore Hotel.
To register for the conference, please go to gamesoundcon.com.