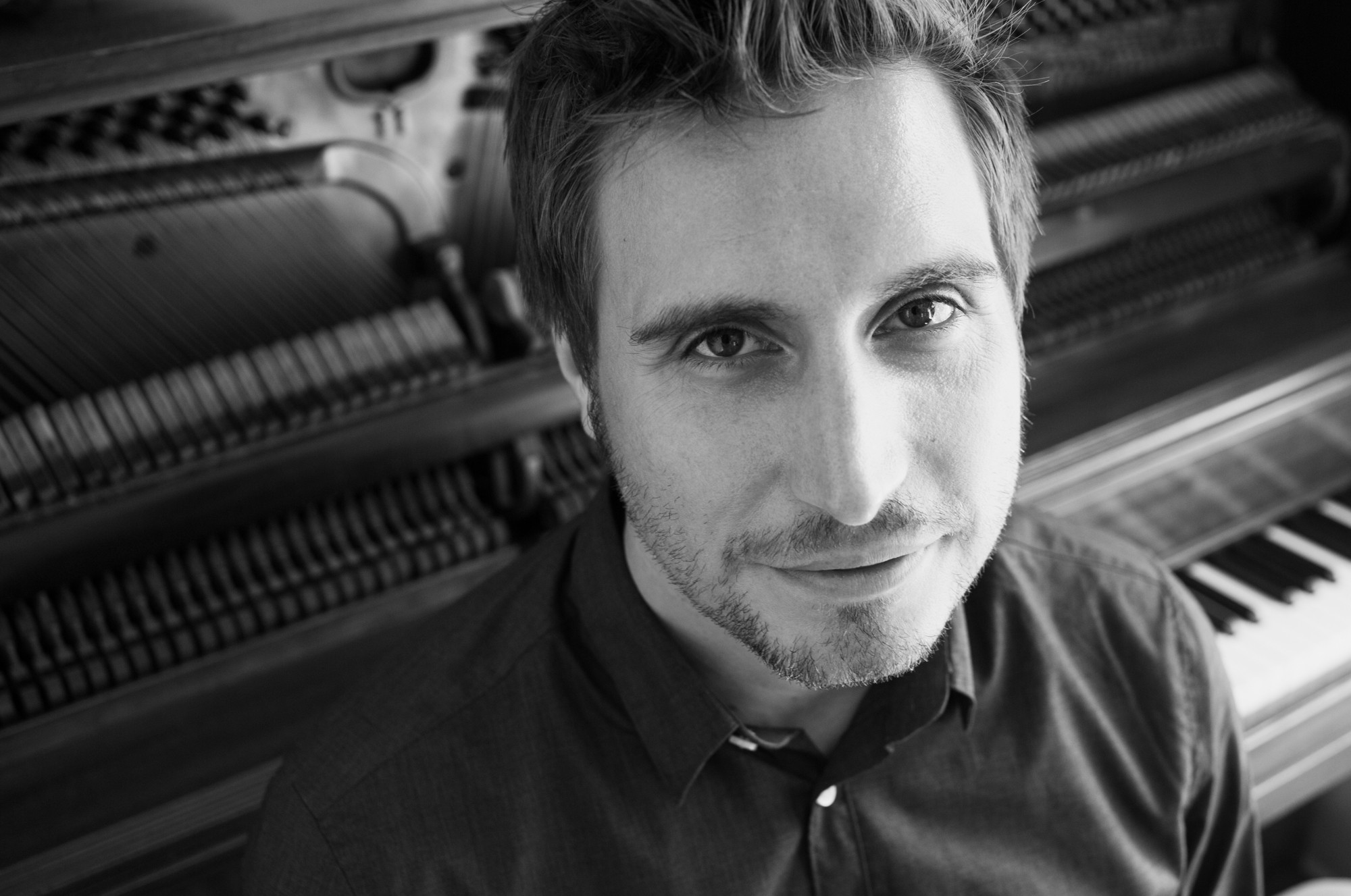 Sam Hughes speaks to composer, Erik Desiderio about his work on Adventure Time: Magic Man's Head Games and more! Erik is an award-winning composer, who has worked on more than fifty films, including ten features. He produced the score for the Academy Award winning film, The Moon and the Son, as well as helped produce the score for Immortals, featuring Mickey Rourke, and the multi Emmy Award winning series, The Borgias.
Erik has diverse compositional styles, with a strong orchestral and electronic background. He is capable of producing a quirky, ethnic-instrument-based score for one film, and a large, dramatic orchestral score for the next. He excels at combining different musical styles and electronic instruments to create an original soundscape.
Video game work includes Adventure Time: Magic Man's Head Games, more than 40 mobile games, as well as the upcoming console game, Reborn, for Playstation 4. Erik currently resides in Los Angeles.
Thanks for speaking with us Erik, it's great to have you on the site!
Quite a pleasure to be here!  Thank you.
Now before we talk about Adventure Time: Magic Man's Head Games, we'd love to chat about your origin story. How did you begin your path into composition?
My grandfather was a guitarist, who sometimes got to play with Tony Bennett when he came to town.  Growing up, my interest bounced between loving the orchestral music for Star Wars, and rock music on guitar…  I wrote my first song when I was eight, it was called, "Why Should I?" a melancholy ode to apathy.
As a teenager, I got into making stop-motion animated films, and my favourite part of making them was composing the soundtrack.  Some of them sounded like the theme to Seinfeld, funky slap bass and beats I programmed on a drum machine.  In college I was always writing and recording my own music, which were arrangement-heavy songs and jazz, but it wasn't until I went to NYU for grad school when composition for media took over my life.
Is there a point that you can think of that was your biggest turning point in your career?
For me it was a film called, The Moon and the Son.  I produced the music for the film when I lived in New York.  The next year, I was watching the Academy Awards with friends.  I had just moved to Los Angeles and was so busy that I hadn't realized the film was nominated for an Oscar.  The next thing I knew, the director I worked with was getting on stage to accept the award on TV!  My stomach clenched, my heart pounded, and I began sweating profusely.  It was great.
After that, finding projects was easier after working on an Oscar-winning film.
Out of all the projects you've worked on is there one that sticks out as most challenging so far?
A film I worked on, Immortals, had a 70-piece orchestra and a large choir that we recorded at AIR Studios in London.  The film had a $75 million budget, and I was privileged to work on it and help produce the score.  It was very tricky to coordinate the orchestrators, engineers, format delivery, and all of the moving parts as well as working on premixes and technical aspects.  Long hours, intense deadlines, but the music came out great, and I'm glad I got to work on it.
On the flipside is there one that you're particularly most proud of?
Yes, The Four Players.  It is an inventive, modern take on Mario Bros.  Mario is a hit man, Luigi is a drug dealer, Princess Peach is a lounge singer who is captured and tortured by the Koopas, and Toad is a freedom fighter.  It was incredibly cinematic and original.  The director of the project created Snow White and the Huntsman, and is a successful Hollywood screenwriter having worked on Divergent, Teenage Mutant Ninja Turtles, and the new Tomb Raider movie.  I got to record a full orchestra in Bulgaria for the soundtrack.  It was made of four segments, each focusing on a different character.  Each segment had it's own musical style, from bombastic trailer music, to a musical theatre/lounge song.  It was great fun to work with different soundtrack genres.
What is your number one piece of advice for people considering music composition as a career?
Be ready to work incredibly hard, and try to meet as many directors, producers and game designers as you can.  They are the people that will hire you.  Some people get their start working for other composers, so that approach also works.  If you have an original voice, network well, are easy to work with, and are willing to devote many years getting started, you can be successful.  There is a lot of luck involved, but the harder you work, the luckier you get.
So let's talk about Adventure Time: Magic Man's Head Games. How did you first get involved in the project?
I'm a relative noobie in the world of videogame composing, but a game designer with whom I've worked on a few projects kept hiring me as the projects he was working on got bigger.  It started with a small game, Stick to It, with Magic Pixel Games, later we worked together on This Means War! for Kabam, and finally SMS Racing and Adventure Time at Turbo Button.  Same designer, different companies.  He's always liked my work, and I'm fortunate that he keeps hiring me!
Did you watch the show much before you were involved?
Hell yeah!  My favourite troublemaker on the show is Magic Man, and I was super excited when I found out he was the main bad guy in the game.  There is an episode where he casts a spell on Finn that transforms him into a giant disgusting foot.  Finn has to find other victims of Magic Man to form a repulsive colossal Voltron-type giant to catch Magic Man.
I'm guessing you're watching it a lot at the moment?
Yep, it's one of the most original shows on TV.
How did you get yourself into the right mind-set to write for an adventure time VR game?
I watched the show a whole lot, but we decided to go in a different direction from the music for the show.  The show has a lot of 8-bit sounds and the main theme features the ukulele.  My early demos for the game had a lot of ukulele and 8-bit sounds, but we eventually decided to keep it all natural with a quirky mix of real instruments.  Damon Zick played the melody on clarinet and bass clarinet, and I accompanied him by playing a samba pattern on banjo.  The rest of the soundtrack followed with a cool mix of whistling, accordion, and traditional instruments played in a non-traditional style.
Can you talk about the technology/software you used on the project?
I sequenced in Cubase, and used Vienna Ensemble Pro to host a lot of my plugins.  Most of the instruments are real, recorded in my studio.
What are you hoping the music does for the player?
It should draw the player into the game and set up the mood.  The music develops with lots of energy into a full-blown party.  The player should have fun!
With it being a game how have you considered the interactive side of the music composition?
The music for the game has two parts, one that is subtle with just woodwinds and percussion, and it escalates with the full mix of all the instruments.
Ok cool, what else lies in the future for you now?
I'm working on two feature films and a console game.  The console game is Reborn, a third-person multiplayer cyberpunk action RPG that follows the adventures of a futuristic version of the famed Japanese swordsman Musashi Miyamoto.  He has been reborn into the future city of Neo-Tokyo, and every image I've seen from the game has been breath-taking.
I'm also working on Best of Seven, a zany comedy in the style of Jim Carrey where the schizophrenic main character has seven personalities that are all fighting for control of one body.
The other film I'll be working on is WoW MoM.  It's about a mother who while recovering from cancer treatment plays lots of World of Warcraft.  One of the things on her bucket list is to go to BlizzCon dressed as her character from the game.  Her cancer ends up going into remission, so it becomes a tale about doing the things you always wanted to do now, instead of waiting until you think you are about to die before you do them.
Final question. If you could have a drink with anyone in the world, alive or dead, who would it be and why?
The guy who invents time travel, I could learn a lot from him.  I'd also ask him for a few favours.  Elon Musk would also be great; he's changing and possibly saving the world.
Check out a sample of the music in this video Erik put together on YouTube:
LINKS
Another massive thank you to Erik! We hope you enjoyed the interview, check out more over at our Interviewspage and don't miss a thing by signing up to our Monthly Newsletter!