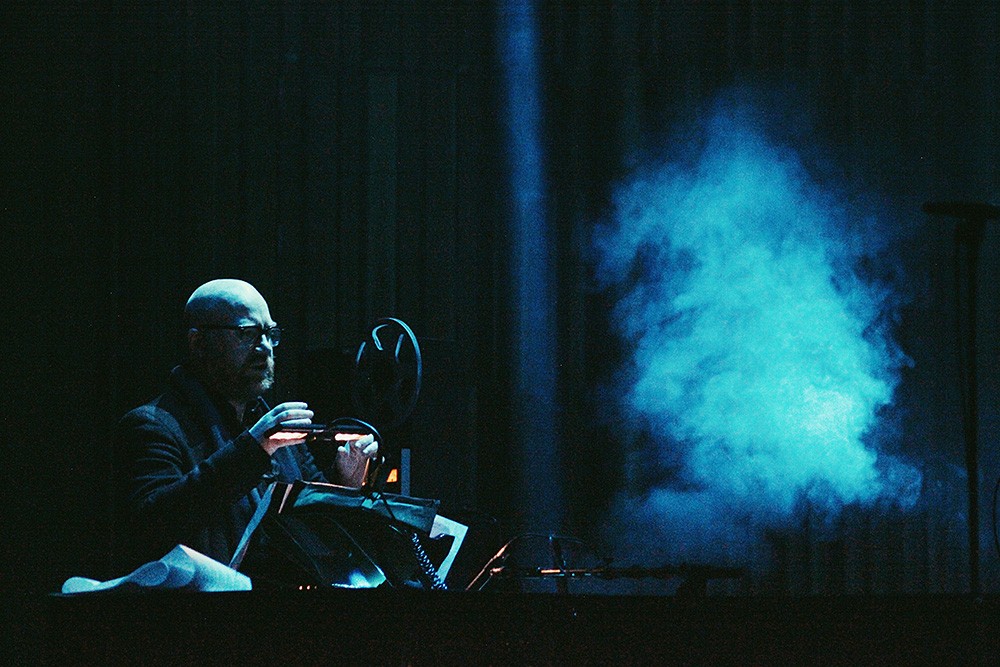 Article by Katie Tarrant
Edited by Sam Hughes
Last month, I was equally overjoyed and privileged to be able to see the infamous composer Jóhann Jóhannsson in concert, presenting a performance of his solo work. As a first-time viewer of Jóhann's solo music, I was curious about what to expect. I was met with a stage cast over with stunning purple lights, revealing a grand piano, seats for a string quartet and a large area at the back for the Britten Sinfonia Voices. The stage also held a tape machine and a table beside it for the reels that would be used throughout the show.
Housed in the Barbican Centre, it was thrilling to hear the buzz of a sold-out near 2,000 capacity theatre all prepped and waiting to see what was in store. The night's proceedings were initiated by minimalist lutist Jozef van Wissem. Jozef bravely took to the stage as a solitary performer yet despite being a band of one, he brought the audience to a pin-drop silence with his aching sombre melodies and stunning mastery of the lute's sound. The expression in both his poise and face, as well as the manner in which he played, all exuded clear signs of someone for whom music is everything. His passion was invested in every note and he had no struggle filling the room with his sound and presence. Humbled by the reception he received, he thanked us for attending and left us for a brief interval. After which, Jóhann stepped on to the stage after his musicians and silently switched on the tape machine, which began the intro for A Song For Europa. This track has a haunting aura, based around a Cold War radio recording of a young girl reciting German numbers. It is accompanied by a beautiful string arrangement and it is pieces like this are inevitably where Jóhann's choice of musician thrives. The Britten Sinfonia Voices, too, were elegantly versatile and had an effortless ability to raise the hairs on the back of your neck.
Throughout much of the performance, Jóhann appeared to be in some form of highly-focused trance. He remained still and emotionless, moving only to change the tapes where necessary. When the tapes were changed, he would hold each one up to the light, like as a hallowed entity, and set it up in the machine. The nature of his actions gave the show an enticing theatrical twist that significantly contributed to the depth of the immersion I felt in the experience. However, being a pianist, Jóhann also performed in several of his pieces and only broke his façade on these occasions. The energy and the atmosphere that was developed and sustained throughout was something beyond anything I had quite experienced, and respectively something I cannot quite put in to words.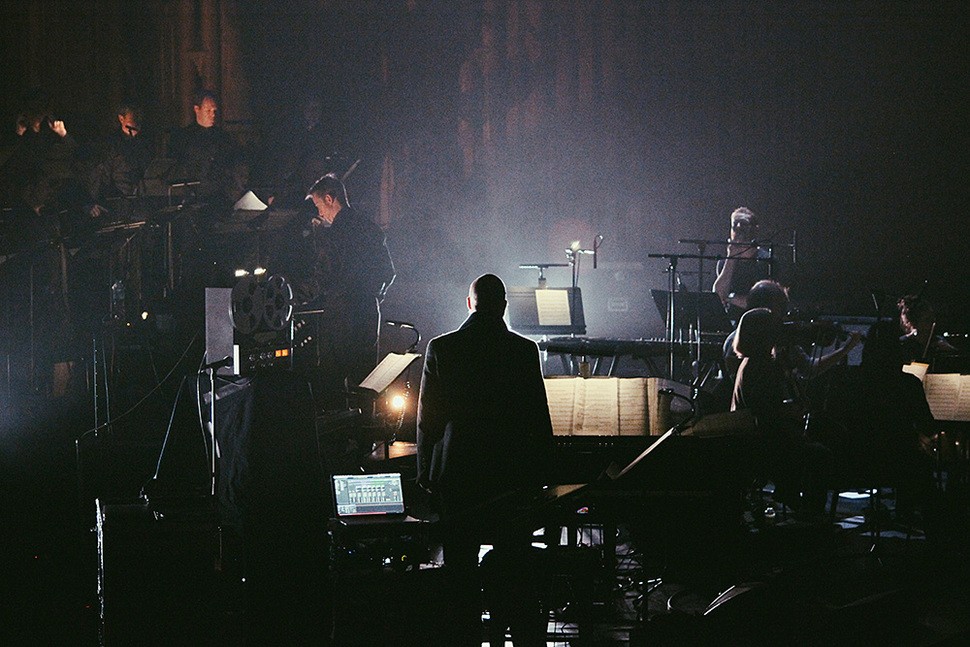 Often when a musician pursues a solo project, you can hear the influences of the other projects they are a part of. With Jóhann's work, it strides in to its own vein; quite diverse from the type of music he creates for film. Whilst he thrives in all manner of composing styles, the bulk of his solo work surrounds soundscape textures that waver between melodious and slightly dissonant. Examples include tracks like the aforementioned A Song For Europa, De Luce et Umbra and Odi et Amo, which all revolve around drones and looping sound bites or motifs.
Undoubtedly, my favourite piece of the night was Sálfræðingur; the musicianship on this track was absolutely surreal and was a true statement that the power of a quartet can never be underestimated. This was closely followed by Flight From The City which was simply a beautiful performance of a beautiful piece of music. Jóhann is often minimalistic in his compositional choices but his command of melody and harmony is unparalleled. He has an uncanny ability to craft rich and complex textures out of a small palate of instruments and truly excels in the less is more approach.
The entire experience was hair-raising and quite like nothing I had encountered before. The room fell under a continual concrete silence that was almost breath-taking. All eyes, minds and ears focused forwards in mutual appreciation. Together with the tasteful lighting design and stage presence of the musicians, the performance became visual as much as it was aural. I can easily say it was one of the most memorable encounters I have had with a live show and that if you have the pleasure of seeing Jóhann Jóhannsson live, it will be an occasion you, too, will not forget.
The full set list for the show was as follows:
A Song for Europa
De Luce et Umbra
A Sparrow Alighted Upon Our Shoulder
Salfraedingur
The Drowned World
The Miners' Hymns Part 1
A Deal with Chaos
Prisoners
Vocalise (After the Storm)
Salve Regina
Drone Mass Part 6 (Air)
Flight from the City
IBM 1401
Orphic Hymn
Odi Et Amo
Fordlandia (Encore)
LINKS
Official
Twitter
Facebook
We hope you enjoyed Katie's review, check out others in our Reviews section. Don't forget to sign up to our Monthly Newsletter to make sure you don't miss out on our reviews and interviews.
We're also running a Patreon campaign to make sure we can keep bringing you regular, high quality content if you're feeling generous! Thanks for even sharing!
The Sound Architect