Review by Alyx Jones
Edited by Sam Hughes
Developer: Atmos Games
Publisher: Armor Games
Composer: Thomas Brush
Voice Actors: Pewdiepie, Jacksepticeye, Dan Avidan & Nathan Sharp
Reviewed on: Mac (Steam)
Back in February 2016 the one man development team, Thomas Brush, published a Kickstarter campaign, in the hopes of raising funds to get the game Pinstripe off the ground. The campaign amazingly reached its funding goal by the next day and went on to achieve 2/3rds of its stretch goals. In the current climate, with backers being more cautious about funding projects, the occasional developer taking the money and never releasing a product, its great to see some more recent success stories!
Thomas Brush is quite active on social media and has been highly communicative during his development process, especially while his campaign was running. He published an article on Gamasutra towards the end of his campaign that starts "Writing great music isn't that hard". Now, before you get up in arms, it's worth listening to Brushes' work:
This is a guy who's been making games for 10 years and won the "Screenburn's Best Audio" award at SXSW with a previous game Skinny. For many of us who are composers, it might be a worrying statement to hear, since we spend our lives studying and refining our craft, and it's the kind of saying that might put us out of a job if everybody starts making their own music because it's easy. Maybe it is true, but I've certainly heard many game developers say there are "a lot of average composers, but very few amazing ones", so take it with a pinch of salt before you change career!
His article continues to lay out what he believes are the key elements that make good game audio: Unobtrusive Soundscapes, Gentle Percussion, Distinct Melody and a Symbolic relationship to the Visuals. Certainly not bad advice but very dependent on the game at hand, that will yield reasonably similar results. It's not untrue that plenty of games have amazing soundtracks that break these rules (aren't rules there to be broken anyway!).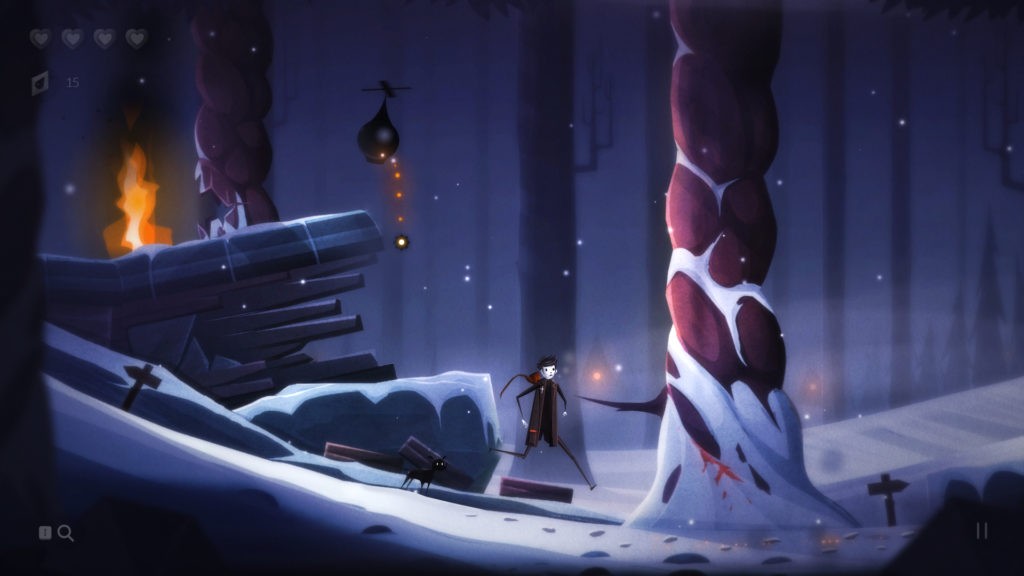 Music
In his article, Brush notes that he is particularly inspired by great soundtracks such as The Legend of Zelda franchise, and his analysis and compositional techniques essentially come from these games. He also says "I forgot how to read music the moment I quit piano lessons in fourth grade. Now, I just guess and check my way to what I feel sounds right." In the same way a lot of classic games had rather memorable soundtracks, due to their loop-based nature, Pinstripe also follows this trend. Repetition is one of the main reasons any of us find music memorable, but it can also cause listener fatigue (a reason why most current games look to create more variety with adaptive music). This became particularly apparent to me when the game-play required a lot of "to and fro" to return to previous environments and collect newly accessible objects.
Despite my critique, I'm not at all doubting that Thomas Brush is a skilled and accomplished composer in his own way. In a similar vein to Toby Fox (Undertale), he's created an entire game alone and successfully created a striking soundtrack. He turns less attention to the leitmotif and more to the overall sound that represents each environment or character. It's well produced and the instrumentation/soundscape choices give the world of Pinstripe a consistent sonic identity. With melody and soft percussion at the heart of the music, Brush does a lovely job of creating a quaint and charming soundtrack.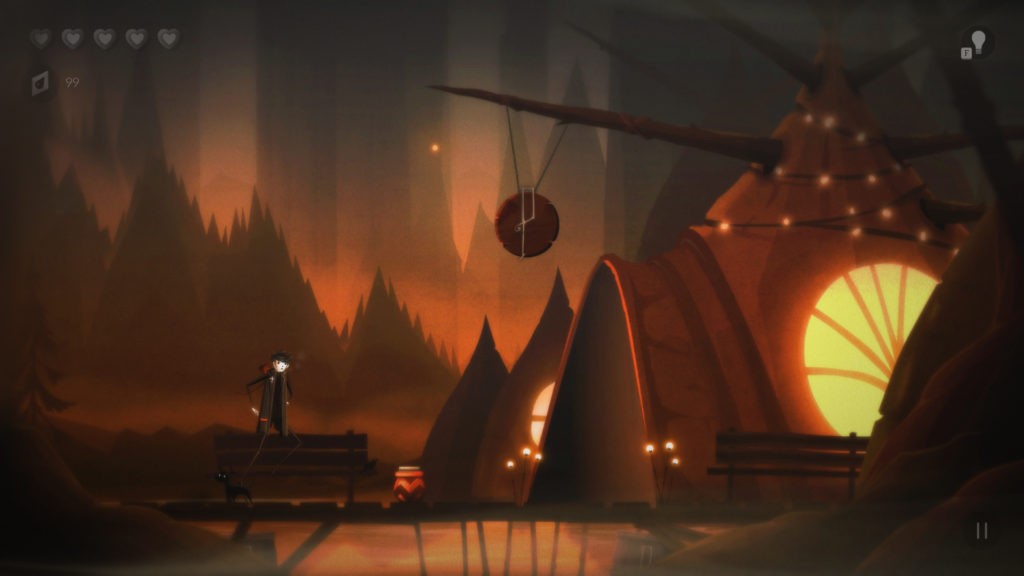 Sound Design
The art style and visuals for this game have been described countless times as Tim Burton-esque and are undoubtedly stunning. I had expected a somewhat darker approach to the sound design and music, however they are actually far more light-hearted than the visuals. There is a fair bit of comical sound design, for example buy levitra 10mg the fart and balloon rubbing noises for the sacks of noxious gas. This serves to take away from the melancholic atmosphere of the game and pushes it towards a more humorous outcome. At first it feels odd, but ultimately it creates a slight contrast between the narrative, following a preacher who has his daughter kidnapped by a pretty terrible and scary-looking villain, to the obscure and fantastical nature of the game.
Voice Acting
During the initial Kickstarter campaign, Thomas Brush asked backers which Youtube or celebrity names they would like to see behind the characters: Mr.Pinstripe, Aunt Birdy, Bo and Uncle Dicky. Despite a few comments of displeasure, the overall votes seemed to be for well known Youtubers such as jacksepticeye and Markiplier.
Pewdiepie, Jacksepticeye, Dan Avidan, and Nathan Sharp (amongst other cameos) were chosen to be featured. This shows an interesting, rising trend in using Youtubers instead of/as well as Voice Actors, and to be fair to them, they do a great job! All of the characters have strong personalities brought out by the voice talent behind them, and adds to the nuanced, theatrical audio world of Pinstripe.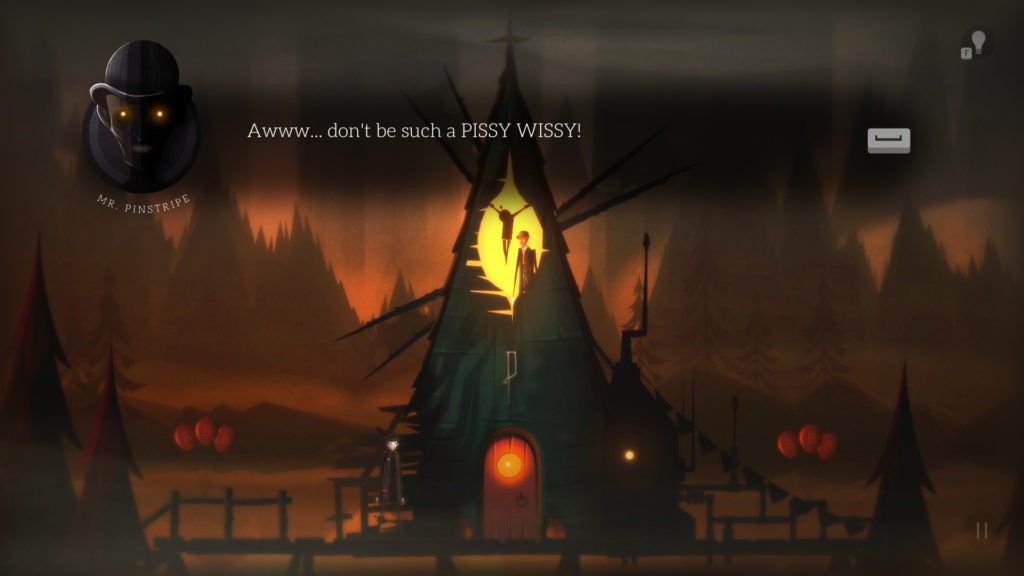 Overall this game is really fun, and really well deserving of a fully backed Kickstarter campaign. It's out today and totally worth your time, especially if you're a fan of Tim Burton art styles, or puzzle based platformers. This game really helps fly the flag for the amazing work indie and micro studios can do, and why they are in a league of their own.
LINKS
Official
Twitter
Facebook
We hope you enjoyed Alyx's review, check out others in our Reviews section. Don't forget to sign up to our Monthly Newsletter to make sure you don't miss out on our reviews and interviews.
We're also running a Patreon campaign to make sure we can keep bringing you regular, high quality content if you're feeling generous! Thanks for even sharing!
The Sound Architect