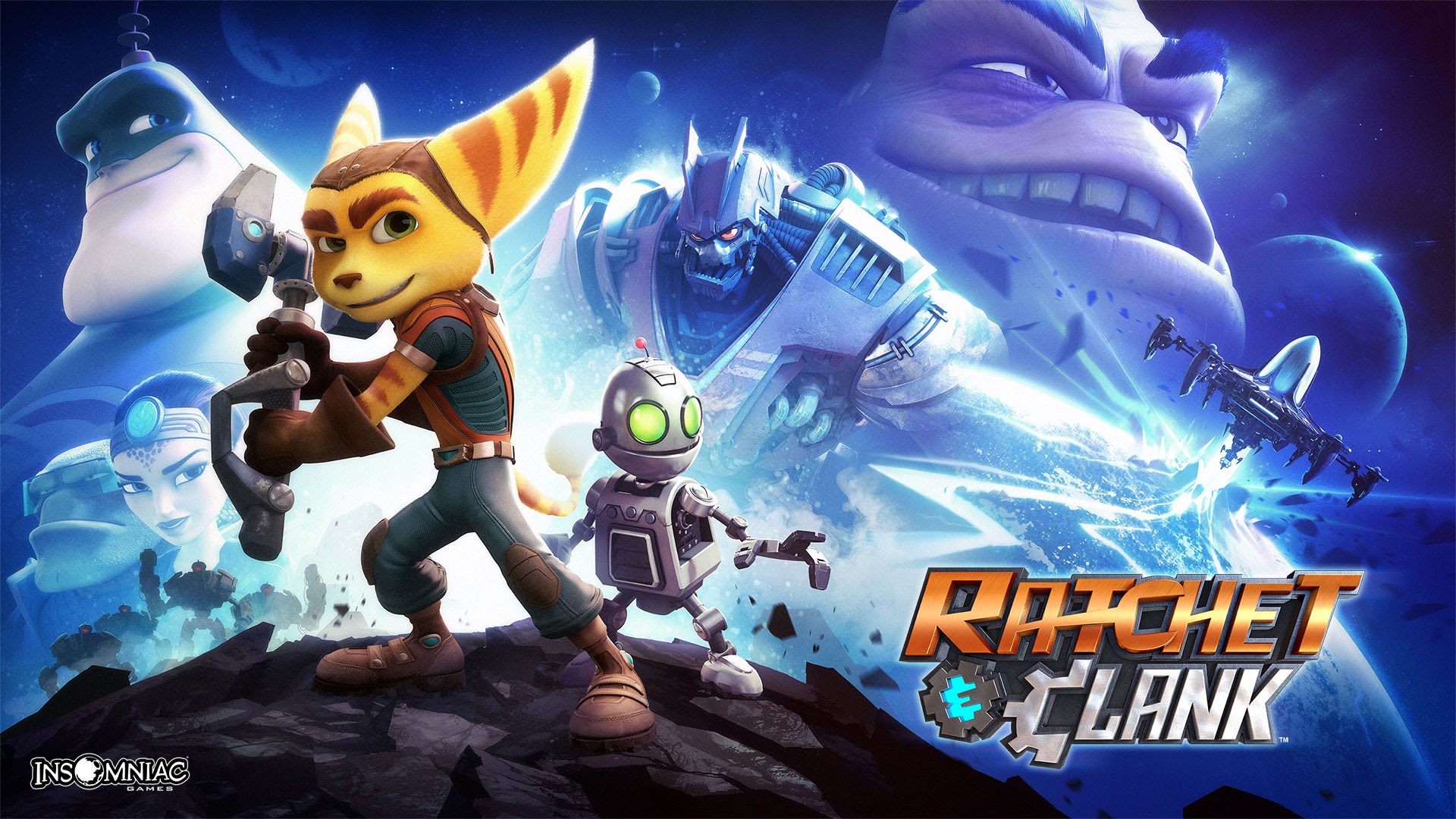 Reviewed by Willy McCarter
Edited by Sam Hughes
Developer: Insomniac Games
Composer: Michael Bross
Audio Director: Jamie McMenamy
Sound Designer: David Nazario & Co.
Voice Over Cast: James Arnold Taylor, David Kaye, Jim Ward etc.
Reviewed on: PS4
It is with a great big warm The Sound Architect welcome, that we introduce a new addition to the team, Mr Willy McCarter! Find out more about Willy on our About Page! Here's his take on the game audio of Ratchet and Clank. 
Introduction
Allow me to begin with a quick flashback to the year 2002. Normal people would be reminded of iconic events like the EU switching to the Euro currency and Brazil winning the Football World Cup…(Whatever that is). However to young geeks like myself 2002 meant the release of huge movie franchises such as The Lord Of The Rings, Spiderman and Harry Potter series.
But what made this particular year such a memorable one in my childhood was the release of Insomniac Games new franchise 'Ratchet & Clank'. I remember being absolutely mesmerised by this game, from the whacky names of certain characters and weapons, the hours of hilarious comedic childhood humour and VO that was similar to the likes of 'Futurama', 'Ed, Edd N Eddie' and 'Freakazoid' and the intensive gameplay and over the top factor that Insomniac Studios continues to show in their work today. Now fast-forward to 2016, and my explosion of childhood memories when Insomniac Studios release a movie adaption on the first game followed by a Re-imagined reboot of the first game from 2002! Without further a do, let me begin in a Captain Qwark kind of way and;
"Prepare to be blown away by my epic humility!!."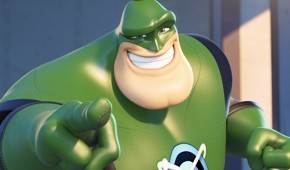 …… In regards to this review.
Music
The musical score had everything that is to be expected about cartoon characters on an epic adventure in space. With the return of Michael Bross (Oddworld Series) who had previously had joined the series in 2011 for the 'All 4 One' installment. The real drive and theme from the music came through in the main cut scenes throughout the story, which tied the hero's adventure together. We are introduced to our main heroes in that loveable John William's light hearted like style of music score in a similar part when we were introduced to Captain Qwark in the Space Prison through both a hard and rough music style then transition to a saxophone lounge theme to demonstrate his real mindset. However when it comes to the gameplay the music score nearly takes the back seat and supports everything else happening from sound design and VO perspectives.
From playing though the game, I noticed a bit of nostalgia in the gameplay music in Original composer, David Bergeaud's style of electronic orchestral crossover background idle music style in order not to distract the player from general gameplay tactics of destroying nearly everything while hearing nothing but funny, quotable VO. This style came across in the reboot of the series and I feel that Bross wanted to bring that similar element into the gameplay and adapt to various level environments such as snowy glaciers, molten lava mountains and sunny Hawaiian Resorts under siege from sea water pirate robots!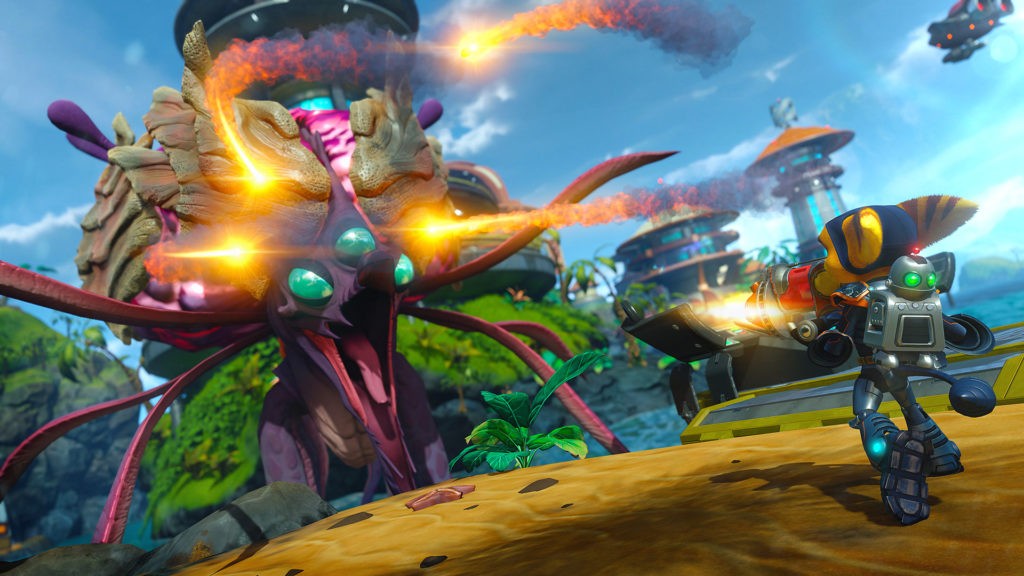 Sound Design
In regards to the overall Sound Design, I'm nearly lost for words. When playing a platformer adventure game set in space and various planets where nearly everything could be destroyed by galactic wrenches, hammers and guns…. the sound design certainly have their work cut out for them.
It was warming to hear that a lot of the original sounds of impacts, gadgets, collectables and destroyable objects are nearly similar to the original release. These included the grapple hook to swing across grand stages, to receiving the bleeps and bloops of the 'Info-Bots' and of course to the most gratifying ring of collecting that much sought after currency of 'Nuts & Bolts'. Due to the nature of the general theme of metals, a lot of the sound design really sinks into this feeling of constantly being surrounded by clinky clanky rusty robotic characters and environments that always has a very animated and over exaggerated humour feel to them, making them relatable to cartoons from when we were all children of that time.
When on this topic, I feel weapons such as the 'Groovitron' deserves some mention as it serves as both a great weapon and a funky tool with its ability to send its targets into a dancing disco trance….I want one now!!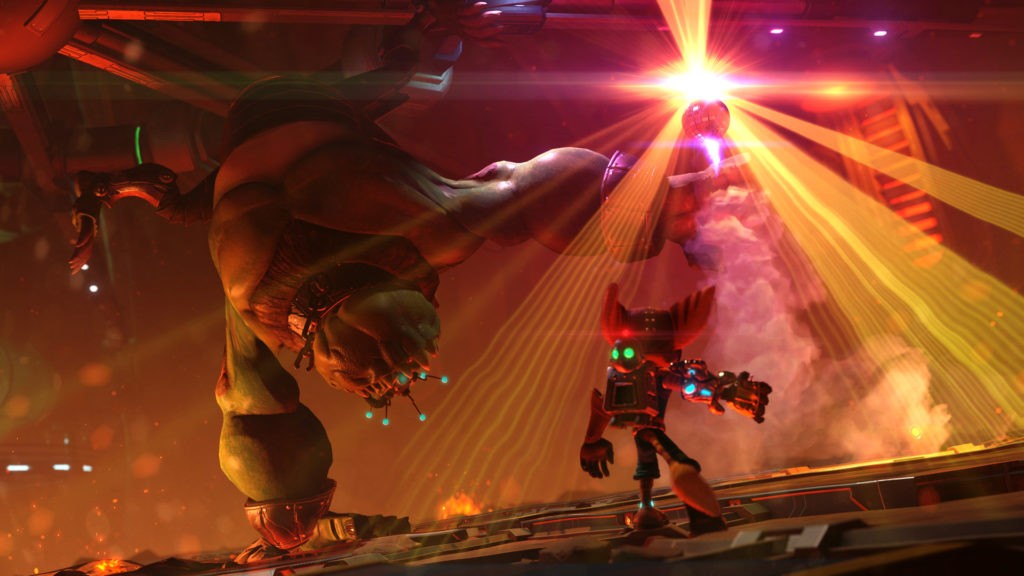 Voice Over
This game saw a family of highly regarded voice actors in my opinion. Due to the nature of the game and its franchise it saw the return of everyone to their roles nearly like a reunion, which came across in the story. The likes of David Kaye, Jim Ward and James Arnold Taylor taking the Role of Ratchet over Mikey Kelley. Collectively huge names who have loaned their voices to other cartoon and gaming franchises such as FF X, Bioshock, Wall-E, Inside Out, Spongebob Square Pants and Dragonball Z. 
The Voice Over Acting is the main driving force of the overall audio in this gaming experience. Be it in a cut scene, receiving an order or talking to other characters in the game, the VO is always more dominant. It is clear that the writing team were aiming for narrative gaming experience while also feel like a 90s cartoon with the Everest of quick jab on liners and smart/clumsy like quotes.
From the beginning when Qwark is narrating the tutorial style to the player in his 'Epic Heroic' third person style to other VO elements are noticed throughout the gameplay such as enemies taunting, radio signals, Ratchet and Clank having a little row. But of course I can't talk about the use of humorous VO without mentioning the weapon/character/badass bodyguard, Mr. Zurkon who's quotes I adore like;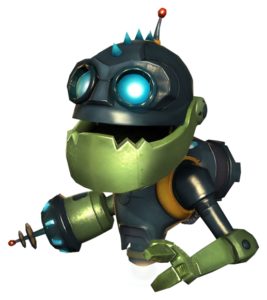 "You are a disease and Mr Zurkon is the Cure!"
Conclusion
In Conclusion and with my complete unbiased opinion, Ratchet & Clank 2016 was a fun filled, enjoyable and addictive game. As usual Insomniac Games have set a standard in delivering to a franchise that was being held back with yearly released titles.
For those who are in favour to the adventure platform with a hint of silliness and humour along the way then this is the ideal game for you. For those who are familiar to the series, then this is certainly a great addition to the series and justification to the reboot format.However as a die hard long time fan of both the studio and the series, this game was the ideal reboot to give a new generation a chance to have what I experienced as a child in 2002 and for that Im forever grateful to Insomniac Games. On that note id like to end with an inspirational Captain Qwark quote;
            "And remember, you can do anything as long as you're me."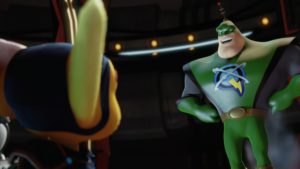 LINKS
Official
Twitter
Facebook
We hope you enjoyed Willy's review, check out others in our Reviews section. Don't forget to sign up to our Monthly Newsletter to make sure you don't miss out on our reviews and interviews.
We're also running a Patreon campaign to make sure we can keep bringing you regular, high quality content if you're feeling generous! Thanks for even sharing!
The Sound Architect