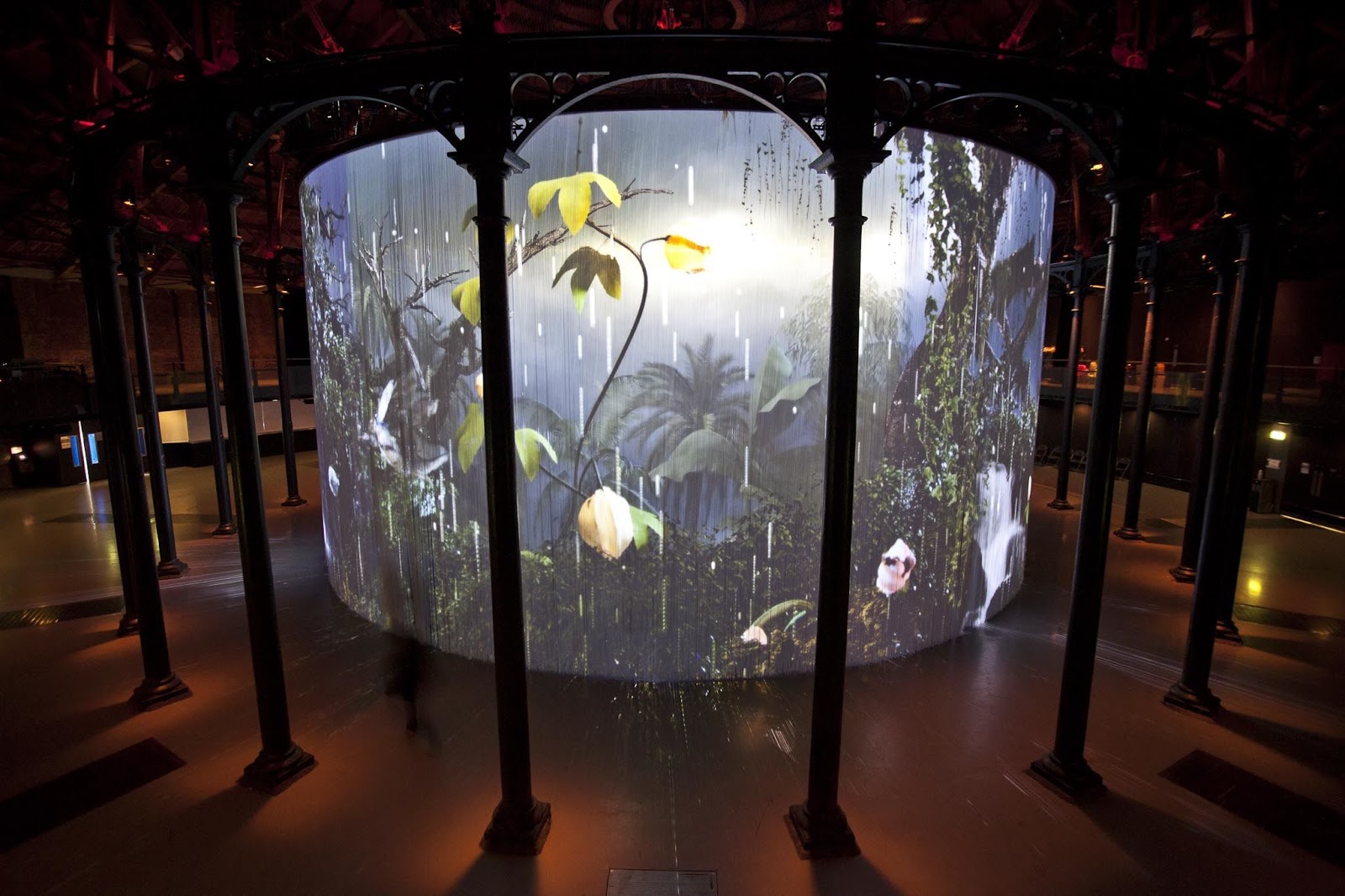 Hailing from Israel, Ron Arad is an architecture, industrial designer and artist who has led an illustrious career spanning multiple countries. His latest installation is placed at London's beloved Roundhouse, taking advantage of the venue's spherical layout. It has in fact featured at Roundhouse before in 2011, but this time has returned with some new content added.
The installation, known as 'Curtain Call', is a 360-degree immersive experience consisting of 5,600 silicon rods suspended from an 18 metre diameter ring, thus creating the 'curtain'. The set-up of Curtain Call is no small feat. The rods themselves clock in at an impressive 7 tonnes and are suspended from a complex rig topped by multiple projectors; the accurate placement of which is responsible for the seamless 360 display experience.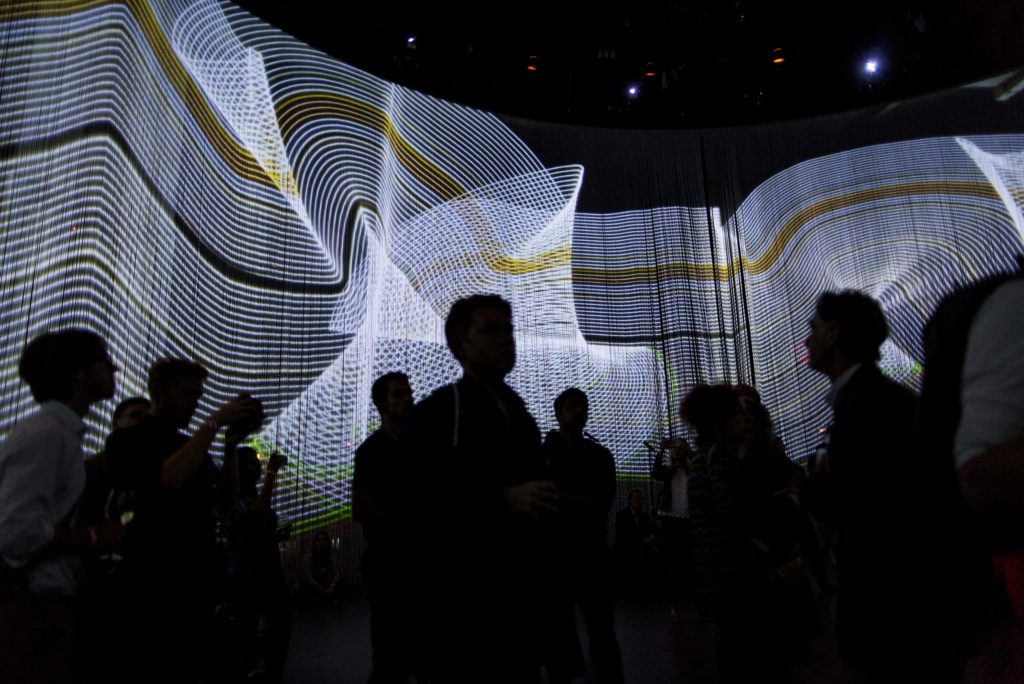 To get the most out of the experience, we were encouraged to walk around and in and out of the curtain to discover how both the sound and display play out throughout the various positions in the space. With the projectors able to show the displays on both sides of the curtain, it was fascinating to witness the differences between sitting inside and also watching from the outside. The installation featured multiple displays created by a number of artists, including Babis Alexiadis, Christian Marclay, Daniel Landau, David Shrigley, Gabriel & Shira Klasmer, Greenaway & Greenaway, Javier Mariscal, Kutiman, Marshmallow Laser Feast, Mat Collishaw, Ori Gersht, SDNA, Shira Klasmer and Universal Everything. The breadth of content between these artists was incredible, ranging from Christian Marclay's 'Pianorama' with a panoramic film of multiple hands playing notes on a piano to David Shrigley's 'Walker' featuring a naked cartoon man with giant boots designed to look and sound like he is walking around you.
Being an audio fan, naturally my curiosity was drawn to how the sound had been tackled for this experience. The sound system largely consisted of approximately 16 speakers, with 4 main speakers around the four 'corners' of the rig and an additional 12 fixed up above them. This set-up allowed the technicians to split the sound in to a quadrophonic format, which created the 360 immersive soundscape. Whilst the additional 12 speakers did open up the potential to 10.2 or even 12.2 surround sound, doing so would have resulted in a much more complicated process with not much to gain when the 4.0 system did the job.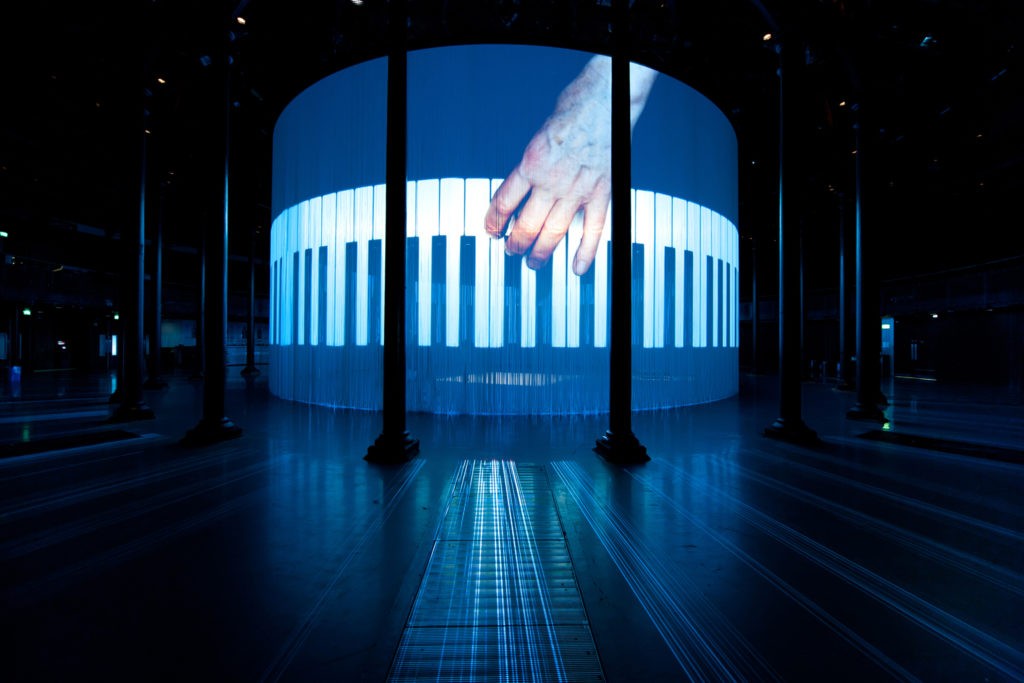 The result was surprisingly immersive and it was clear to see time had been spent ensuring each sound was realistically mapped to its location in the space. It was fascinating to see how the soundscape was adapted for each display. I found my head darting to and fro as I followed the pianist's hands in Pianorama. Other displays had a much more therapeutic and submerging effect. As I sat in the middle of a picturesque scene of plants and gushing waterfalls, hearing the waterfall's force and insects humming around me really made me feel as though I was sitting in the rain forest.
All in all, I highly recommend this experience as one worth seeing. The installation will run from the 6th-29th of August and will even play host to some live concerts, including ESKA, Ivor Novello, BBC Proms with London Sinfonietta, Dan Deacon, GAIKA and The London Contemporary Orchestra. A memorable insight in to the many creative minds involved in this project and a privilege to witness Ron Arad's creative vision in the silicon flesh!
Links


Official

Facebook

Twitter
Ron Arad Studio