Article by Katie Tarrant
Edited by Sam Hughes & Doug Waters
Developer: Ubisoft Annecy
Audio Director: François Dumas
Sound Designer: Jonathan Wachoru
Composers: Zikali
Reviewed on: Xbox One
Appealing to fans of games like SSX and Shaun White Snowboarding comes Steep. Developed by Ubisoft Annecy, Steep is an online open world extreme sports game that enables you to experience skiing, snowboarding, wing suiting, and paragliding through the stunning French Alps.
The game has the simple objective of building your character's reputation and mastering the art of each sport by competing in challenges. The more your reputation grows, the more the game opens up, with six unique playing styles to adhere to and access to bigger opportunities, new locations, and new features like helicopter drops and hot air balloon rides.
Within minutes of playing, I could see the greatest achievement of Steep is undeniably the level of accuracy and realism that the team have achieved. Being based near the Alps themselves, many of the Ubisoft Annecy team are familiar with the environment and the sports featured in the game and that has evidently contributed to their excellent portrayal of an experience that not many people always get to witness.
SOUND DESIGN
With Steep being outside of my usual video game genres, I thoroughly enjoyed studying a different and fairly unique area of sound design. For the first time, one of my favourite things about the games' sound was actually the movement foley. The movement animations for the game are fantastic and are built from motion captures of official French freestyle athletes for skiing and snowboarding. Often during practice, extreme sports athletes will hone their tricks on a trampoline due to the safe and controlled environment it offers. Taking advantage of this, the Ubisoft Annecy team set up a trampoline in a gymnasium with a bunch of mocap equipment and captured the live action motions from which the games' tricks and turns are designed.
To accompany the level of detail achieved with the animation, Steep's audio team, including credited sound designer Jonathan Wachoru, also took to the field to record skiers and snowboarders in the Alps. The sounds you hear as you dive-bomb through the mountains are the sound of real-world performances of those motions, and that significantly enhances the depth and the realism of the audio. The detail of the game's field recordings has also made for some fascinating ambiences. In an interview with Gamereactor, audio designer François Dumas spoke about how each mountain has its own individual sound treatment to help aid the progression and development of the game. As you reach the more precarious mountains such as the Matterhorn, you are more likely to hear rock falls and hair-raising elements, whereas in the game's practice zone in the Aravis, you will hear more of a calm wind ambience and birds tweeting to reinforce your sense of safety.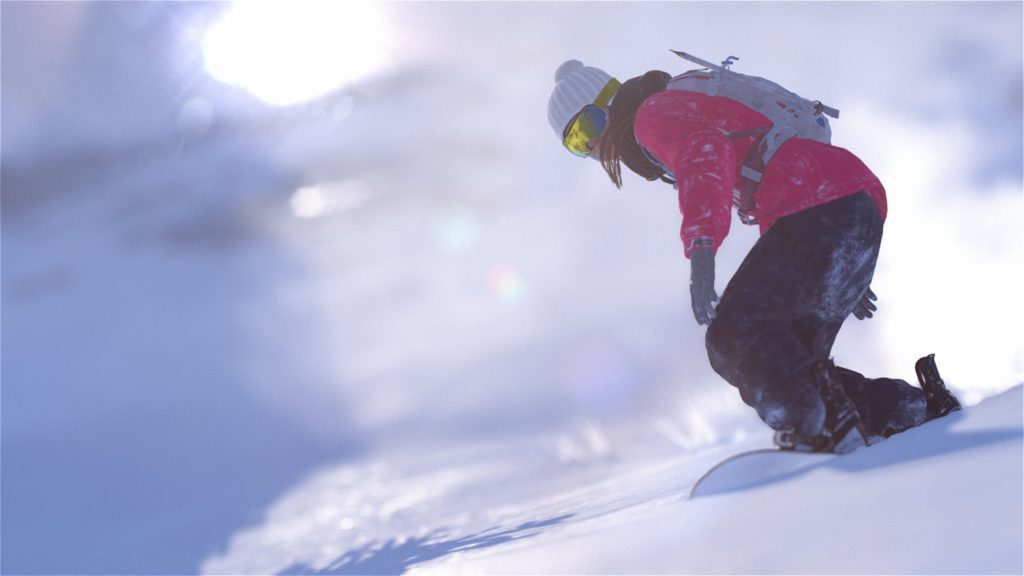 Details like this are a significant factor in why the game has such a strong sense of development and variation throughout. Being set in a consistent environment, it is essential for the sound to avoid repetition and ensure that the player always feels like their surroundings are changing as they would in real life. It would be all too easy for the sound to make or break a game like this and I am in awe of the detail that the Annecy audio team have achieved to ensure the strength of the sound marries with the strengths of the rest of the game.
MUSIC
Steep features a varying range of music throughout, combining the use of both original and licensed tracks. The game's original music is composed by Zikali, a French collective of instrumental composers who came together to create music and sound design for media. The music Zikali have created for Steep is largely ambient with strong ethnic flavours, featuring calm orchestral textures alongside identifiable instruments such as hang drums, chimes, voice, guitar, strings and more. The soundtrack is inspirational and meditative, veering between loose drifting sections and their bold rhythmic counterparts. It peaks and valleys in all the right places and seems to breathe and flow smoothly with the gameplay.
The game's music is split loosely in to two main states: exploration and challenges. Exploration will see more of the original score whereas the challenges and sport gameplay will see the arrival of licensed music. It can be a fine art to balance licensed and original music seamlessly into one soundtrack but it's something that Steep has achieved perfectly, providing aptly chosen licensed tracks and equally aptly written score in the appropriate places. The decision to include both is an important choice that enables the game to keep up with the player's ever-changing sense of engagement, excitement and exploration.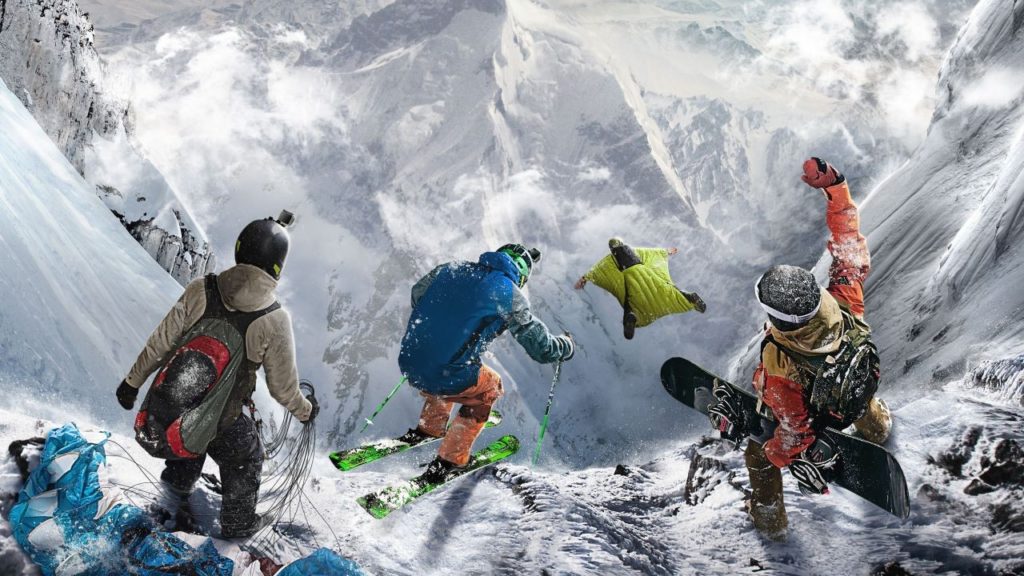 Interestingly Steep also makes use of interactive music that adapts to your play. When a player is descending a mountain, the music will adapt depending on your progress, building as you pick up speed and score points, and relaxing when you slow down. It even makes some use of vertical layering, losing rhythmic elements when the gameplay calms and returning them when the action picks up again. The music is also themed by location with the flavour of the soundtrack changing to reflect the nature of the mountain you're exploring. This interactivity ensures that the games' audio always feels appropriate for what is happening in the story.
The game also allows players to customise their playlists and for those of us who prefer to slide in silence or simply observe some stellar ambiences, it provides the option of removing the playlist altogether. Options like this are also significant when creating a game that players feel they can tailor to their own desires. A game like Steep can easily absorb hours of your time and it is often underestimated how impactful the audio is on a player's decision to invest that time in the first place.
DIALOGUE
Being a solo extreme sports athlete, there is not much face-to-face interaction taking place for your character. However, Steep still features a healthy amount of dialogue, buy alprazolam powder china primarily through your radio as you are introduced and guided through challenges and to new locations, being given tips and some good humour along the way. I found it difficult to ascertain who was responsible for the voice over of your handy helper on the radio. After doing some research, I came across the games' voice acting credits here but struggled to definitively identify who was playing who.
Having a radio companion does well to break up the ambiences and steers the game away from feeling too solitary. Although the frequent presence of music is enough to fill the background, Steep made me realise how much I appreciate having dialogue throughout a game. The story also features short narrated cinematics elaborating on the history of the mountains in the game. From reading online, these scenes had a mixed reception with some people feeling they are unnecessary, out of place and even a little bit eerie. Whilst not entirely necessary, they do help to add some depth to the game and educate players on the fact that they are virtually exploring real-world places. My personal thoughts were that I would prefer something more factual rather than dramatic. The scripting and style of the voice overs seemed targeted more towards being like a film voice over than a nature documentary when perhaps the latter would have been more appropriate.
CONCLUSION
Overall, Steep is a fantastic combination of effort and an incredibly enjoyable game to play. Ubisoft Annecy have gone over and above to ensure that the game is an accurate reflection of the real experience and, even as a relative newbie to extreme sports games, I found myself eager to play more. The way that the soundscape and the gameplay have been crafted make it a relaxing and almost meditative gaming experience with straight-forward objectives, fun game mechanics and a well-balanced soundtrack to boot. This is exactly the kind of game I would be happy to pick up and sink my evening into after a long day. Regardless of whether you play extreme sports games a little or a lot, I highly recommend giving Steep a try. Be sure to pay attention to the audio whilst you're at it because there is some excellent work to be appreciated.
Also, check out the new Steep Extreme DLC pack just released today, adding new challenges and three new sporting events: base jumping, speed skiing and even a mighty rocket wingsuit that will allow you to manoeuvre through the mountains at breakneck speeds! Watch the trailer here!
LINKS
Official
Twitter
Facebook
We hope you enjoyed Katie's review, check out others in our Reviews section. Don't forget to sign up to our Monthly Newsletter to make sure you don't miss out on our reviews and interviews.
We're also running a Patreon campaign to make sure we can keep bringing you regular, high quality content if you're feeling generous! Thanks for even sharing!
The Sound Architect