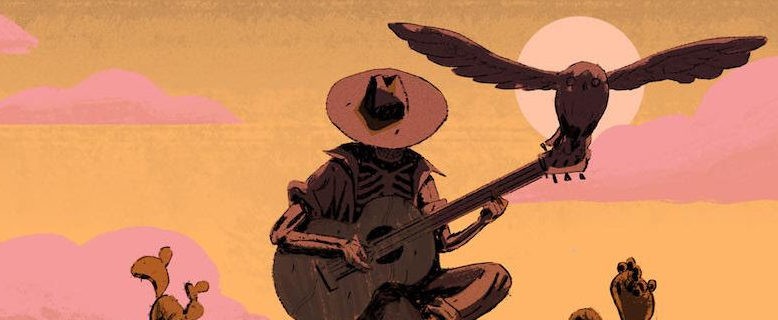 A catchy folk soundtrack by BAFTA-nominated composer Ryan Ike tells the history of the United States and explores its varied culture through music
Materia Collective has announced the release of the infectious folk soundtrack to Where the Water Tastes Like Wine composed by Ryan Ike. Just as in the game, listeners will enjoy folklore from across the United States spanning over a century of history through the varied and authentic soundtrack that touches on everything from blues and swing to patriotic marches and tunes inspired by the indigenous peoples of the Americas.
Where the Water Tastes Like Wine Original Game Soundtrack on Bandcamp
"Working on this soundtrack has been a dream come true for a lot of reasons," notes composer Ryan Ike. "I've always been really interested in how music can change and take on a life of its own as people share it, and getting to explore that idea with WTWTLW's world map theme (which shifts styles and influences depending on where you are in the country) was awesome. I'm also a big fan of how people from different backgrounds can come together to form one musical culture. I think American Folk music is one of the best examples of that, and writing this soundtrack meant I got to work with a ton of amazing performers from all over the country, including many I've been wanting an excuse to hire for a long time. Working on this game really crossed a lot of stuff off my musical bucket list!"
Have you listened to the album? Let us know what you think of it!
About Ryan Ike
Ryan Ike is a BAFTA-nominated composer whose work includes games like Gunpoint, Frog Fractions 2, West of Loathing and Where the Water Tastes Like Wine. When not writing music, he enjoys trying to help new audio people get their start, and has given talks at PAX West, PAX South, and GDC about beginning a career in game music. When not doing that, he's probably being an Overwatch trash-goblin, or singing canine-themed versions of '80s pop songs to his dogs ("You Spin Me Hound," "Pup Up The Volume," etc.).
LINKS
Where the Water Tastes Like Wine
To stay up to date on more audio news, sign up to our monthly newsletter to make sure you don't miss out of news as well as our reviews and interviews.
We are also running a Patreon campaign to help support our team and help us bring you more awesome content at even higher quality!