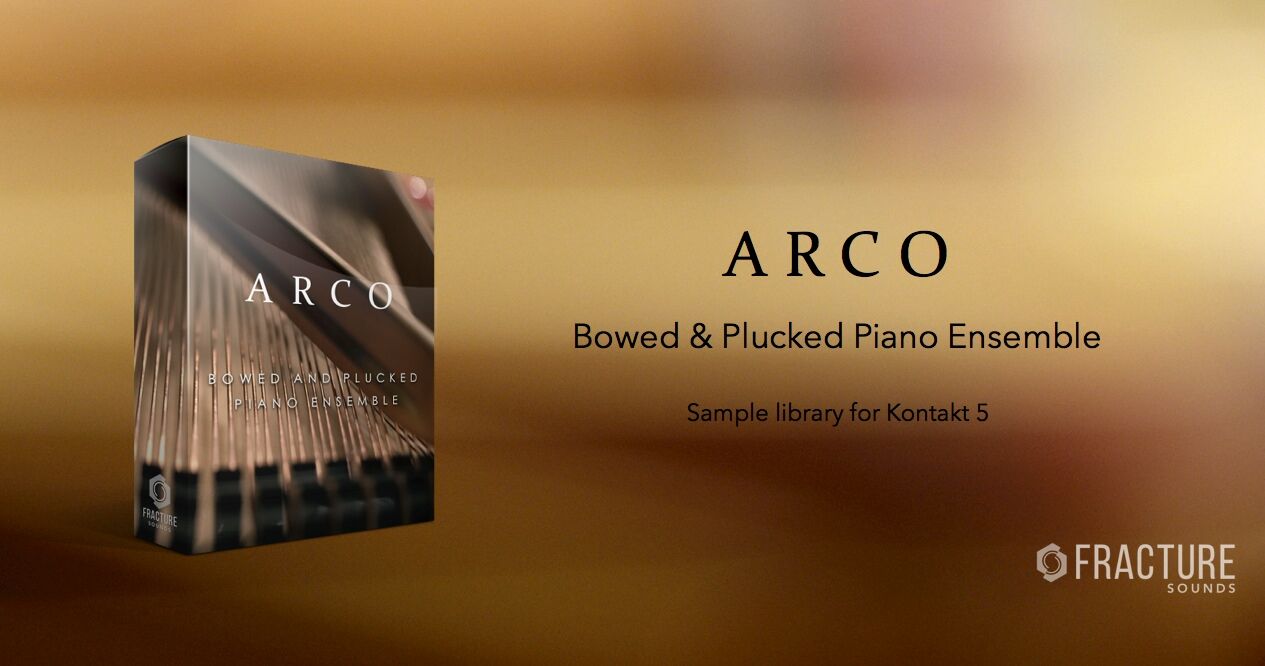 Review by Katie Tarrant
Edited by Sam Hughes
Introduction
Fracture Sounds is a company founded and run by composer and programmer Will Bedford. His previous releases include Granulate 2, Singing Bowl, Dream Zither and Tiny Music Box. His latest release is ARCO. A year in the making, ARCO is a smooth four piano ensemble performing bowed and plucked articulations. ARCO works with the full version of Kontakt Player (5.3 or above) and is packed with over 6gb of luscious 24-bit samples.
Out of the Box
As with all of Fracture Sounds' libraries, the interface is easy to navigate and compatible with users of all abilities. The patches are instantaneous to load and easy to dive in to with no head scratching required. ARCO offers 6 different patches, each with a wide range of customisations available. These patches include Bowed Sustains, Spiccato, Soft Spiccato, Plucks, Plucked Tremolo, and Glissando Effects. Additionally, it provides the option of several 'Economic Patches' with a smaller voice count. These include 4 Bowed Sustains (Open, Muted, Super Eco, and Hyper Eco), as well as a Plucked Tremolo (Eco).
There are 3 microphone positions (close, mid, and far) with individual faders that allows you to craft your preferred balance between them. You can also mute, solo, or completely deactivate any of the three mics, or alternatively use the 'Perspective' fader underneath that will automatically adjust the mic positions for you. There are also options to tighten and dampen the notes, as well as set a velocity range to save you hammering the keys if you want consistently hard hits. The transparency and ease of use is ideal, and allows you to quickly and effortlessly secure the sound you want and get on with creating music.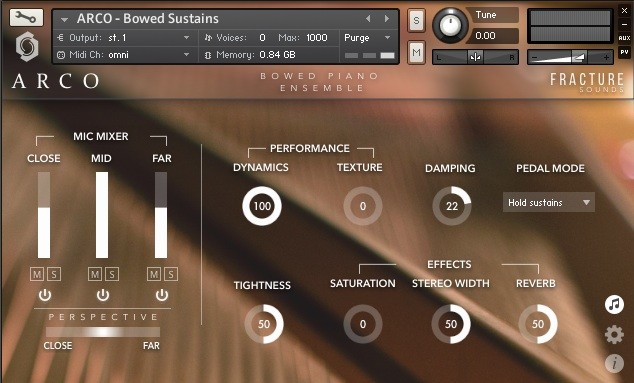 The Sound
ARCO is the first library of its kind. Made with two grand pianos and two upright pianos and recorded with a miscellany of mics from Neumann, DPA, Schoeps and more. As well as its main recorded samples, ARCO also offers separate ribbon mic samples if you prefer a warmer and more intimate tone. Fracture Sounds chose a wonderful location to record in, having captured a very rich yet intimate hall environment in a modern concert hall recording studio.
Once again, Fracture Sounds have done a fantastic job at collating a crisp clean range of samples that are wonderfully transparent in the way they present the sound. The edits and final polish of each sample are smooth and consistent, The library offers several customisations, including a 'Dynamic' control, and a 'Texture' control to blend between performance styles that can be allocated to your mod wheel. This is a nice touch and allows smooth transitions between styles to achieve a realistic sounding performance. ARCO also comes with a number of effects, such as saturation, stereo width, and reverb, all with clear values of 0 to 100 (with 100 being the full effect).
Both in its concept and its execution, this library adds a unique texture to anything you place it with. I particularly loved the bowed sustains when played in lower registers. They provided a brooding but gritty layer that I've not heard in any other virtual instrument I have tried. The 'Texture' dial enables you to buy ambien cod increase the resonant, natural textures of the samples, and I felt that any adjustments of the settings gave me a sound that I enjoyed, rather than having to tweak to find that sweet spot like I need to with some libraries. As aforementioned, there are separate ribbon mic samples available and I found myself leaning towards those on numerous occasions, preferring their softer but warmer tone. ARCO proved itself valuable for all styles of composition, and I found it to be a unique addition regardless of what genre I was writing in.
Conclusion
Overall, ARCO lives up to the same exemplary standards that Fracture Sounds' has set with all of their previous libraries, and its 6gb of content gives you a powerful and sustainable tool for an affordable price. The samples sound rich and cleanly recorded in a beautiful environment, and the library offers an immense amount of customisation in a clear and compact fashion. If you would like to read our reviews of some of Fracture Sounds' other libraries, you can read our thoughts on Tiny Music Box and Granulate 2.
LINKS
Official
Twitter
Facebook
We hope you enjoyed Katie's review, check out others in our Reviews section. Don't forget to sign up to our Monthly Newsletter to make sure you don't miss out on our reviews and interviews.
We're also running a Patreon campaign to make sure we can keep bringing you regular, high quality content if you're feeling generous! Thanks for even sharing!
The Sound Architect