Article by Alex Jones
Edited by Sam Hughes
Develop in Brighton brings together some of the biggest and brightest talent in the games industry, from indie developers to huge AAA companies, there's something for everyone. The usual venue of the Hilton Metropole in Brighton, saw thousands of game developers through its doors over the 3 day event. This year had the addition of the free indie bootcamp alongside the expo, with an amazing 7 tracks to choose from, including our best reason for attending: the audio track! John Broomhall has been the audio track chair for many years and this year was looking for talks that brought "lessons learned" to the audience across a multitude of games and disciplines, covering sound design, music and dialogue.
If you didn't manage to make it down, or just want a reminder of what was covered, here's our highlights from the audio track:
Taking Game Audio to New Heights – Michael Jessup, Dolby Labs
The day kicked off with a talk from Michael Jessup about taking game audio to "new heights" with the use of Dolby Atmos, a technology that's concerned with speaker setups that go beyond stereo. Especially, when using reflective floor speakers to help deliver height positioning as well as speakers on the horizontal. If you're interested in working with Dolby Atmos you can check out the Developer section of the website. They also have plug-ins for Wwise, Fmod and Unity, which is great news for game developers and audio professionals alike. This should mean much easier implementation of surround systems to try and suit as many players as possible!
Mass Effect: Andromeda Audio Retrospective – Michael Kent
Up next was an insight into the audio design behind the recent Bioware release Mass Effect: Andromeda with Michael Kent. An incredible quantity of assets were made for this game with 69,250 lines of dialogue, around 23,000 sound fx assets and a 670gb sized source library. He showed us examples of the audio style guides for each race as well as effective area switching between indoor and outdoor environments. There were lots of game states to drive the sound design and music, as well as scripted events for cut scenes. A breathing system was used with high, medium and low levels of intensity (similar to that used in INSIDE) and the team found that starting with an exhale after exertion felt most natural. Bioware are now working on their next game Anthem, announced this year at E3!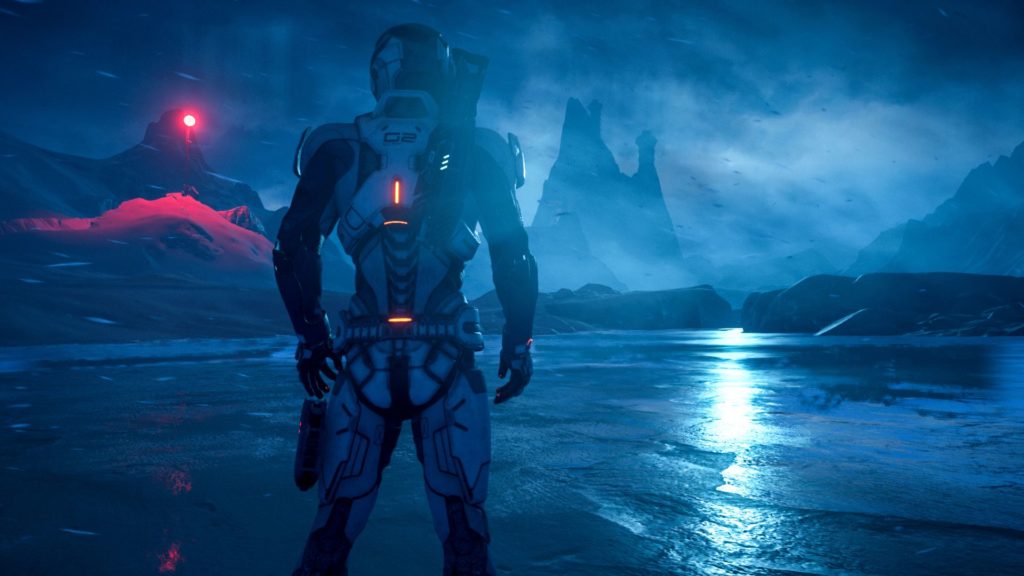 How Audio Pre-Production Can Boost Project Productivity – Loic Couthier, Sony Interactive Entertainment
Loic Coulthier then talked about how the team behind the new WipEout game used their pre-production process, with tips any team can apply to their own project. For WipEout, it was important for them to look at the historical context of all previous titles in the franchise and then set out to create an audio style guide for futuristic flying racers. He recommended looking at the "Design Thinking Process" set out by Stanford University. A 5 step approach for audio pre-production was laid out by Coulthier:
First to Emphathise, to understand the experience of the end user and to conduct all relevant research, then analyse.
Secondly to Define, highlight available hardware, set the standard for your game, and ensure you reward the player sonically.
In third place was to Ideate, the sound design for their flying racers, had 13 layers plus a synth engine growl.
Number 4 was to Share, to design a Previs (a video demo) but to also take implementation into account.
Lastly was to Develop, plan all tasks to be undertaken and build necessary systems. He emphasises the importance of planning all sound design layers and how they will be mixed, before touching middleware. Surely a helpful plan for everyone in the design stage of their audio project!
How To Not Screw Up Your Dialogue Project – Hugh Edwards, High Score Productions
After lunch we then had lots of good advice from Hugh Edwards from High Score Productions, on "How not to screw up your dialogue project". Here's some important tips to consider:
Engage the dialogue team early on, good scripting, story and characterisation is important, remember time for non scripted vocals (eg effort noises/emotes), deliver your scripts as a spreadsheet with unique filenames, consider time constraints with localisation, deliver videos of movement and pay attention to the subtitles in your game. The most important point Hugh wanted to make, was that we should consider a shift to record dialogue in a similar way to radio plays, with voice actors able to be together in a room and feed off each others performance rather than having to react to pre-recorded voice clips.
The Challenge of Creating Audio For Planet Coaster (And What You Can Learn From It) – Matthew Florianz, Frontier Developments
Next to follow was a talk about Planet Coaster with Matthew Florianz of Frontier Developments. As an open world game with no limit on building, they needed a strong audio team of 10 people, plus dedicated audio QA. With such a massive environment there were lots of crossover of sounds, passing rides, screams, crowds and music written by Jim Guthrie and JJ Ipsen. The team had their own system to track large crowds, find the centre of the crowd, and map audio to virtual emitters. They also invented their own language for the characters that you can read more about on Gamasutra.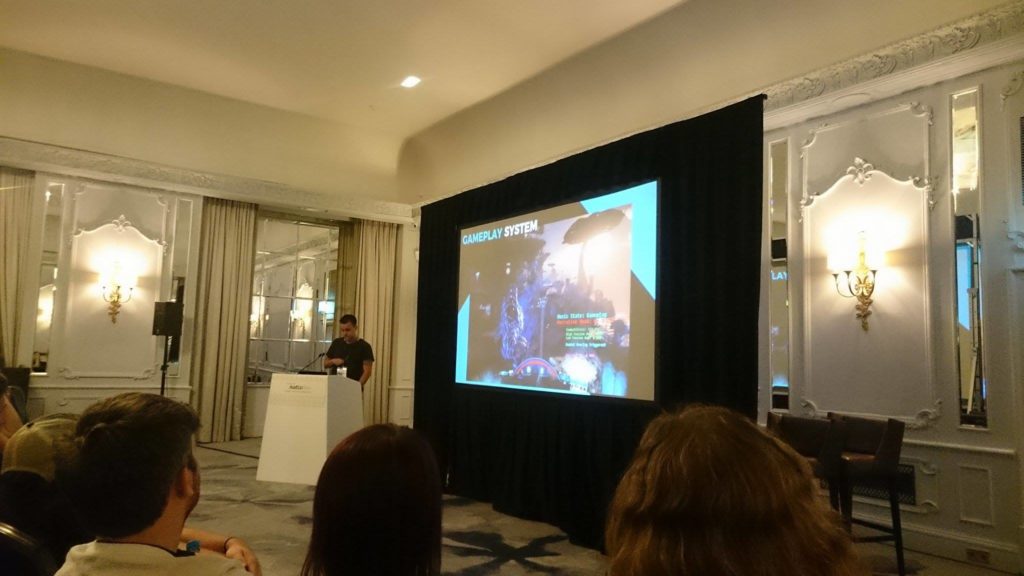 Interactive Music Masterclass: Designing A Contextual & Scripted Music System – Jeremie Voillont, Bioware
An interactive music masterclass with Jeremie Voillot from Bioware, went into more detail about the music systems designed by the company and how they used music states and narrative mood to drive the music. There was also the addition of combat stress eg. High or Low Tension situations on top of these states to decide what sections of music should be playing. Their main guidance for the game was that they "Never wanted to hear a fade", to create a well flowing music system. A cool insight into what goes on under the hood!
Taking the Sound of Star Wars: Battlefront to VR – Jay Steen, Criterion Games
Lastly we were lucky enough to check out the work of Jay Steen and the audio team at Criterion, on Star Wars Battlefront for VR. Players in VR often don't tend to look behind them but mainly utilise the front 180 degrees, so it was really important for audio to direct a players attention where they needed to be looking. Jay said there was a really cool moment where there are bleeps and bloops, to encourage the player to turn around and see R2-D2 sat behind in the co-pilot spot. They also found that where some other companies had said music took away from the experience in virtual reality, that the opposite was true here, and that the game didn't feel real without the Star Wars music, a really interesting difference, influenced strongly by the film franchise! Interestingly they also stated that they didn't use Ambisonics in this game, however they do really want to move forward with a scene based approach in the future.
Open Mic Panel – John Broomhall
Lastly we had a panel, accompanied by cold beers, hosted by John Broomhall. A couple of bits to take away from the last session were that composers really had to be at the top of their game, to understand the state of the art in their own aesthetic. Paul Lipson of Formosa Interactive said it was important to "Understand the system design and at least how integration works, even if you can't use the software". Adele Cutting from Soundcuts said "You have to have the right mindset, learn Wwise or Fmod, even if you don't want to do it, just do it, learn and know the techniques". We closed the day with Adele Cutting and Kenny Young asking, especially for mentors, to join the Audio Mentoring Project. Mentors are so important, especially with so much of audio work being outsourced and freelance, sometimes it's harder to get that important relationship with experienced composers or sound designers. If you are interested please check out The Audio Mentoring Project, it's a global initiative, so wherever you are, do consider it!
LINKS
Official
Twitter
Facebook
We hope you enjoyed Alyx's article, check out others in our Reviews section. Don't forget to sign up to our Monthly Newsletter to make sure you don't miss out on our reviews and interviews.
We're also running a Patreon campaign to make sure we can keep bringing you regular, high quality content if you're feeling generous! Thanks for even sharing!
The Sound Architect