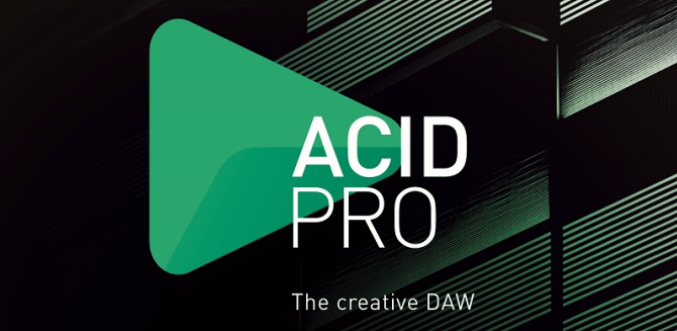 The loop-based Digital Audio Workstation ACID Pro is back with its first major update in ten years
MAGIX Software has completely overhauled the software that revolutionised loop-based music making 20 years ago and has added many new features, instruments and effects and an all-powerful 64-bit architecture. Yet with a brand new interface and its loop-based compositional environment, the software retains the easy workflow that it is famous for. ACID Pro has been revitalised for today's creative artist and producer but is as easy to use today as it was at its release 20 years ago.
The last major update to ACID Pro, by the previous owner Sony Creative Software, was in 2008. The company will be adding VST3 support in a free update later this year. ACID Pro 8 hopes to please both new users looking for a creative DAW that marries top-spec features with ease of use, and also its large and loyal fanbase – which MAGIX consulted with for many of with whom MAGIX has worked closely together in developing many of the new updates.
NEW FEATURES:
Whether you are making 24-bit, 192kHz multitrack recordings, mixing with multiple effects in real time, or composing with dozens of plug-in instruments – with its new powerful 64-bit architecture, ACID Pro 8 will offer latency free power for state-of-the-art 64-bit instruments.
With the new interface, MAGIX has redesigned the GUI to enhance working in a dimmed environment and further improve ACID Pro's famed ease of use. MAGIX has also added over $1000 of instruments, loops and effects to ACID Pro 8. There's a virtual analogue synthesizer from DN-e1; first-class effect plug-ins and high-quality audio tools from essentialFX Suite; screaming guitar effects by way of Vandal SE; flexible and how to purchase viagra without prescription high-quality sampling from Vita 2; plus 11 Vita solo instruments that cover everything from Pop Drums to Cinematic Synths. ACID Pro 8 also comes with a 9GB library of all new ACIDized loops and samples.
MAGIX has also announced producerplanet.com: a new comprehensive online content platform where users can purchase even more ACIDized loops, sounds and instruments. ACID Pro 365: With ACID Pro 365, MAGIX now also offers a subscription service. Users get all the power and functionality of the regular ACID Pro 8 but enjoy all future updates, full support plus additional instruments and effects for a monthly fee from $7.99.
"ACID Pro has a long, distinguished history and a very large and loyal following. It was vital, then, that we spent a long-time consulting with this ACID community of artists and producers over how we should improve the software. We are very pleased that most of their suggestions have been included in ACID Pro 8. This enormous passion of the ACID fan base has really transferred to me and my team," says Torsten Heise, ACID Pro 8's product owner. "We firmly believe that, with its enhanced power and features-set, this latest version of ACID Pro will appeal to those users and a completely new generation of creative musicians and professional producers. ACID Pro 8 heralds a new dawn in the software's glorious history and will become the DAW of choice for today's forward-thinking and creative artists." Apart from ACID Pro 8, MAGIX Software has already driven the development of other professional audio titles forward, such as SOUND FORGE Pro 12 and SOUND FORGE Audio Studio 12.
New Features of ACID Pro 8 at a Glance:
A modern, sleek and inspiring user interface
Powerful 64-bit technology
Flexible 24-bit, 192kHz multitrack recording
Advanced MIDI and audio editing features $1000 of new plug-in instruments, loops and effects 9GB of all-new ACIDized loops
Prices and Availability:
ACID Pro 8 –£119.99
ACID Pro 365 – from £5.99 per month
LINKS
To stay up to date on more audio news, sign up to our monthly newsletter to make sure you don't miss out of news as well as our reviews and interviews.
We are also running a Patreon campaign to help support our team and help us bring you more awesome content at even higher quality!