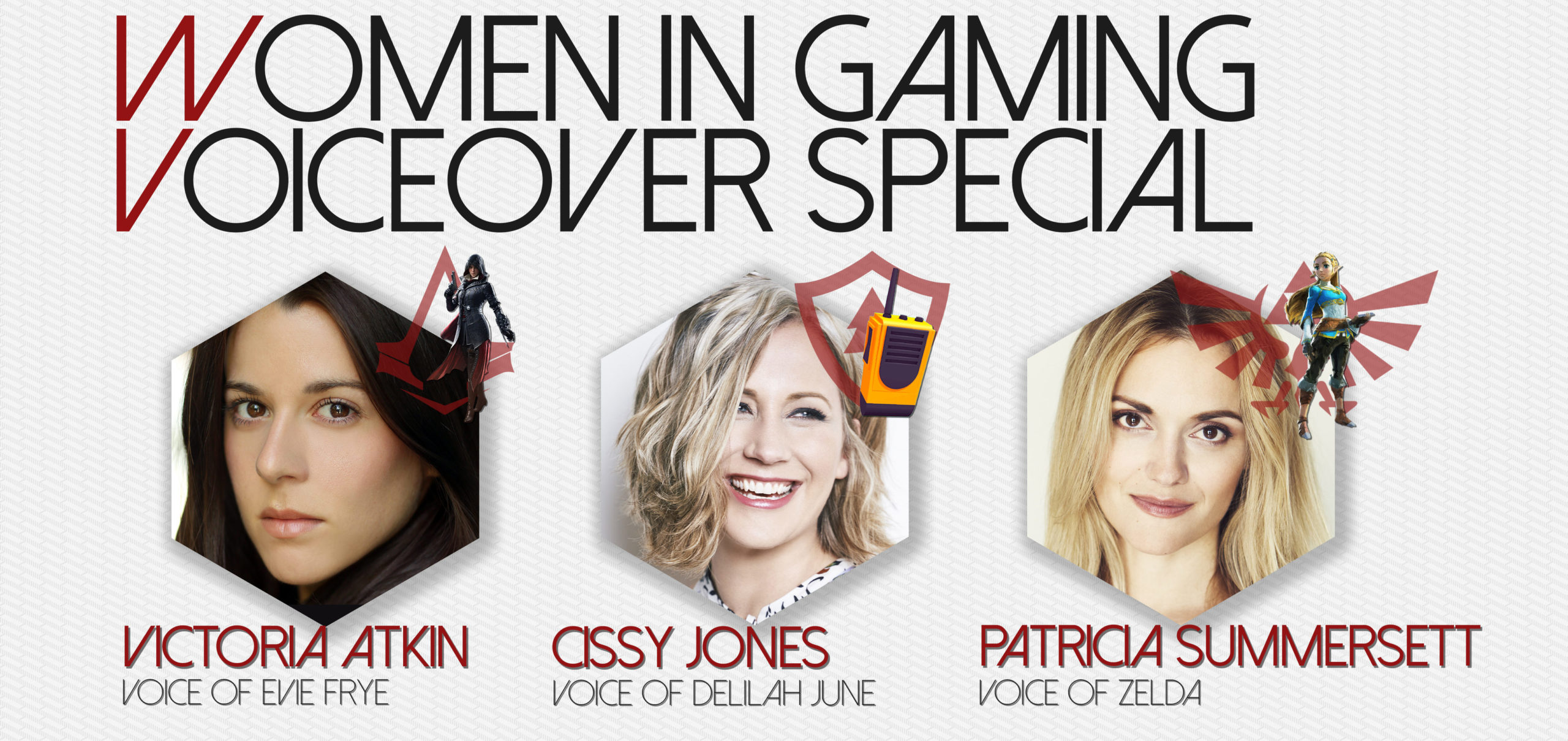 Graphic by Joseph Hesketh
Hosted by Sam Hughes
Podcast Edited by Callum Tennick
In this very special episode, Sam Hughes hosts the Women in Gaming: Voiceover Special, where he is joined by awesome voice acting guests; Victoria Atkin, Cissy Jones and Patricia Summersett! In this episode, the guests answer as many questions sent in from all of our social media channels as we can.
Listen now and see if your question was answered!
Victoria is an award-winning British actress, author and singer, based in Los Angeles. Victoria is also an ex-pro athlete and a licensed motorcyclist. In July, Variety named Victoria as an "International Star You Should Know". In Assassin's Creed: Syndicate, Victoria portrays the "Evie Frye", the first ever Generation 4 Playable Female Lead Assassin, twin to brother "Jacob Frye". Victoria is also an author, with her debut novel London Love being released in 2015 available here: London Love. 
Cissy is an award-winning actress whose voiceover career spans the gambit from animation to video games and everything in between. Besides winning a BAFTA for her performance in the 2017 Indie videogame Firewatch, Cissy has also cemented her role as a new animation actress to watch for her part as the lead in a yet to be announced new Disney animated franchise.
Cissy is also in the UK very soon! Cissy is conducting a Character Intensive session at this year's Get Your Game On event by The Voiceover Network. GYGO will take place Friday 22nd, Saturday 23rd and Sunday 24th June 2018, with full details here: https://thevoiceovernetwork.co.uk/events/networking/109-gygo-intensive-weekend-voice-acting-for-video-games.html
Patricia recently became the first-ever official English voice of Princess Zelda in a Nintendo game with Legend of Zelda: Breath of the Wild. The launch game for the Nintendo Switch, featured full voice acting and won "Game of the Year 2017" in the US, UK and Japan. Patricia has voiced numerous games from indie to AAA providing full performance capture for two different assassins in Ubisoft's Assassin's Creed franchise and for Tom Clancy's Rainbow Six: Siege. Patricia is also lead singer in her band Summersett where you can stay up to date on their upcomign news here: https://m.facebook.com/SUMMERSETTband/
Links
Victoria
Cissy
The Voiceover Network "Character Intensive
Patricia
We hope you enjoyed this interview, check out others in our Interviews section. Don't forget to sign up to our Monthly Newsletter to make sure you don't miss out on our reviews and interviews.
We also love to deliver as much content as we can but as a team of volunteers, we have a Patreon running to help us continue to deliver, see the links below!