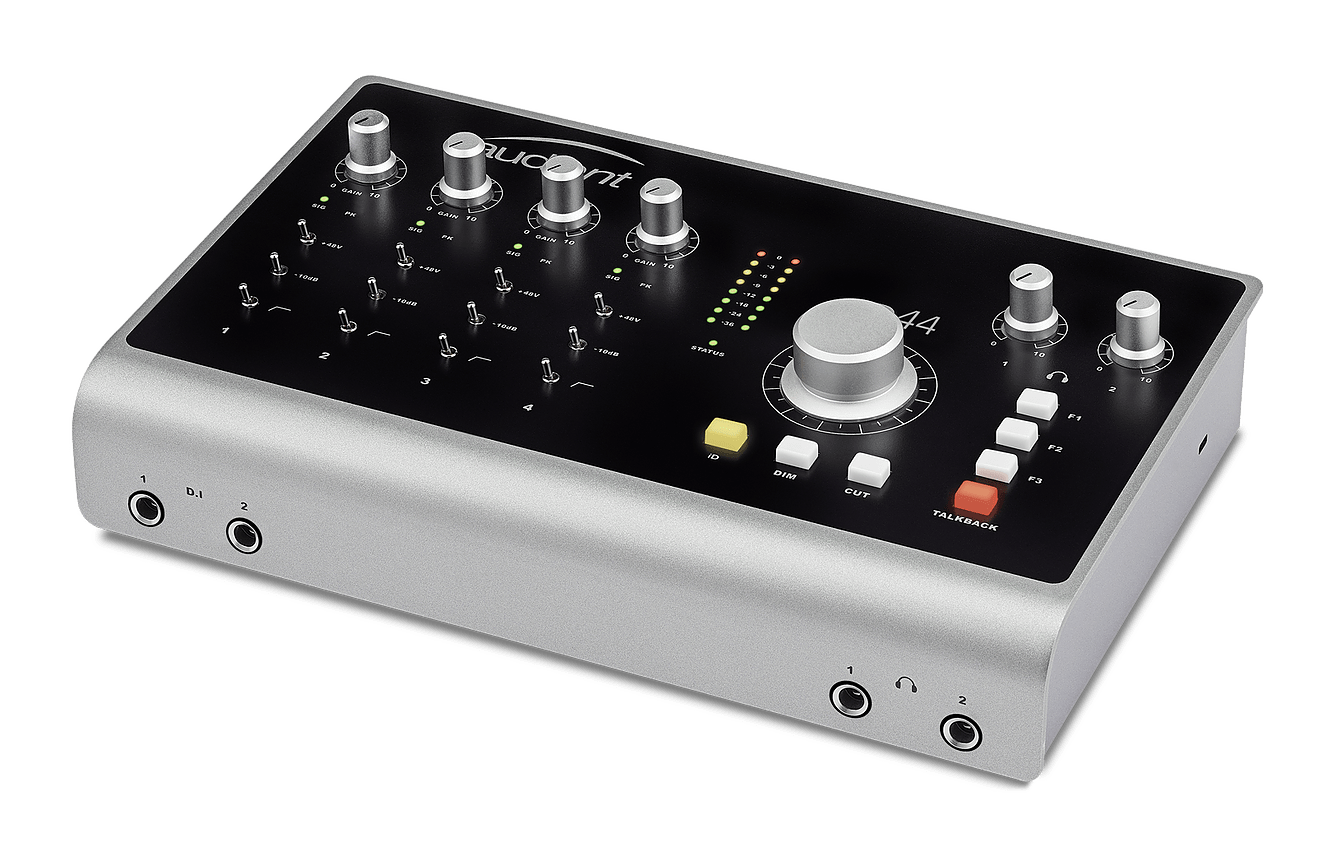 The iD44, a new USB audio interface from Audient
The iD44: Four Audient Class-A console mic pres offering 60 db of gain, all new class-leading converter technology, options for digital expansion, new intuitive, mix-focussed software specifically designed for ease of use when managing large sessions, an impressive potential I/O of 20in / 24out and an all-metal build, providing the basis of the complete recording studio.
"iD44 is the natural expansion of Audient's high performance audio interface range, building on award-winning features; utilising high grade components and adding innovative, new enhancements inspired by listening to our customers' feedback," says Andy Allen, Audient's marketing manager.
"As with our smaller interfaces, the mic pres are the exactly the same as those you find in our large format recording consoles, making us the only company to use the same discrete Class-A mic pre throughout our entire product range. iD44 continues to deliver real analogue heritage right to our customers' desktops."
The ADAT inputs and outputs give the user flexibility to grow their studio, enabling the addition of up to 16 extra channels of mic pres – ideal for bigger sessions such as tracking a live band or mic-ing up a drum kit. "iD44 is the perfect long-term investment for those wanting to build up their setup over time," continues Andy.
Channels 1 & 2 also feature two fully balanced insert points. "Add your favourite compressor, reverb or EQ while recording, or get direct access to the analogue digital converters for unlimited creative options, such as print-backs, FX processing or integrating outboard analogue line level sources. iD44 really provides all the flexibility the modern producer needs."
Audient's upcoming Windows drivers update will also provide significant performance enhancements, allowing for reduced buffer sizes and operation at lower latency, giving customers reliable software as well as hardware. "What you get for your money in terms of feature set and quality is unrivalled in today's market," affirms Andy.
Come and see iD44 up close at NAMM at booth #10602. iD44 is expected to ship in the first quarter of 2018 and will retail at £499.99 inc VAT, €569 inc Local VAT and $699 MAP.
The feature set of iD44 further includes:
20-in, 24-out Desktop Interface
4 x Class-A Audient Console Mic Preamplifiers with 60 db of gain
Class Leading AD/DA Converters
2 x ADAT Inputs & Outputs for Digital Expansion
2 x Discrete JFET Instrument Inputs
2 x Fully Balanced Inserts
2 x Independent Stereo Headphone Outputs
Main and Alt Speaker Outputs
ScrollControl
3 x User Defined Function Keys
Dedicated Talkback, Dim and Cut Controls
Low Latency DSP Mixer
Word Clock Output
USB2.0 Compliant
24bit/96khz
All-Metal Enclosure
Over £500 worth of plugins and software free with ARC
LINKS
Follow Audient on Twitter and Facebook 
To stay up to date on more audio news, sign up to our monthly newsletter to make sure you don't miss out of news as well as our reviews and interviews.
We are also running a Patreon campaign to help support our team and help us bring you more awesome content at even higher quality!