Introduction
On Friday 28th April, for the second year running, The VoiceOver Network conducted their Get Your Game On event; an opportunity for voice actors, developers, producers, audio designers and much more to get together and mutually appreciate the art of voice over.
Founded by Rachael Naylor, The VoiceOver Network is the go-to community for voice actors of all levels to learn new skills, attend events and masterclasses, receive specialist advice and meet and collaborate with fellow games industry personnel. Get Your Game On is now an annual event featuring many renowned names from the industry who come together to present a series of talks and workshops to all in attendance.
This year, we were over 120 attendees strong and were joined by the likes of Dave Fennoy, Mark Estdale, Rob Yescombe, Yvonne Morley, Lorraine Ansell, Steve Brown, Adele Cutting, Stephane Cornicard and our very own Sam Hughes.
The Talks
The morning kicked off to a great start with a variety of talks, including an insightful talk from Yvonne Morley about the importance of protecting and correctly training your voice as a voice actor. This was followed by Adele Cutting's talk about the value of hiring professionals and maintaining the quality of your product by ensuring that quality goes in to it. Adele also gave insight in to what a voice actor should expect in a recording session as a nice build up to her workshop later. Finally, the first half of the morning was concluded with Mark Estdale's talk about how adding music, ambience or sound effects when recording voice over can provide context to the voice actor and result in a better performance. He gave a live example of this fact by summoning a volunteer from the crowd to read lines from a script on their own, before gradually adding more of a soundscape with each reading to show how the actor's performance improved when they had a greater bed of sounds to record over.
After a short break, we resumed for Steve Brown's guide on what to expect once you've been given a role and are now due to attend the recording session. Steve went over the types of voice over that a voice actor can be faced with performing, such as lead roles, NPC or enemy dialogue. He also mentioned styles of recording such as ADR, standard studio recording and mocap with some technical exploration of each one. He also presented us with a montage of the recent excellence that has been happening in voice over in recent years. The morning was then nicely wrapped up by Dave Fennoy's talk about developing your characters and honing your craft and professionalism as a voice actor. Dave stressed the importance of letting go of your subconscious self and ensuring that every decision you make is for the benefit of the character you are playing.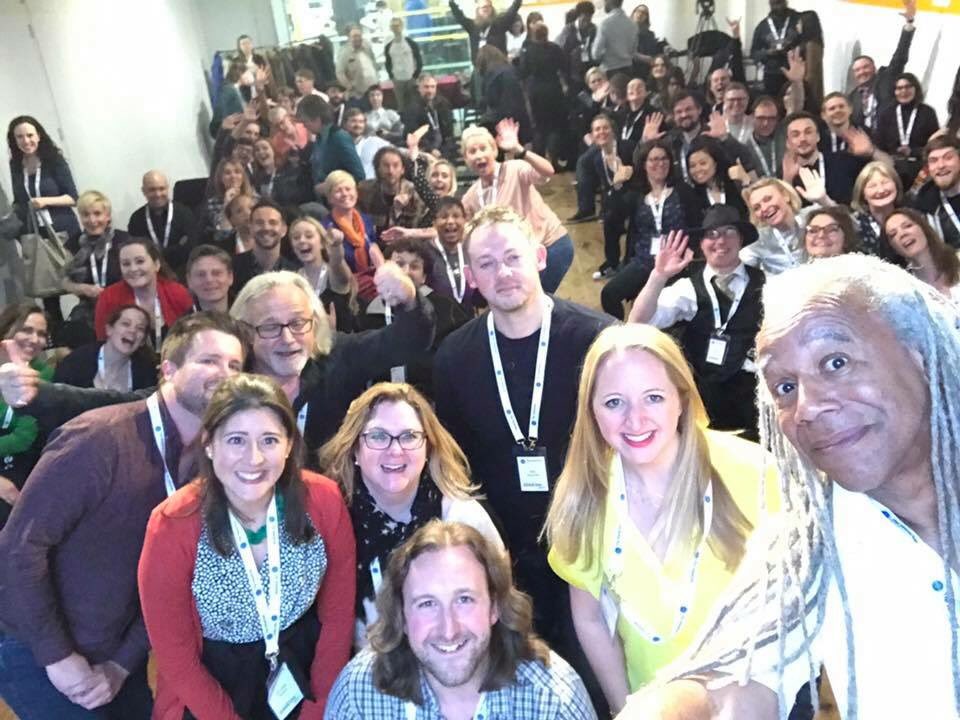 The Workshops
After a tasty buffet lunch, the workshops ensued and everyone scattered to their respective locations. My first workshop was with Dave Fennoy and, being a huge fan of his work, I was excited to see what was in store. As a voice coach and mentor, Dave has a fantastic ability to guide, measure and improve your ability as a voice actor and to draw out the confidence and the true potential within you. The workshop started with a small talk about some of the topics he had mentioned earlier that morning, before he decided to go around the group and do a quick one on one with each person.
Ironically, having little voice acting experience, I was first and I was tasked with acting out some grunts and exhales as though I was hitting someone. Nervous, I stumbled and that was largely due to my immense lack of confidence as it was something I had never done before. Dave spotted that immediately and gently led me through further attempts. It was incredible how, within a matter of minutes, he helped to extinguish those self-conscious thoughts and draw a performance out of me that I never would have thought possible.
The circle continued and it was wonderful to get an insight in to the sheer talent that was present in the room with me, and again fascinating to see how quickly Dave was able to coach stronger performances out of everyone, professional or otherwise. The workshop was well-humoured and everyone left with a smile on their face, feeling fulfilled and inspired.
Following that, I attended Mark Estdale's workshop. A veteran in the industry, Mark presented the workshop as a Q&A and much of the conversation revolved around his casting process, the do's and don'ts of applying for roles, advice about demo reels and some insight in to a typical day at the studio. The casting process is a huge component of a voice actor's life so those present were eager to learn more. Going around the room, it was amazing to see how much people could learn being in such an intimate setting with such an experience professional and to be able to seek answers to any queries and doubts on the topic.
There were several workshops happening at the same time and so unfortunately it was not possible to attend them all, but outside of Dave and Mark's workshops was Adele Cutting's workshop on using emotes to develop your character and tips on avoiding the dreaded creative rut. There was also Stephane Cornicard's workshop on how to buy klonopin overnight delivery improvise effectively and step quickly in to your characters. Yvonne Morley held a more in-depth workshop on vocal health and how both the voice actor and the producers or developers can take pre-emptive measures to ensure safety in the recording environment. Finally, audio director Steve Brown ran a workshop on preparing for a session and ensuring you are ready to get in to character.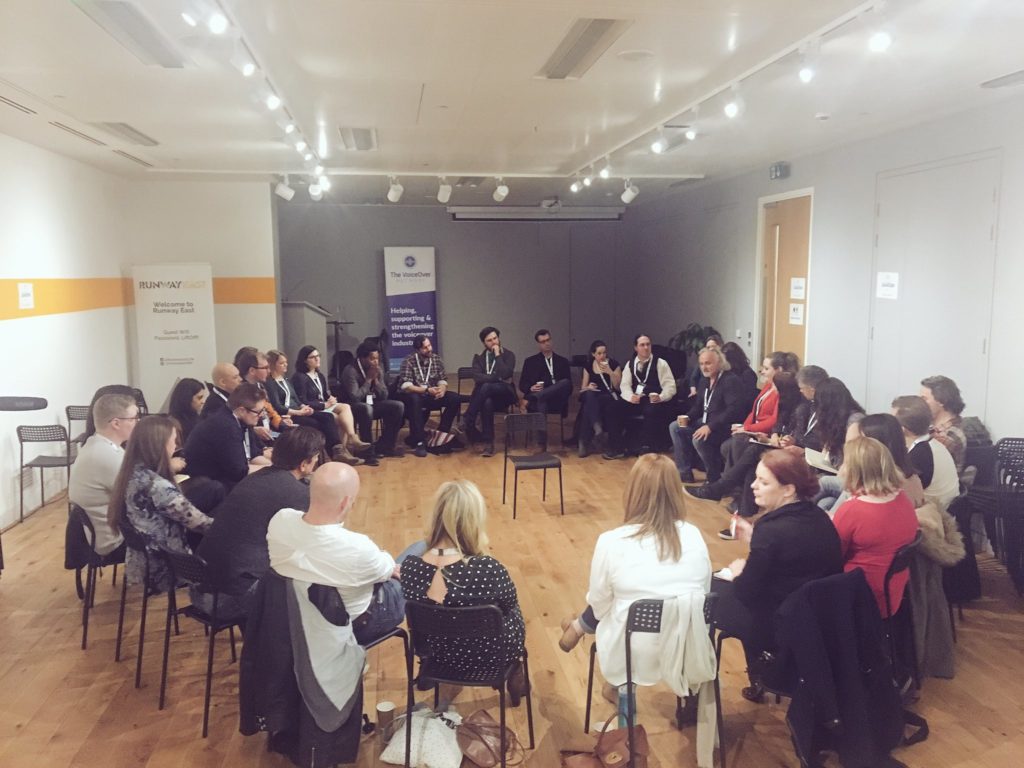 The Game Jam
The final events of the day included the announcements of the game jam that The VoiceOver Network led the previous weekend, a panel with all the fantastic speakers and a final farewell social. To elaborate, the week before the Get Your Game On event, the VO Network organised a game jam in which developers were required to work with at least 2 voice actors on their game to raise awareness about the importance of VO in the development process. Unfortunately, as the turnout of devs wasn't sufficient to run a full game jam, the event turned in to an opportunity for the voice actors involved to pull together into teams of 4 or 5 and create a narrated trailer based on a brief they were given.
The brief was to create a trailer for a turn-based card game complete with a fantasy-based lore. We got to listen to all the demos that were created and although all of them were excellent, the final winners were a team called GatoRato consisting of Ally Murphy, Christopher Tester, Simon Johns and Katie Flamman. The winners each received a Rode USB mic and a tasty box of Thornton's chocolates!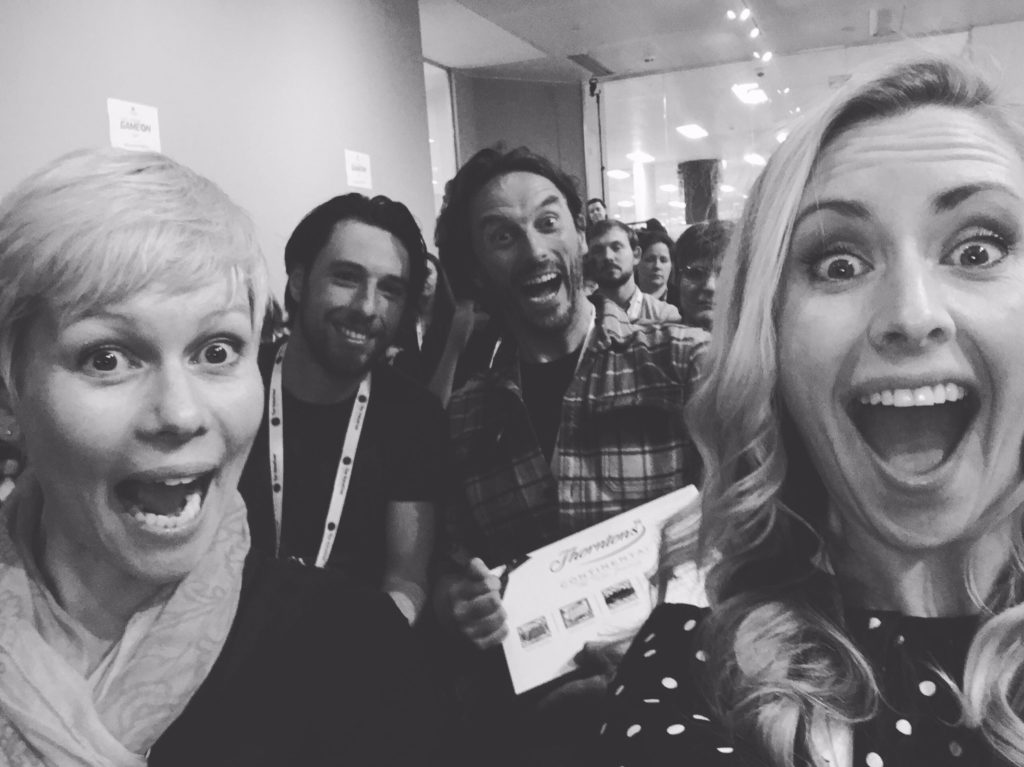 The Panel
The panel was the last scheduled event of the day and it was definitely one of the highlights. Our very own Sam Hughes joined the proceedings for the panel, accompanied by Mark Estdale, Dave Fennoy, Adele Cutting, Lorraine Ansell, Steve Brown, Rob Yescombe and interviewed by Rachael Naylor. The panel covered a range of topics, including where the speakers felt the future of games lies, how technology will influence gaming and also voice acting, as well as the natural politics and economics of the industry. There seemed to be a general consensus that VR will have a huge impact on the continual growth and development of the games industry, with Sam even theorising that one day VR may allow voice actors to be in the game whilst recording their VO. The panel also then took a deep turn in to discussions about how voice actors are valued in the industry, both semantically and financially. There was discussion on how developers can often be willing to compromise quality for the sake of saving money, and how important it is for voice actors to value themselves and charge accordingly for their services. This is an issue that is prevalent across the board in game audio and it was also suggested that it may be beneficial for people within the industry to start considering what should be a communally accepted standard for payment. It was incredible to see the amount of passion and mutual support everyone had for the matters mentioned and it was clear that everyone left the panel feeling inspired and connected with one another, hoping to contribute to the future of much needed changes in our industry.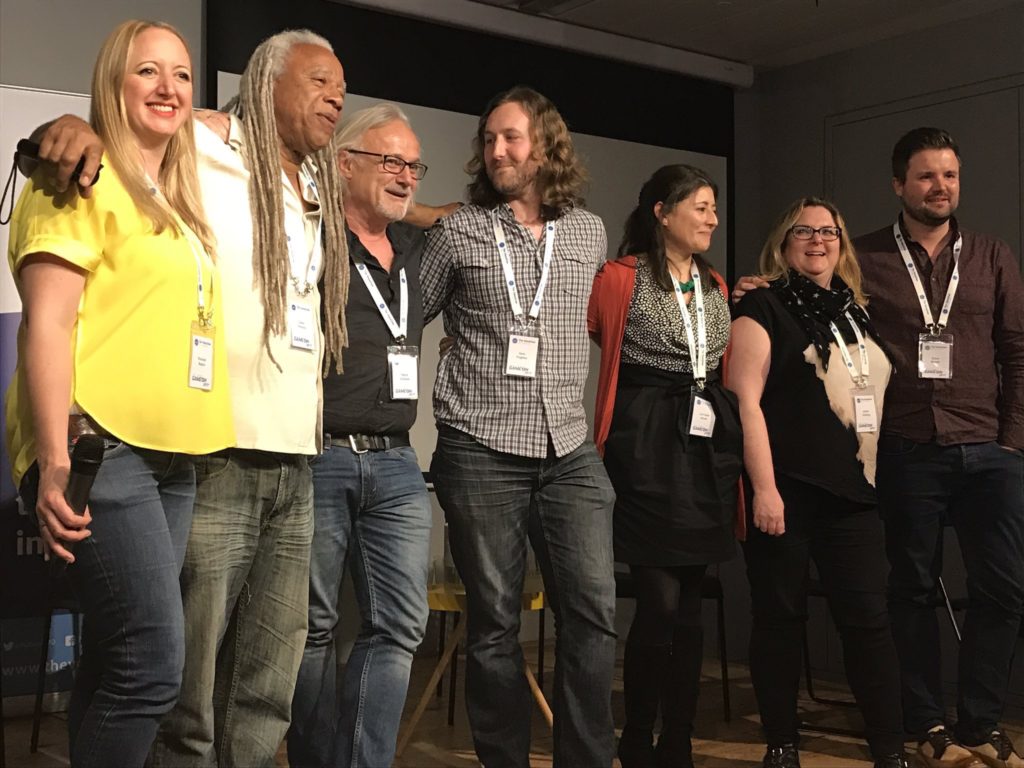 Conclusion
Overall, the Get Your Game On event was a roaring success and one that will hopefully grow over the years to come. As an audio designer, it was an amazing feeling to connect and spend time with so many talented voice actors, developers and producers. Despite all being part of the audio world, there are few occasions where voice actors rub shoulders with the rest of the audio industry and it would be great to see that divide shrink and for us all to network more with one another. Any role in audio can feel solitary and isolated, particularly when you are working freelance, so The VoiceOver Network and all of the events and workshops that it runs are a vital source of support, advice and communication between voice actors of any level. A huge thank you again to Rachael Naylor and all the speakers and sponsors for making the Get Your Game On event happen, and also for the continuing pioneering efforts behind The VoiceOver Network. If you're a voice actor or even just interested in that pocket of the industry, I highly recommend The VoiceOver Network and hope to see everyone again at next year's Get Your Game On!
LINKS
Official
Twitter
Facebook
We hope you enjoyed Katie's review, check out others in our Reviews section. Don't forget to sign up to our Monthly Newsletter to make sure you don't miss out on our reviews and interviews.
We're also running a Patreon campaign to make sure we can keep bringing you regular, high quality content if you're feeling generous! Thanks for even sharing!
The Sound Architect