Review by Alyx Jones
Edited by Sam Hughes
Developer: Mike Bithell
Composer: David Housden
Voice Actors: Charlie McDonnell, Danny Wallace, Andy Serkis
Reviewed On: Steam (Mac)
Volume is a stealth based indie game developed by Mike Bithell (Thomas Was Alone). The game approaches the classic Robin Hood story from a futuristic approach. It takes a minimalist approach to art with a star-studded line up of voice actors including: Charlie McDonnell, Danny Wallace and Andy Serkis.
We are gre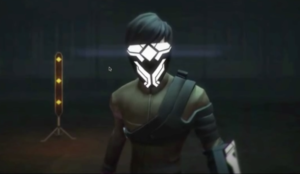 eted by the AI "Alan" (Danny Wallace) who serves to guide us through the game. The character has a strong likeness to the AI character, Wheatley (Stephen Merchant) in the popular Portal 2. Alan is a sarcastic (not unlike Wallace's character, Shaun Hastings from the Assassin's Creed franchise) and funny AI that Wallace's voice works well with, to bring out the comical side of being an intelligent computer programme.
Youtube celebrity, Charlie McDonnell brings the young and fresh voice to the protagonist, Locksley. He doesn't sound like an experienced voice actor, but he makes this work for him by giving Locksley a young and over confident colour to his character.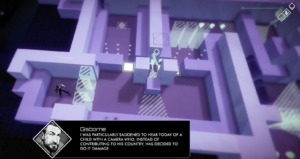 Andy Serkis (well known for Gollum in The Lord of the Rings) also joins the voice actors as the modern version of Guy of
Gisborne, the top dog at Gisborne industries. Serkis' experienced voice as a villain brings deep menacing undertones as he plots to find and stop Locksley in his mission.
David Housden returns to work with Bithell after the success of previous, award-winning, indie platformer Thomas Was Alone. His score for Volume is very different from his past work on Thomas Was Alone. I would describe the music for Thomas Was Alone as having an electronic ambient feel to it, but very much sounds like an indie score in that it's more experimental with audio and combines piano, subtle rhythms and samples to create the emotional narrative experience that is Thomas Was Alone. Whereas when we come to Volume it's very much "epic orchestral" in its creation and intent, giving it more of a "Hollywood AAA" sound to it. While there's absolutely nothing wrong with this approach, Volume is described as an indie game. However you interpret the term "indie game" it tends to be associated with more creative and interesting music as indie games traditionally have smaller budgets, smaller teams but higher levels of freedom because of this. In some ways the music for Volume doesn't quite reflect the indie feel or the vector/minimal art style.
Housden's musi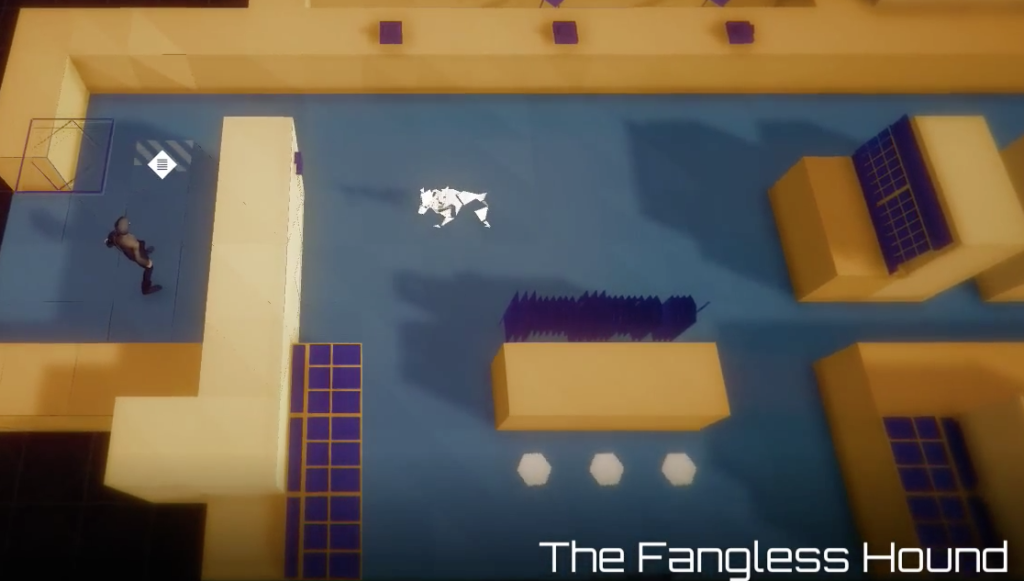 c for Volume is definitely enjoyable, even if it doesn't push any boundaries in the orchestral department. There are some really lovely build ups of rhythm and texture as well as the female vocals provided by Riva Taylor in some of his tracks. It would have been nice to have Taylor sounding more natural, since she really does have a good voice.
In-game, the music works really well to create tension as Locksley sneaks around evading guards, as a thief. Sometimes when Locksley is spotted by guards the immediate stinger can be too loud in contrast to what was previously playing. Other than this, the sound design works well within the futuristic environment to help define our character and his tools sonically.
Overall the voice acting has been the most enjoyable part of the game audio experience for me. I would definitely recommend playing Volume, it's a funny and charming take on Robin Hood, if you enjoy futuristic settings!
To see the game Volume in action:
Official:
Twitter:
Buy:
We hope you enjoyed the review check out others in our Reviews section :). Don't forget to sign up to our Monthly Newsletter to make sure you don't miss out on our reviews and interviews. 
The Sound Architect