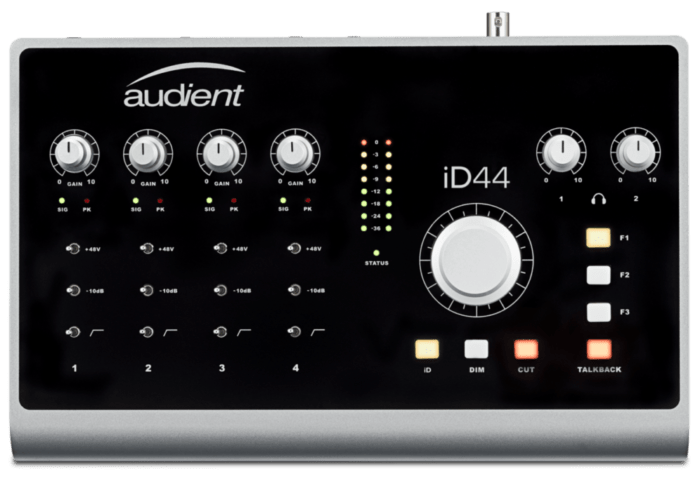 Review by Matthew Kilford
Edited by Sam Hughes
Price: £499
Developer: Audient
Reviewed on: Mac OSX High Sierra
Audient ID44
You wait for an age, and then suddenly two audio interfaces come along at once.
A few months ago I got to review the stoic RME Babyface Pro audio interface, and as an owner of an Audient ID22, it was fascinating to finally get my hands on a Babyface and see its obvious strengths, and to be fair to the little blighter, not too many weaknesses.
So here I am now sat with Audient's latest creation, the Audient ID44 audio interface.
But does it deliver what the Audient fans have been craving since the release of their flagship ID22?
The Audient ID44 is a 24/96k 20in/24out audio interface featuring four Class-A mic console mic pres which are used in their main consoles.

The Connectivity
20-in, 24-out Desktop Interface
4 x Class-A Audient Console Mic Preamplifiers
Class Leading AD/DA Converters
2 x ADAT Inputs & Outputs for Digital Expansion
2 x Discrete JFET Instrument Inputs
2 x Fully Balanced Inserts
2 x Independent Stereo Headphone Outputs
Main and Alt Speaker Outputs
With Thunderbolt becoming more prominent, it's interesting to see Audient proudly sticking with USB. The unit has a USB type C connector and it ships with the 2 cables (A & C Type) to get you up and running straight away.
Each mic pre has its own 48v phantom power switch as well as a -10db pad and a very handy low cut filter switch to get rid of those annoying rumbles you'll find (no one wants the sound of a Jumanji style stampede appearing out of nowhere on their mix).
It's worth noting there is a phase reversal switch for each channel built into the ID Mixer Software.
Another big plus is the balanced inserts. If you have a compressor or preamp that you want to incorporate into your workflow, Audient have allowed you to use these inserts and bypass their mic pres, thus allowing you to create your own vocal chain using your own favourite bits of hardware on inputs 1 & 2 on the ID44.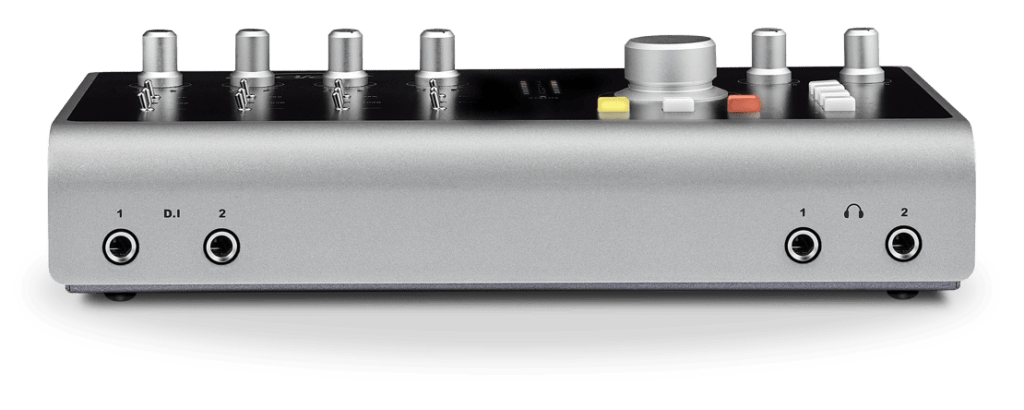 It also now gives me the option to use both JFET inputs (plugging into a JFET will override the corresponding mic channel on the back) should I wish to rehearse with, say, a bass player in my studio and still have the option of two microphones should I need them. The Preamps are designed to replicate the sound of a valve amplifier and to me they sound as good as any inbuilt D.I that I've tried on an interface.
The two independent headphone outputs are a massive plus for this kind of set up as well of course, making sessions with singers far easier – engineer and vocalist can hear and communicate with each other.
Audient really have thought about the unit growing with your studio, and as with the ID22, you can use the ADAT/ SPDIF connections to add up to 16 additional mic pres should you wish to expand your studio or use the ID44 for a larger live recording session.

SO MANY BUTTONS
It makes sense at this point to mention the talkback button on the unit which you can assign to one of the mic pre's or even more cheekily, the inbuilt mic on your laptop or desktop computer if it has one. This is all done via the Low Latency Mixer.
There are a heap of buttons to hit on this ID44 and one of the strongest points of the unit.
You have the following options to assign to any of these functions to the 3 "F" buttons on the ID44;
– Mono – you've no doubt heard of the benefits of listening and mixing in Mono, something I try to do as often as I can.
-Polarity – this essentially gives you everything in the mix that isn't mono. It's fantastic for referencing mixes, production tips and giving you better insights into your mix. It will no doubt lead you more into using that M/S (Mid Side) option on your EQ of choice.
Alt Speaker – this button allows you to switch to another set of outputs that in most cases will be connected to another set of speakers or just a simple boom box. Being able to switch between two sets of speakers helps you learn more about your mix (and others) and how well they translate. An absolute must for anyone who isn't doing this. You can also change the input level on this within the mixer.
Dim – always handy to be able to listen at two different volumes without having to keep turning down the main volume control. Save your ears. It'll also help you in making mix decisions.
ID Button – this enables the ID function, allowing you to use the main scroll wheel to control certain things in your DAW (writing automation, faders and changing values on plugins in real time).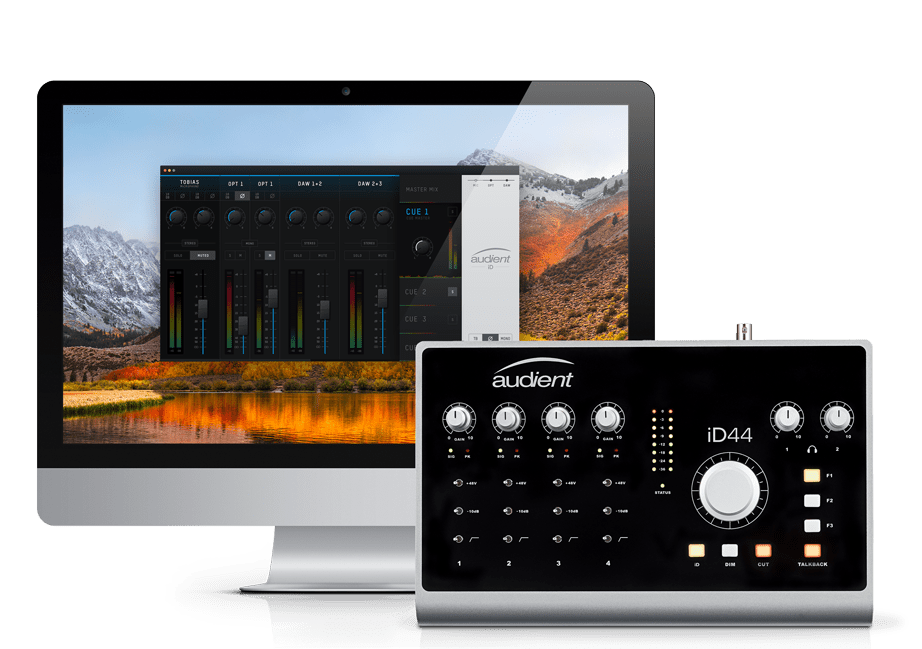 General thoughts
Unlike the ID22 that has a slight slope to its face, the ID44 is more flush and will sit happily on most peoples desk as I find it didn't take up too much more room than my ID22.
The Di's and headphones are situated at the front of the unit and although I'm seeing some benefits, part of me liked all the leads tucked around the back. Buy hey, there's only so much room on the back and Audient have packed it to the rafters.
I must mention the AD/DA convertors here, because in my studio I can hear a difference and feel a lovely weight to the sound that wasn't there before. Now it might be my poor ageing ears are deceiving me, but I'm enjoying listening to music in the studio a lot more since setting up the ID44 and I'm constantly using the MONO and POLARITY buttons, listening to the big hitters and what's going on in the recordings.
In terms of stability, this particular unit has been very stable since it's been set up and I've had no problems with the updating firmware or having to reset the unit at any point. I know many people wanted a power switch on the back (Audient listened to their fans and acted upon this) however, I've yet to use it.
Latency is a huge subject and I'm realising more and more that people are looking at the numbers rather than just plugging in and playing your chosen instrument, whether midi or audio. I was pleasantly surprised with the latency on the ID44, recording guitar parts vocals and Midi.
I've yet to delve into the ID mixer to fiddle with the low latency mix options as I've not felt the need.
The ID Mixer has many routing options to help you with headphone mixes that you send to your vocalist or sending audio to outboard gear. Again, most of us won't be using all these options but it's clear to see Audient has a deep understanding for music makers and options in workflow.
Something else I've yet to really use in anger is the scroll control option. I've seen people online using it effectively and can see the benefits. I'm just finding it hard to buy accutane pharmacy implement it into my workflow so maybe need to put some time aside for that. Being able to ride a vocal track with a hardware button does have its appeal and I can see this being a fantastic feature for some.
When you switch on the unit, you'll find your scroll knob will automatically set your volume to zero. Great for pops and clips that might occur, but myself and other music makers I know sometimes prefer to have a set volume for mixing in the room. Luckily the nice LED lights on the unit let you set this easily, though I'd like the option to pick a volume of my choice when starting the device. I might be missing something but I'm not sure this is an option at present.
Conclusion
These days an interface with 4 mic inputs is a much more common option for home studio enthusiasts. It's hard to look at all that Audient is offering with the ID44 and make a case for their rivals, though price is something to consider here.
In my position, I needed to upgrade and I was quite willing to spend the £499 for the ID44. Its design, layout, the improvement in AD/DA converters (to my ears) and the surprisingly sturdy firmware with this unit made it an easy decision… I liked it so much, I bought one.
LINKS
Official
Twitter
Facebook
We hope you enjoyed Matthew's review, check out others in our Reviews section. Don't forget to sign up to our Monthly Newsletter to make sure you don't miss out on our reviews and interviews.
We're also running a Patreon campaign to make sure we can keep bringing you regular, high quality content if you're feeling generous! Thanks for even sharing!
The Sound Architect