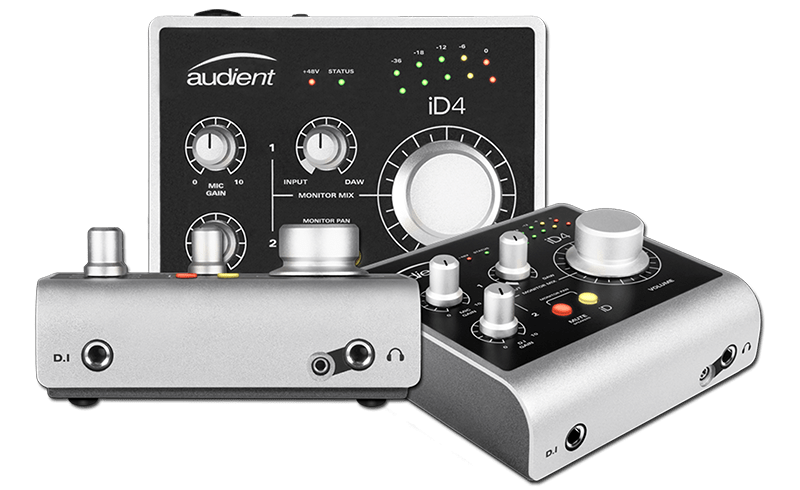 Article by Sam Hughes
Edited by Katie Tarrant
First Impressions
The Audient iD4 has been released for over a year now, but it's still a leading budget interface on the market. Most people have heard of Audient and are usually very aware of the iD4. I even tend to find that when I ask people what budget interfaces they are using, it's very common for them to say the Audient iD4 or the Scarlett 2i2. The interface I was using before this one was in fact the 2i2. Therefore a lot of my comments will be with that interface in mind.
You receive the Audient iD4 and the first thing you'll probably notice is how compact and light the interface is. They've managed to pack a lot of quality into a tiny yet robust metal casing that's incredibly light and portable. Straight from the horse's mouth, Audient say their design goal for the iD4 was:
"to develop a highly intuitive USB audio interface offering class leading sound quality with the durability and portability of the critically acclaimed iD14, but without the bulky size and multiple signal path configurations of it's bigger brother, the iD22."
Which, as you'll find by reading, I very much think they deliver on. The quality is great, it's highly portable and I have a lot of good things to say. There are plenty of other reviews that go really in-depth to the tech so I won't list everything. For all you tech heads out there, the full tech specs are all here: https://audient.com/products/audio-interfaces/id4/tech-specs/
So without further ado, let's get hands on with the interface.
Setup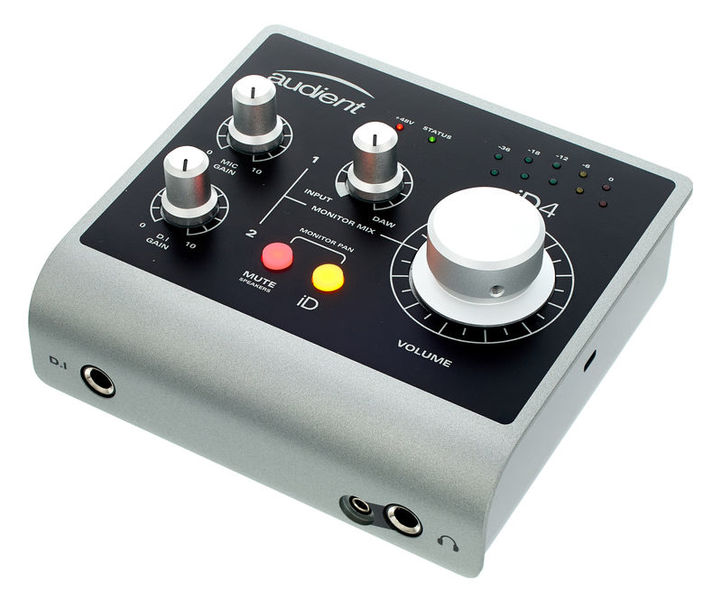 This is by far the easiest interface set up I have ever encountered. From getting it out of the box to giving it a test run, I couldn't believe how quickly I got going. I turned on the PC, installed the drivers, and was done in 5 minutes, without even having to restart my machine.
Hardware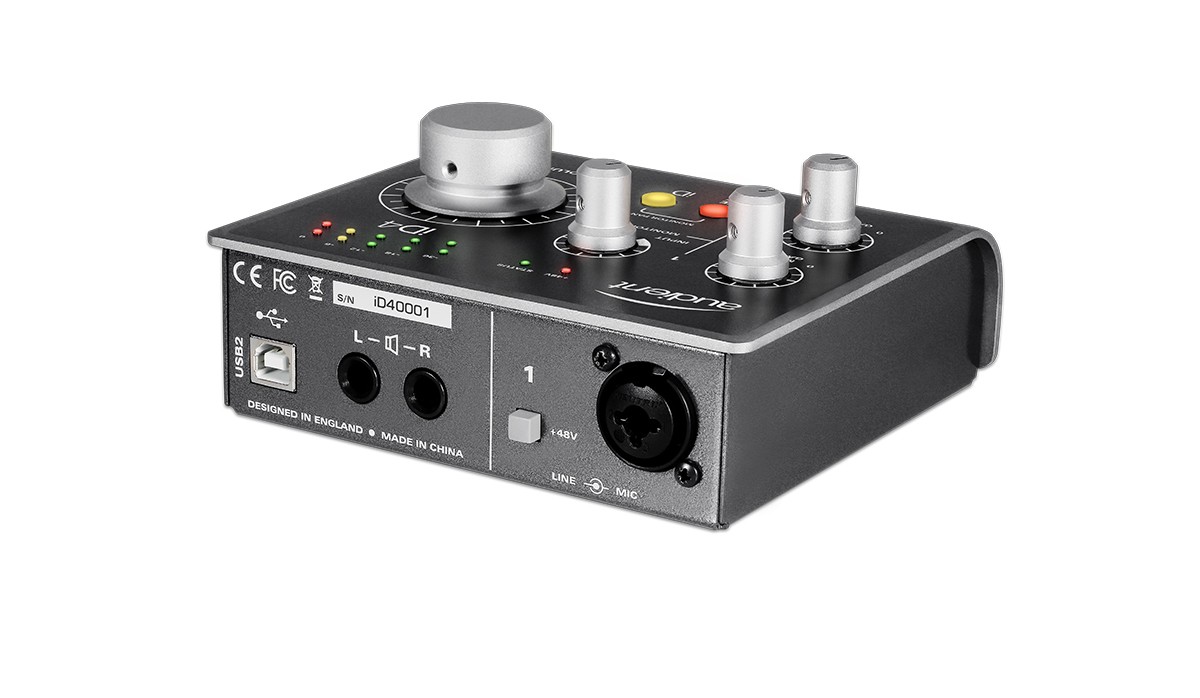 The iD4 has everything you need in a small interface to work with. It has the USB2 port, 48v phantom power, 2 balanced speaker outputs, a mic/line combo in, and DI and headphone ports on the front.
The mic/line input uses an Audient Class-A microphone preamplifier, which does sound fantastic. You can record vocals, spoken word, and acoustic instruments with no worries about the pre-amp quality. The DI sounds really clean and crisp, I ran my electro-acoustic and electric through it without any issues. With the dials, you have everything you need plus a couple of nifty extras. As the description says, you can record both inputs at the same time, like most interfaces, so you can easily record guitar and vocals simultaneously.
One key feature I enjoyed is the infinite scroll wheel, but I'm in two minds about it. Considering the level you set it at resets everything you load the computer, you have to buy ambien cr online canada adjust the volume dial every time. It also has no way of measuring where you raise it to each time. For those like me who are a bit of a perfectionist when it comes to knowing what level you've set everything at, this can be a small issue, as you'd have to count the clicks as you turn the dial. The meter on it does show it to an extent, but it's not very precise. A software/display screen with the numerical value would be nice, but it's not a huge issue.
The iD button is an interesting feature. It turns the volume dial into a scroll wheel to use in your interfaces and programs, which is REALLY handy and nifty. The layout of everything is spot on, meaning that cables are nicely out of the way and easy to organise, while you have access to all the buttons you need.
Software
As with all interfaces, it has different sample rate options and latency settings. As you can see in the sound properties below, you have all the bit depths and sample rates you'll probably need with this modest setup. The same applies for the recording properties obviously.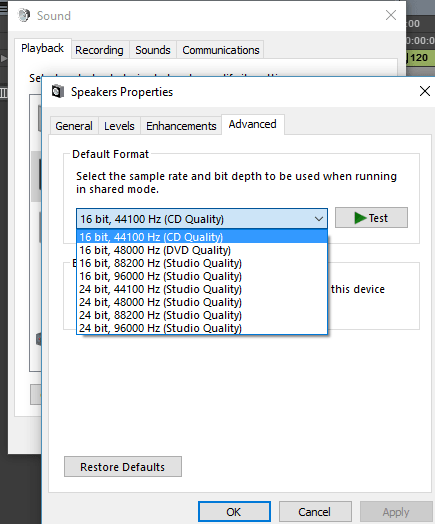 The latency settings are also customisable in an interesting way. Using the "iD" program in the bottom right hand corner (Windows), you can bring up the menu to set the sample rate, buffer size and latency. This is quite a great way to be honest, as you no longer have to modify these settings per DAW, allowing you to just set them and then away you go!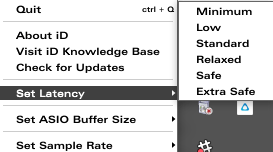 Overall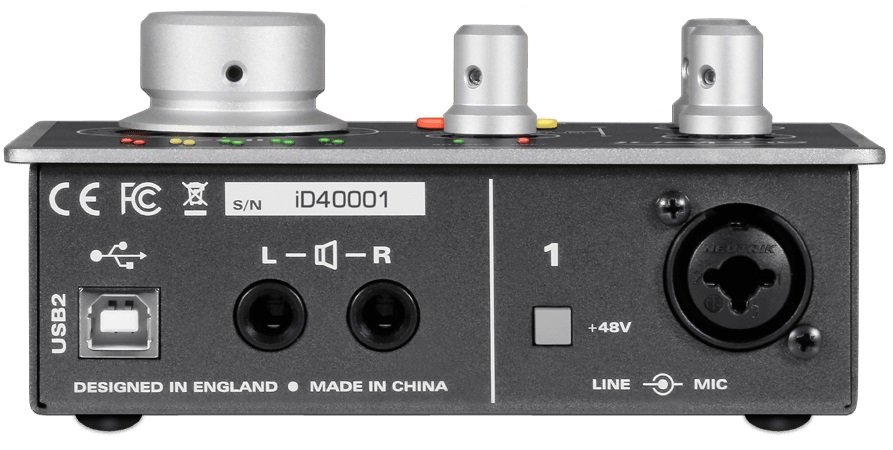 To be honest, the Audient iD4 is exactly what I want from a budget USB audio interface. It sounds great, it works great, and it's good to go in under 5 minutes. It's also really portable and doesn't take up too much desk space, as well as being really easy to use. You won't be setting up a full home recording studio with it, of course not, but for small post production, mixing and more, it's a great interface to start with (and keep) for both home, studio, and on the move.
I enjoyed using the iD4 so much, it is now my permanent interface in the small studio. For around £110, it's fantastic value to be able to get working on projects straight away. Yes there are a couple of features I'd love to add on top, but I'm nitpicking there and taking into account the amount you get for your money, this interface really is fantastic value!
Keep an eye out for my iD14 review coming soon.
8/10
LINKS
Audient
For more information, check out these other in-depth reviews of the iD4:
We hope you enjoyed Sam's review, check out others in our Reviews section. Don't forget to sign up to our Monthly Newsletter to make sure you don't miss out on our reviews and interviews.
We're also running a Patreon campaign to make sure we can keep bringing you regular, high quality content if you're feeling generous! Thanks for even sharing!
The Sound Architect