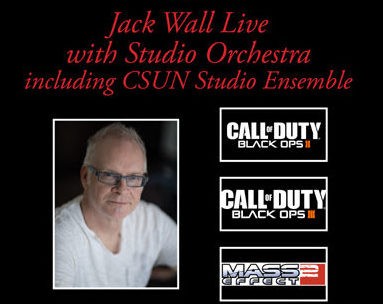 Jack Wall Live With Studio Orchestra – Last Chance to Buy Tickets
Jack Wall's
 award-winning music from the blockbuster video games 
Mass Effect
, 
Mass Effect 2
, 
Call of Duty: Black Ops II
 and 
Call of Duty: Black Ops III
 will be performed by the CSUN Media Composition and Studio Ensemble full orchestra at
 Soraya Great Hall
, Valley Performing Arts Center on May 9, 2018. This unique and diverse concert program will feature Wall's incredibly popular big band jazz songs and swing numbers from 
Black Ops III
 as well as performances of his rich, cinematic orchestral scores for the 
Mass Effect
 and 
Call of Duty
 series, including several world premieres and other surprises! Tickets are available for purchase from 
Ticketmaster
.
The Studio Ensemble is a student band and orchestra for the Media Composition program at CSUN dedicated to the study of popular music styles and playing/recording techniques through the preparation and performance of published works. Their spring concerts feature full orchestra with both professional and student performers. Previous guest artists have included John Debney (The Jungle Book), Mark Isham (Once Upon A Time) and David Newman (Ice Age).The concert program features the following Jack Wall music selections:
"Suicide Mission" – Mass Effect 2
"Raul Menendez Theme" – Call of Duty: Black Ops II
"Liberty Road" – Call of Duty: Black Ops III
"Cold Hard Cash" – Call of Duty: Black Ops III
"Snakeskin Boots" – Call of Duty: Black Ops III
Theme from Lost Planet 3
"Perk-a-Cola Medley" from Call of Duty: Black Ops III (Zombie Mode)
WEDNESDAY, MAY 9th, 2018 at 7:30 PM
Presented by
CALIFORNIA STATE UNIVERSITY NORTHRIDGE 
MEDIA COMPOSITION AND STUDIO ENSEMBLE
Elizabeth Sellers, Founding Director
GUEST ARTIST: JACK WALL (Call of Duty Black Ops II & III, Mass Effect I & II)
SORAYA GREAT HALL – VALLEY PERFORMING ARTS CENTER
Tickets available from 
Ticketmaster
General $20 / Senior $17 / Students $15
VPAC Ticket Office: 818-677-3000
About Jack Wall
Collaborating with the world's leading game studios, Jack Wall is widely recognized for composing some of the most iconic scores for the medium. Wall created the distinctive musical signature for BioWare's sci-fi epic Mass Effect, combining '80s electronica, synthetic instrumentation and futuristic atmospheres. The soundtrack won numerous accolades, while achieving cult status with fans. Wall received British Academy (BAFTA) and Spike TV nominations for his work on Mass Effect 2. Wall is celebrated among a Hollywood elite of composers invited to score the world's biggest interactive entertainment property, Call of Duty.
For 
Call of Duty: Black Ops II
 he crafted an adrenaline-fueled, deeply emotional and adventurous musical palette that took the blockbuster series in new sonic directions. From epic symphonic and hybrid ethnic sounds to classical, folk and unique futuristic treatments, Wall's ambitious score recorded at Abbey Road fully immerses players in the 
Black Ops II
 cinematic experience. One of the key themes of Wall's score is his flamenco arrangement of the re-imagined Nicaraguan lullaby "Nino Precioso", with lyrics sung by actor Kamar de los Reyes, who plays the main antagonist, Raul Menendez. A fully-orchestrated version of the "Raul Menendez Theme" will also be performed at the concert. 
Black Ops II
 received the Best Video Game Score Award at the ASCAP Film and Television Music Awards.Reuniting with 
Treyarch Studios
 and 
Activision
 for 
Black Ops III
, his follow-up score displays the hallmarks of an epic, sophisticated narrative, combining futuristic hybrid sounds, homages to classic WWII orchestral music and raucous big band jazz and femme fatale swing numbers created specifically for the Zombie campaign. Featuring highlight solo performances from contemporary jazz vocalist
 Antonia Bennett
, daughter of legendary singer
 Tony Bennett,
Black Ops III
 was nominated GameTrailers' Soundtrack of the Year.
Wall is currently composing for the supernatural drama television series Shadowhunters: The Mortal Instruments airing on Disney's Freeform TV. He has also written additional music score for numerous other TV series including the fantasy drama series Reign on the CW and Emerald City on NBC as well as scoring the hi-octane action film Hard Target 2 available on Netflix. Shadowhunters Season 3 is currently airing on Freeform, On Demand and Hulu.
LINKS
To stay up to date on more audio news, sign up to our monthly newsletter to make sure you don't miss out of news as well as our reviews and interviews.
We are also running a Patreon campaign to help support our team and help us bring you more awesome content at even higher quality!