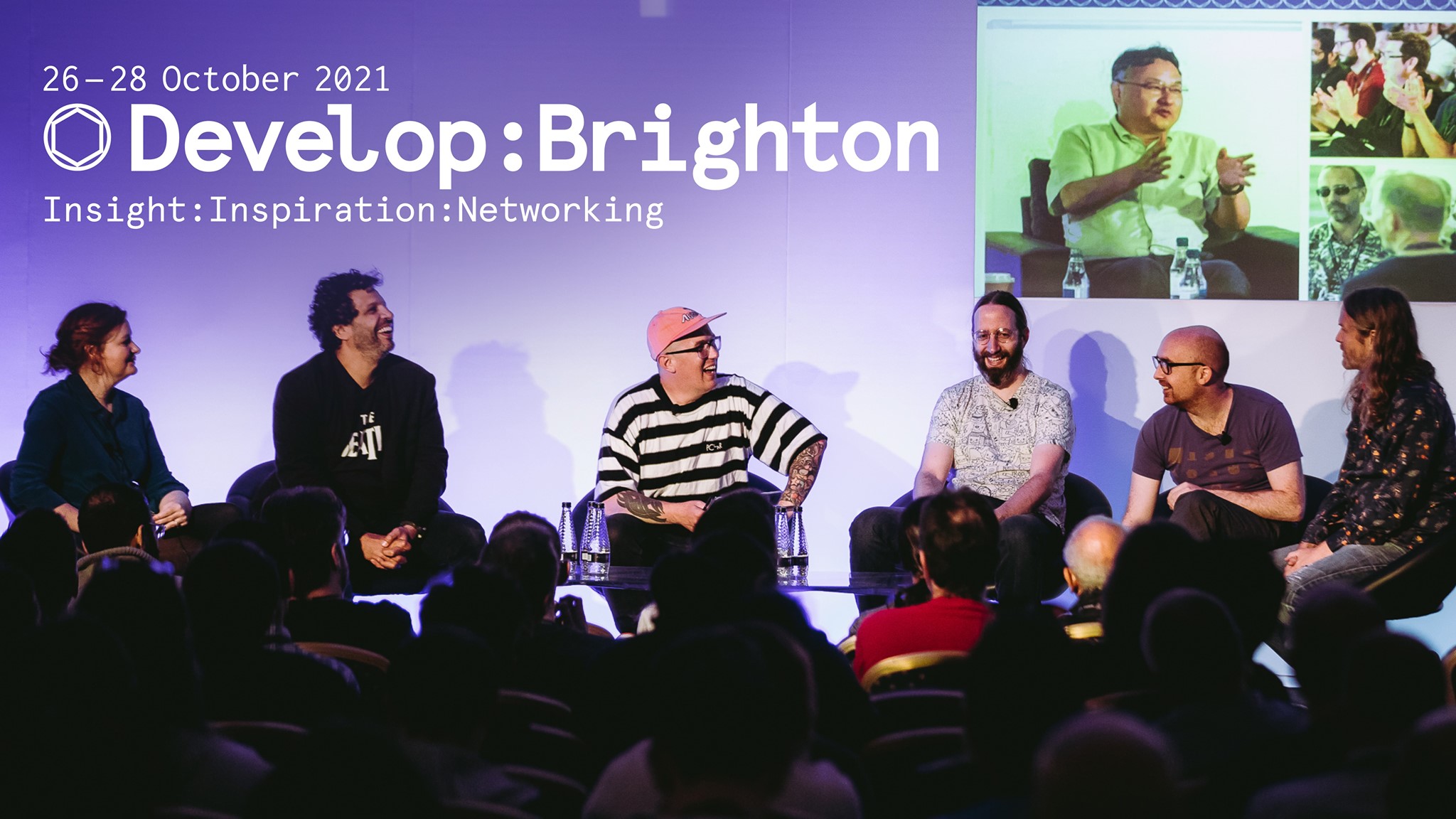 As events slowly begin to restart again following the lifting of restrictions, Develop conference moved from the usual summer dates to a more windy and cold October. The organisers also took the decision to live stream the conference and offer a Digital Conference pass as well this year so anyone still not comfortable or able to attend in person don't miss out on all the amazing talks. We attended Develop in person however could not conduct out usual interviews with audio professionals so hope you still enjoy this overview of Audio Day!
Audio Day takes place on the Thursday of Develop, the last day of Develop and we were welcomed in good fashion by John Broomhall on the big screen. John curates the talks and usually is the care taker of the day however he handed the reins over to Richard Jacques to manage the day in person.
Procedural Foley for a Cinematic Sound (Andrej Smoljan & Hugh Waller)
The day started with a talk by Andrej Smoljan and Hugh Waller from Supermassive Games, talking about their work on the new release House of Ashes, a survival horror game set during the 2003 Iraq War, where a group of soldiers are trapped underground and stalked by monsters. The core audio team at Supermassive is made up of 10 audio designers that expanded to 32 people working on the new titles including freelancers. There was around 3200 assets created in total, which is a major feat!
House of Ashes is developed in Unreal 4 and the audio is implemented using the middleware Wwise and one of the main points from the team was to get sounds in the game as early as possible to allow plenty of time for revisions and mixing. There was a lot of focus on playing the game first, having lots of communication with other teams and creating solid, detailed documentation during pre-production.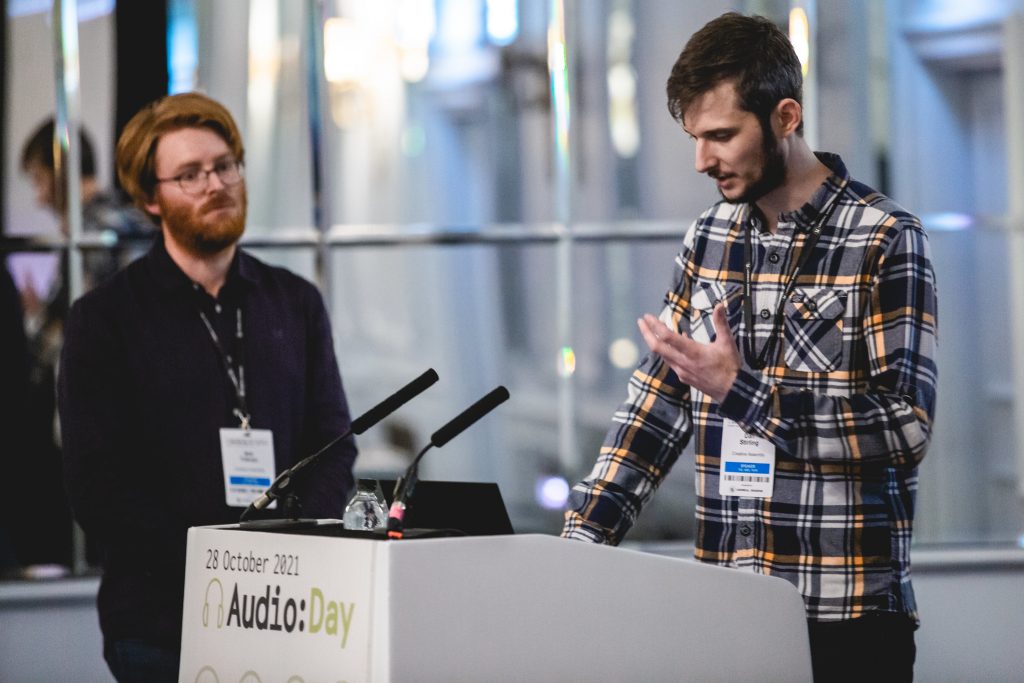 3D Audio in Games (Cal Armstrong)
Cal Armstrong followed by giving an in depth talk into 3D audio for Playstation, starting by going into binaural capabilities and how they use HRTF models. As we all have different heads and ears it's important level of personalisation so they have created 5 different profiles for players to choose the best fitting, from what sounds best to them. Using 3D audio doesn't have to be complicated and a lot of developers opt for hybrid models of using existing sounds blended with "3D sounds". These 3D sounds take the idea of perhaps an existing 5.1 mix, that can be rendered as a virtual speaker object within the game.
A couple of tips to help developers were: include ambisonic mic recordings to add spatial resolution, limit the number of times any audio source changes format and that you can download 3D audio VSTs (Reaper was recommended to handle 3D audio well).
Dialogue Performance and Design for creatures, monsters and demons (Will Tidman and Dan Stirling)
At Creative Assembly they have their own dialogue team that works end to end from casting to the final processing and implementation. They start by casting actors and often for a few characters at a time if possible, then they create script templates and proof the scripts. The dialogue engineers are making sure scripts read well as it's so important to get the source material right. The in house team directs sessions and focus on getting good performances, so as not to solely rely on processing, this includes getting actors to perform long tails to help effects like reverse reverb later down the line, so they have more audio material to work with. They also record at 192kHz to allow for good processing. One of the tips given was to saturate the top end before pitching down in post production.
Subtlety and Nuance: A foley masterclass and live demonstration (Jemma Riley-Tolch and Zoe Freed)
From the live demonstration part of the masterclass we've collated a few tips to help any foley artists out there: Use a figure of 8 movement with a jacket on rather than a simple up and down movement for cloth movement, adding leather bags and various keychains can add dimension to the sound, peppers are a fun sound design tool and the hollowness makes really good sounding effects.
One of the other main topics of conversation was around collaboration and the importance of a good brief. Who doesn't love a handy list of what a good brief should include! They are: recording specifications, delivery specifications, character profile, asset breakdown, material requirements, images or footage of action. Thank you Molinaire for lots of handy information!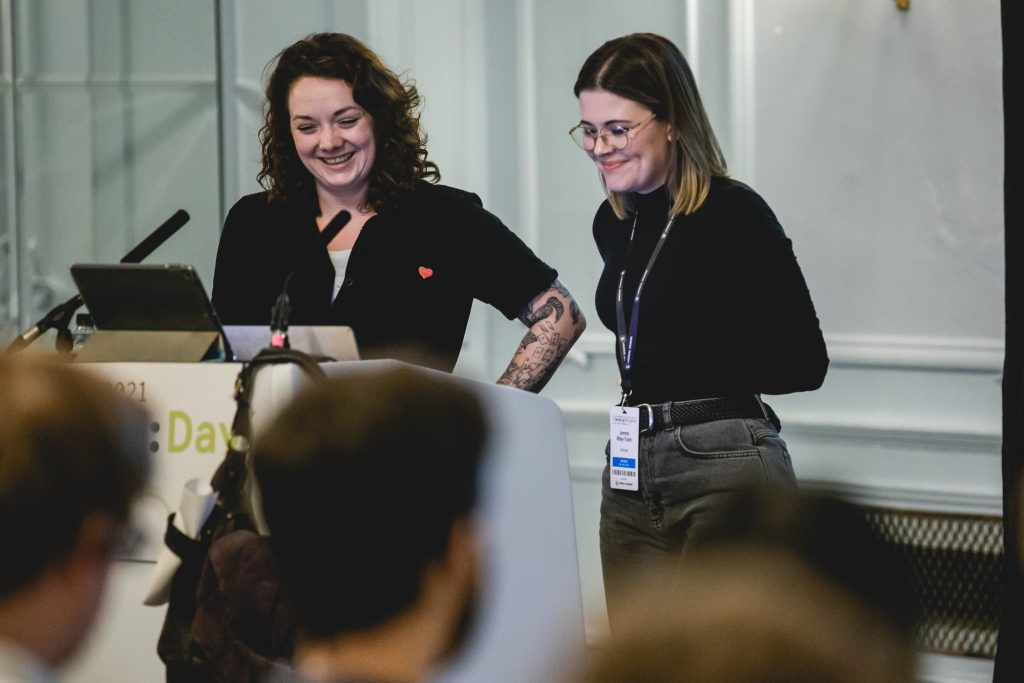 The three best and worst technical audio systems from The Ascent (John Tennant and Joe Thom)
The Ascent is a solo and co-op Action-shooter RPG set in a cyberpunk world. The audio team used Wwise (a middleware solution for implementation) to manage the extremely detailed environments. It was difficult as they couldn't possibly add sound for every single thing and had over 1300 Ak Components in complex scenes. They used the term of Micro Stories, a way of describing small events that are happening that help build up the audio narrative, eg. a fight going on in another room, to build up the cyperpunk atmosphere, at every turn. Their design also included a lot of stingers to highlight the player moving into new areas, that are only heard once. Really cool to see behind the scenes in detail from the Sweet Justice team!
How to manage an epic intergalactic music project remotely (in a global pandemic) (Richard Jacques)
With the new release of Guardians of the Galaxy, Richard started off by talking about how he landed this huge gig in the first place! The client began by putting out feeders to any composers they were interested in and everyone pitched. Richard said when pitching for gigs presentation does matter, extra touches can help show just how much you want it. The pitch included 6 cues and a presentation, at this stage it was also very important to nail the main theme.
Once selected as their choice Richard went to Montreal for 2 weeks to get on board with the game. Clients will always want their composer to be invested in their projects and Richard was appreciative to have the time and opportunity to try things out. Guardians of the Galaxy also features a fair amount of licensed music which creates a juxtaposition and gives the game its identity and flavour. Lastly it was highlighted the importance of having a dedicated mix period, the music itself for Guardians took 5 weeks to mix.
Behind the Split Screen sound of It Takes Two (Anne-Sophie Mongeau and Philip Eriksson)
It Takes Two is a co op game, that has no solo campaign so that means it is always played in split screen and with both players regularly moving their on screen positions as well as being separated even environmentally, that was a huge challenge for the audio team to tackle. Even though the game is set in a semi-fantastical environment with two parents turned into dolls, the sound design was always grounded in reality. The team had to navigate the line between generalised and specialist and no single person was ever responsible for niche tasks, they all wear multiple hats during development. Mix was the most important factor for getting the best audio experience for both players and prioritising sounds depending on player location was one of the main ways of achieving this.
Open Mic Final Session
The audio track in good tradition always ends with a late afternoon handing out of drinks as panelists make their way to the stage and is always a relaxed opportunity for the audience to ask questions and have more informal conversations between audio professionals. Given the ongoing pandemic, it was sometimes at the forefront of discussions with a big challenge to everyone adjusting to remote work for at least some of the time. Discord was recommended as the best software to regularly review audio. Some studios such as Molinaire didn't close over the pandemic as it just wasn't possible to do their foley work remotely. The industry has had to adapt in many ways, and there was a general positivity in the room about remote work and how it opens more opportunities.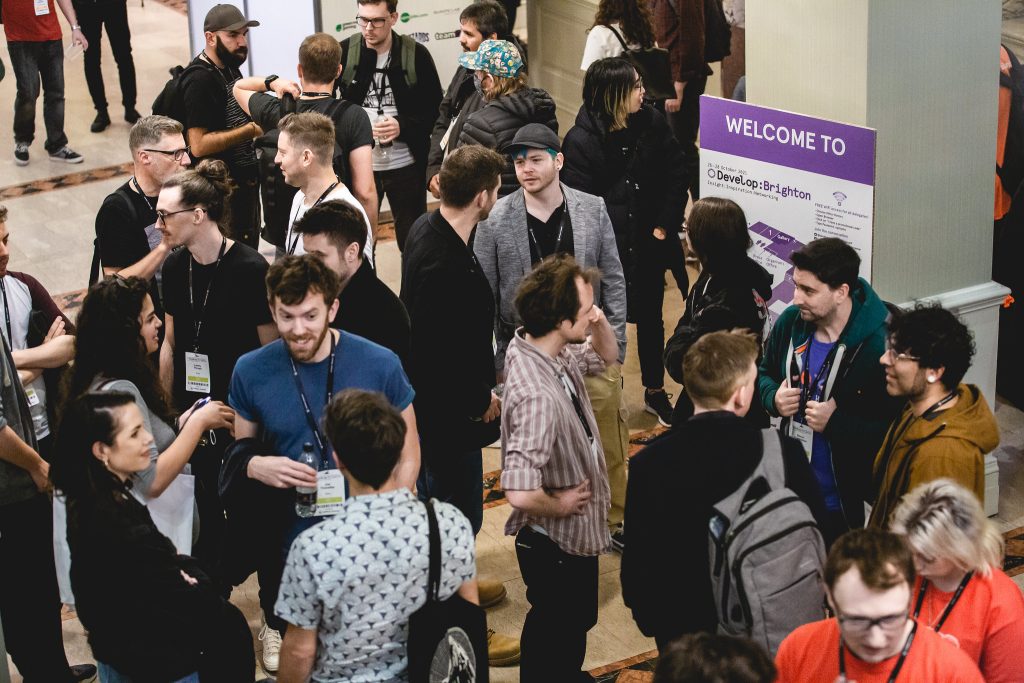 Thank you everyone for making audio day a pleasure as always, full of interesting topics and never ending insight into each individuals way of working. As audio professionals we can often work fairly isolated before lockdown happened, so it's especially valuable to reconnect with each other and the sharing of information. Until next year!
LINKS
We run the site voluntarily and like to keep the lights on (and the hosting up to date) so any support via our Patreon is also much appreciated!
Stay up to date via our Monthly Newsletter as well: www.thesoundarchitect.co.uk/newsletter