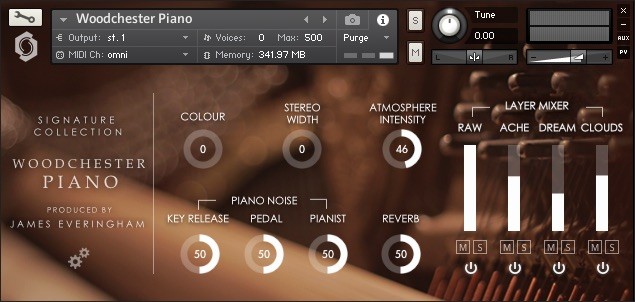 New library developed in close collaboration with film and TV composer James Everingham
Fracture Sounds' Woodchester Piano is the first in a new series of collaborations with composers and artists, bringing a range of virtual instruments. This library was produced in close collaboration with film and TV composer James Everingham, and features his Wilh. Steinberg German Series upright piano.
Woodchester Piano also includes key release and pedal samples, a unique pianist noise feature to add subtle rustling and wood creaks for heightened realism, and adjustable colour control to dial in the desired tone.
Atmosphere Layers
After the success of their Dream Zither and Tiny Music Box libraries, Fracture Sounds decided to take their tried and tested 'playable pad' concept to the next level, offering three atmospheric sound design layers which blend together with the raw piano.
The 'Ache' layer adds a smooth, hazy sustain – a marriage between a reverb and a pad.
The 'Dream' layer offers a more textural, shimmering sound.
The 'Clouds' layer adds a reversed granular delay effect which evolves over time.
These layers can be dialled in to taste using the Layer Mixer. Additionally, the global 'intensity' of these layers can be controlled using the 'Atmosphere Intensity' dial, or automated in real-time using the mod wheel.
Features
88-key felted upright piano.
Beautiful warm, characterful and versatile sound.
3 unique atmosphere layers.
True pedal up and down samples, for authentic string resonance.
Controllable key release, pedal, and pianist noise.
Simple and user-friendly interface.
1.1GB download size (NCW compressed from a 2.2GB sample pool).
Requires the full version of Kontakt 5.3 or above.
LINKS
To stay up to date on more audio news, sign up to our monthly newsletter to make sure you don't miss out of news as well as our reviews and interviews.
We are also running a Patreon campaign to help support our team and help us bring you more awesome content at even higher quality!