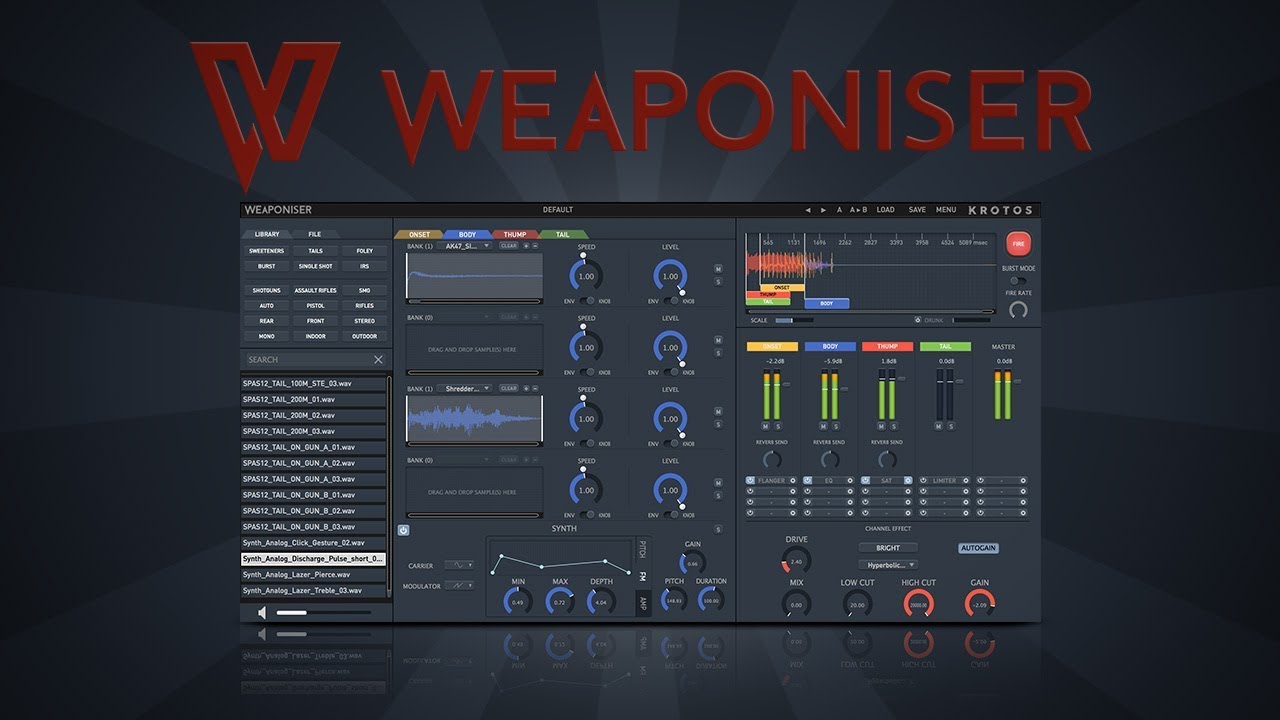 Review by Katie Tarrant
Edited by Sam Hughes
Developer: Krotos Audio
Weapons is something that a lot of audio designers love, but not all of us know how to make. They are one of the most prominent sounds throughout the media industry, and one of the sounds that many of us rely on libraries for. That's where the latest release from Krotos comes in: Weaponiser. Weaponiser is a full in-the-box weapon design tool, available as a VST, AU, or AAX plugin, that makes the weapon design process as smooth as silk.
FIRST LOOK
On first load, Weaponiser appears to be a clean yet colourful bit of kit. With an in-built library search, you can reach your files with speed and ease. You can swap between two tabs: 'Library' and 'File' to navigate between Weaponiser's factory content and your own files. Weaponiser comes with a nice collection of in-built content to get you started, but can be added to with additional purchases available from Krotos' website.
Krotos is all nicely compacted in to one window, with a permanent view of your levels, and all of your features only a small mouse drag away. For those familiar with audio design, this interface will feel fairly intuitive and it was one of the few pieces of software I've used that I was able to get to grips with without relying too much on the manual.
CHOOSING YOUR SOUNDS
In the bottom left, you have your file list with a search bar, and the ability to preview each file with a single click. The search bar can be used to either search Weaponiser's content, or your own libraries. The file preview activated or deactivated by clicking the speaker at the bottom, and the level of it can helpfully be adjusted with the corresponding fader next to it. My only qualm with the preview was that I could not seem to stop it unless I muted and unmuted it again. For larger files, this was a bit of a pain as I would select a file and proceed to selecting the parts that I wanted, only for the preview to keep playing until I selected a different sample or muted and unmuted it.
The tag system in Weaponiser is great as the library content is already divided in to 'Sweeteners', 'Tails', 'Foley', 'Burst', 'Single Shot', and 'IRS' (Impulse Response Sounds). These are the core foundations of any weapon design, and make accessing the sounds that you need really straight-forward, which is essential when there are so many to dig through. These categories are accompanied by some additional tags based on gun type, sound format, or location: 'Shotguns', 'Assault Rifles', 'SMG', 'Auto', 'Pistol', 'Rifles', 'Rear', 'Front', 'Stereo', 'Mono', 'Indoor', or 'Outdoor'. Clicking each tag will filter your search based on that selection, so navigating to the sounds you need is effortless.
There are a huge variety of guns and mic positions to choose from with nearly 1000 assets available in the Weaponiser Basic version, comprised of 515 edited Weapon recordings, 4 weapons, 398 Sweeteners, 39 IRs, and 70 presets. This is perfect as it means that even if you don't own a single weapon sound, Weaponiser gives you absolutely everything you need to create them.
For a quick listen to how Weaponiser sounds in action, check out the video below.
MONITORING
The spectrum preview in the right-hand corner acts as both a view of your waveform and a timeline tool for your layers. The layers I will explain shortly, but this window allows you to click on any of the coloured bars underneath your waveform and drag to adjust when it will play. This is very similar to simply dragging your sounds around in a DAW, and means that you can have total control over when your main gunshot will happen, where the tail comes in, where the build-up is and so on.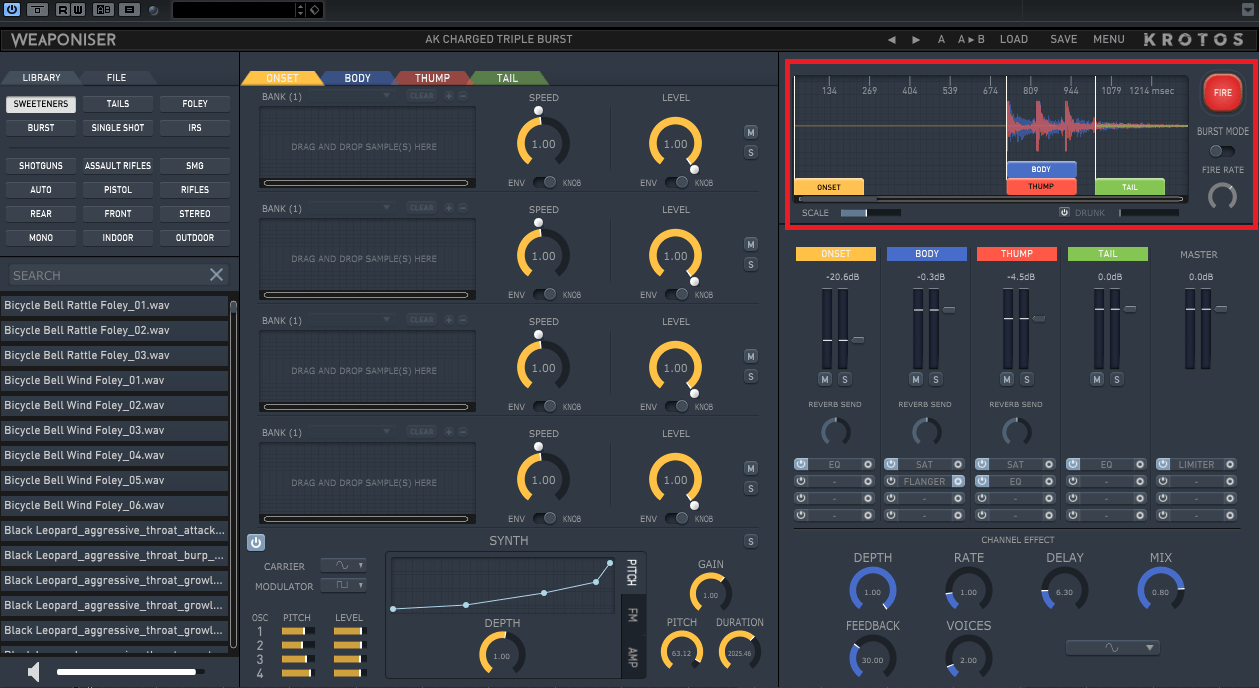 The colours used for each layer is a nice touch as it allows you to see at a glance just how much of your sound is occupied by each layer, enabling you to maintain balance. You can use the 'Scale' slider to zoom right up on your waveform and make any fine-tuned adjustments The 'Drunk' scale is also a quirky little feature that will bring in some bizarre repetitions in your sound that can lead to some crazy results. You also have faders underneath for each engine with solo and mute buttons, and plugin sends that I explain below.
Back over towards the left, you may see some other waveform viewers (See image above). These are the previews of the individuals samples you have in each layer. Simply drag and drop from your sample list on the right, and the waveform will appear. You can then click and drag to highlight the part of the waveform that you want to use. There are handy '+' and '-' buttons that allow you to zoom in and out. You can also use the 'Clear' button to remove whatever samples you have loaded in the player. Interestingly if you drag multiple samples into the same section, Weaponiser will store them in a little drop down list and trigger them as variations each time you play your sound. This is such a great element as it gives you the power to experiment endlessly and keep all of your potential variants in one place, and I'll talk more about variation shortly.
There is a limit of four samples at one time for each engine, giving you a maximum of 16 layers for a sound. For most things, this is ample and leads to a nice efficiency and also creativity with your design, but for some it may feel like a limitation. However, there is nothing stopping you from using all 16 layers, bouncing your result, and then starting from scratch to use up to 16 layers again to create another component for your sound.
FIRE
One of my favourite things about Weaponiser is how you trigger your sound. They have a red 'FIRE' button that will play your final sound, processing and layering included. What is awesome is that you can have it set to single shot, or burst, and you can even adjust the fire rate, so you can get a feel for how your sound will play within seconds. You can get quite experimental with this too as it means you could even turn your sniper, pistol, or shotgun sounds in to burst shots if you wanted to by adjusting the fire rate. However, this does depend on the kind of samples you're using as not everything will translate well.
THE ENGINES
Krotos have done a lot of forward-thinking with the development of Weaponiser and have structured it in a way that considers the weapon sound design process every step of the way. Weaponiser is split in to four engines; aimed at covering the four main components of a typical weapon sound. These are: 'Onset', 'Body', 'Thump', and 'Tail'. 'Onset' can be used for your initial transient or build up (depending on the type of weapon), 'Body' is the central component or core of the gunshot, 'Thump' is the impact or heavy transient that adds weight to the shot, and the 'Tail' is the reverberant echo or decay of the gunshot; the nature of which differs heavily depending on what environment your weapons are being shot in.
Using these engines is as easy as dragging and dropping samples from your file list. There are no constraints on what kind of samples you load in to watch engine, giving you total freedom to be as creative as you like. The engines are all practically identical, except for the 'Tail' engine which features a convolution reverb engine, which can be used with an impulse response to simulate real-world spaces with a high degree of accuracy. Use the 'send' dials in the mixer to balance which engines and proportions are sent into the tail reverb engine.
Weaponiser isn't just for triggering sounds that already exist, it also comes with a collection of in-built synths that can be used to further develop your sounds or create new ones. Like everything else, you can activate it by clicking its power button. You can then choose from a collection of waveforms, and adjust the envelope, pitch, amplitude, depth, and much more.
THE SOUNDS
So that this plugin can be used from the get-go, Krotos have nearly 1000 assets in the basic version of Weaponiser to play with. This can be added to via additional purchases, but even the basic pack gives you a staggering collection of sounds; all recorded exclusively for this project at Black Park in the UK. A full guide of what weapons were recorded, what microphones were used, where they were placed, and how many assets were recorded is included in the Weaponiser manual, which is fascinating for a little look behind the scenes of the recording process.
If you want to influence the kind of space that your guns are in, you can use Weaponiser's in-built convolution reverb, and impulse response samples. You can activate the 'Impulse Response' feature at the bottom, and navigate your way to the IRs tab that includes a collection of all of Krotos' recorded impulse responses. These samples can be treated like all of the others, by dragging and dropping them into the waveform preview, selecting the portion that you want, and adjusting the pre-delay, decay, dry/wet balance, and level. Like all of the other settings, you can alternate between opt for a dial value or an envelope depending on how you want your IR to behave.
SETTINGS
As mentioned, there are a wide range of settings that you can adjust to tweak your sound exactly how you'd like it. The main two are the 'Speed' and 'Level' settings for each layer. 'Level' is simply your volume, whereas 'Speed' will adjust the length of the waveform and the pitch respectively. Your settings for each engine are all clearly on display, with nothing hidden away in miscellaneous tabs, which contributes massively to the smooth use of this product. As well as being able to solo and mute each layer as a whole, you can do the same for each sample individually. This makes it easy to keep tabs on the elements in your sound and specifically focus on and tweak what each sample is contributing to the end result.
VARIATION
As mentioned before, Weaponiser has a great way of dealing with variation. An awesome feature of Weaponiser is that the sample banks act in a similar fashion to a random container in Wwise (for those that are familiar with it). As you load additional samples, Weaponiser will store them in a bank, and each time you use the 'Fire' button to trigger your sound, Weaponiser will select a new sample from your bank. This means you can buy ambien now load in multiple sample variations and cycle through your versions just by clicking a button. You can drag and drop files from your browser in Weaponiser or even just drag in a group of files or folder from your file system on your PC or Mac. Moreover, there is a variation feature that you can use where you can set an average value and a range, and Weaponiser will randomise the dial's value anywhere within that range. It's features like this that make Weaponiser feel like such a unique combination of a DAW, the creative sound design processes, and middleware in one.
PRESETS
Krotos have also included a selection of presets to help get you going which is particularly helpful for those that may be new to weapon design. The presets are divided in to 7 categories: 'Real World', 'Sci-Fi', 'Beats', 'Flybys', 'Bullet Impacts', 'Gun Foley', and 'UI', of which 'Real World' and 'Sci-Fi' are sub-divided by weapon type. There is also a 'Default' option and a 'Clean Start' option which will reset to default settings or give you a blank slate respectively. The presets are a great way of kick-starting your session, getting to know how Weaponiser works, and also providing a foundation for the creation of your own assets.
PLUGINS
As if everything preceding this was not enough, Weaponiser also comes with a collection of plugins that can be used to enhance your sound. These include an EQ, Compressor, Limiter, Saturation, Ring Modulation, Flanger, Transient Shaper, and a Noise Gate. Plugins are activated with a click, switched to with a click and they appear underneath your faders on the right hand side. I found Weaponiser thrived the most when I used it with my usual third-party plugins, but the fact that plugins are included makes this the perfect all-in-one purchase for those that may not have much in the way of software or plugins, and gives you the ability to do everything completely in-the-box if you wanted to.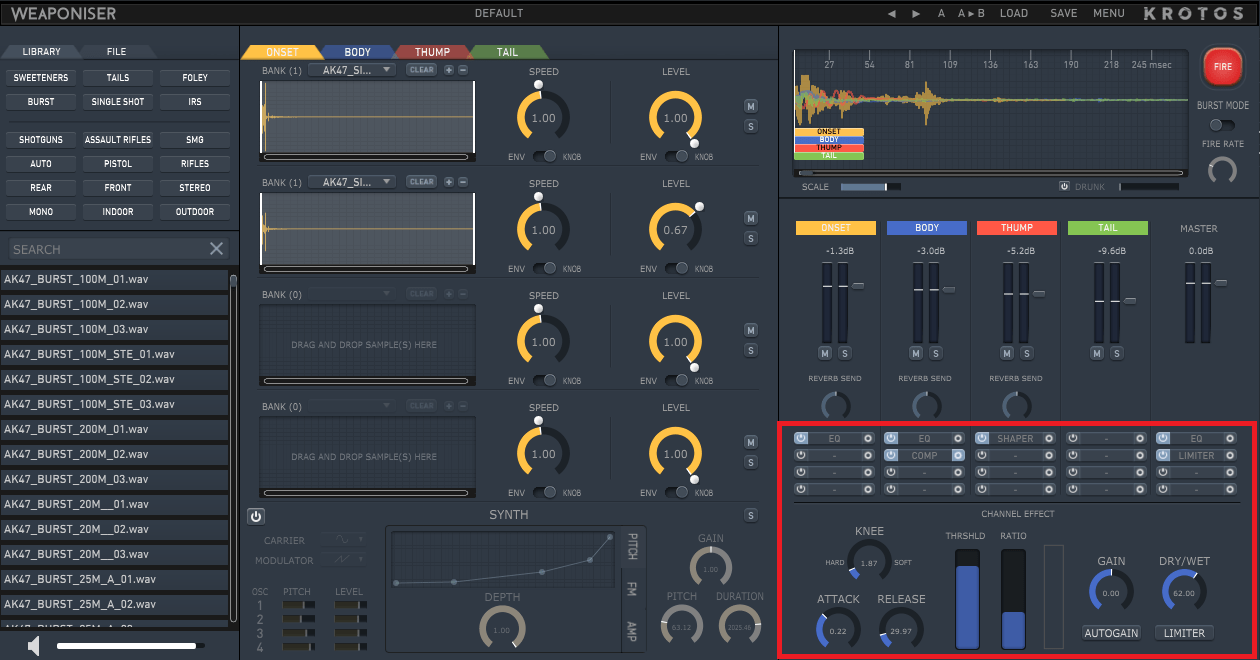 CONCLUSION
Overall, Weaponiser has been a fantastic product to use and has already proved its worth many times amongst the rest of my workflow. Krotos have developed this library with every step of the design process in mind, from the initial conception, through the design itself, to the implementation. It caters to a huge chunk of the weapon design process by allowing you to craft and test your sounds all in one place, rather than having to use middleware to bridge the gap for between your DAW and your game engine when testing your ideas. Weaponiser Basic offers a total of 952 assets, giving you an incredible amount of content and variety to get you started that can be expanded by your own content, by additional content from their website, or both. However, there is also Weaponiser Fully Loaded which comes with a staggering 2000+ assets, including 1596 weapon rescordings, 692 sweeteners, 39 IR's, 13 weapons, and 135 presets. Both of these products are available for incredibly competitive prices given the amount of content included, but it would also be interesting to see a version of Weaponiser that contains just the software for those of us that already have weapon sound libraries. For a full walkthrough of Weaponiser, check out this video on Krotos Audio's YouTube channel.
LINKS
Official
Twitter
Facebook