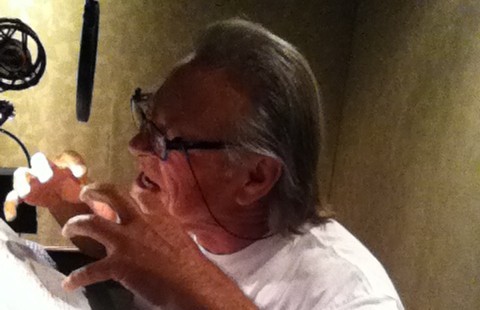 Sam Hughes speaks to phenomenal voice actor Frank Welker. 
Frank Welker was born, raised and attended school in Denver, Colorado, after that it was off to, college, California and Hollywood. He began his career doing commercials and then on to television and films appearing in such pictures as the Elvis Presley feature The Trouble with Girls, the Disney films The Computer Wore Tennis Shoes and Now You See Him Now You Don't and co-starred with Don Knotts in Universal's How to Frame a Figg . Most recently, he returned to film with an on camera cameo in The Informant, as Matt Damon's father.
Welker's voice-over career began, when he was discovered while doing stand-up comedy in Los Angeles. His first cartoon job was for Hanna Barbara voicing Freddy Jones in the legendary "Scooby Doo" series. There is a rumor that Frank has the record for voicing the longest running character in the history of animation with "Freddy Jones." Frank is still doing the teen-aged Freddy 45 years after the beginning and is currently recording the latest iteration Be Cool Scooby Doo…yes, it is still going!
In addition to Freddy Jones he has been the voice of Scooby Doo for over a decade. His other characters are as diverse as the wide eyed monkey Abu in Aladdin to the green ghost Slimer in The Real Ghostbusters. Welker voiced Gargamel's cat Azrael in live action/animated film versions of The Smurfs and he can be heard as Nibbler in Futurama, as well as the very opinionated cat GARFIELD and the mischievous, curious monkey CURIOUS GEORGE. And let us not forget the voice of one of the most nefarious leaders in animation…the voice of the Decepticons leader MEGATRON in Transformers! He is currently part of the highly successful "Transformers" features for Paramount and brought back Megatron as Galvatron in the latest feature, "Age of Extinction"
Frank Welker's broad spectrum of characters, voices, noises and vocal effects for over the last 45 years in motion pictures, television, and animation have made him one of the top ten "All Time Top 100 Stars at the Box office."
Read the full interview below:
Thank you so much for taking the time to speak to me Frank, I know you must be a very busy man! I am a huge fan of your work and I'm excited to be speaking with you about your career.
Thank you I appreciate the interest….
So you've been in voiceover now for a good many years, how did it all begin; what led you down the path of voice acting?
I started out primarily as an on camera actor…and my first professional jobs were doing commercials during college then TV shows and a few films before I got into doing stand-up comedy. I did a lot of sounds and impersonations (which I did all my life) and crazy goofy stuff so it fit nicely into stand-up. Anyway, along the path I bumped into voice overs and found them fun and wide open in terms of roles…I wasn't limited to a 22 year old kid in college with a "C" average!!!! So as it turns out all my years of growing up an training in the theatre and working in clubs led me to the voice of "Freddy Jones in Scooby Doo" a role that I have been and am still doing 45 years later…oh my!!! That was my first official cartoon series for Hanna/Barbera we now are recording under the Warner home school!
What would you say has been your biggest challenge in voice acting?
Doing "Johnny Quest"…again for Hanna/Barbera, our director was from of the movie and theatre world and wanted everything played very real. I was flying along as the dog "Bandit" barking my way in to oblivion and watching all these great actors perform; George Segal, who I absolutely love, Robert Patrick, and many others…when the director all of the sudden threw the complicated tortured soul of the arch villain crazy scientist role right at my feet and said do it. OMG, well it was great fun but my stress factor double, no quadrupled…I wanted to be good, but I was so happy that this director had that kind of faith in me the dog voice guy an just said do it.
Also, later in that series…I had to do some incredible assignments…one was a dying elephant (don't ask) and it had to be sympathetic and believable and a man turning from a shaman into a wolf and back into a man (don't ask…oh well go ahead ask I know what you are thinking) yes it was a challenge but…that one was right down my alley!!!!
Do you have a proudest moment in your career?
While I was in college I did my first commercial. It was on camera for Bold Detergent and I was a member of a boys scout troop whose pack leader was showing how to wash our clothes. This was my first professional job an on camera commercial. After that, I signed with and agent and never looked back…I was very lucky to never have stopped working… My proudest moment was telling my parents to stop sending me money!
So many voices over the years are by you, is it even possible for you to have a favorite, and if so which is yours?
Honestly, it is like children…you shouldn't have a favorite and if you do keep it a secret!!!
One of my favorite voices that you're known for is the voice of Megatron in the Transformers franchise. How did you find that voice and how did it evolve over the years?
I had this voice in my box of tricks but hadn't really used it. As I looked at the drawing of Megs I felt maybe it was time…it sounded just weird enough to be different than what I thought everybody else might do and it seemed in an odd way to fit. It was one of the few times the director and producers didn't ask me change it a little and do it this way or that way or to put a smile in it…it was a go right out of the box…I guess that would be voice box!!!!!
Can you instantly remember all of these voices and suddenly "switch" them on, or do you need to warm up certain ones?
Pretty much just jump in…switching back and forth is fun!!!!!
OK lots of people would love to do what you do. What would be your number 1 piece of advice for aspiring voice actors?
Be honest with yourself. Don't get in the business because you want to but do it because you have to…read everything you can get your hands on. One of our best actors is Jim Cummings and he always has a book in his saddle bags!!
Amazing, thank you for your time. To finish of, what lies in store for the future now?
Probably one of the greatest joys for me in this crazy business is I honestly don't know…and that to me is exciting!!!!!
Another massive thank you to Mr. Welker for agreeing to speak with us and we hope you enjoyed this interview! Also well done Sam Hughes, for not "fanboy"ing out too much (as a massive fan of Transformers as well as Frank being one of his voice acting heroes). check out more over at our Interviews page and don't miss a thing by signing up to our Monthly Newsletter!