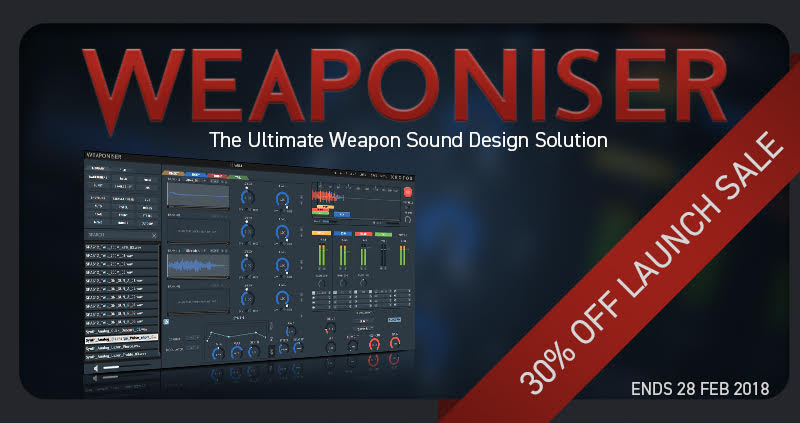 Krotos Audio, the company behind Dehumaniser and Reformer announce the release of their latest product – Weaponiser
Weapon sounds are some of the most commonly used sound effects in AAA games and major Hollywood films. However, authentic weapon sounds can be one of the most challenging categories of sound effects to capture or create. Krotos Audio have just announced Weaponiser as an "all-in-one solution for weapon sound design"
Weaponiser aids with workflow, contains a comprehensive library of professionally recorded weapons, carefully designed presets with high-end, real-time synthesis and great sound quality – making it the "ultimate 'go to' tool-kit" for creating dynamic assets.
Weaponiser is available in two versions as a VST/AU/AAX plugin:
Weaponiser Basic– 952 assets, 515 edited weapon recordings, 4 weapons, 389 Sweeteners and 19 IRs and 90 presets
Weaponiser Fully Loaded – 2,288 assets, 1594 edited Weapon recordings, 13 Weapons, 692 sweeteners and 39 IRs and 135 presets
Weaponiser also contains a collection of UI sounds, voices and drum sounds for beatmakers.
Overview of Weaponiser
Comprehensive library of professionally recorded real-world Shotguns, Rifles, Machine Guns, Assault rifles, Pistols and weapon Foley. Combine with Sweeteners and IRs, easily accessible via a tag-driven browser with simple drag and drop, with a variety of different mic positioning's.
Huge range of designed presets for all weapons types, sci-Fi, bullet effects, drums and UI.
Customized engines to design constituent elements and layers of shots – Onset, Body, Thump and Tail.
Edit and randomize Envelope or Knob Speed and Level for each bank, activate the Synth button to synthesize and process with FM or AM synthesis, choose from a selection of Carriers and Modulators, Pitch, Duration, Gain and edit Amplitude and Amount Envelopes.
Use MIDI to trigger your engines and velocity sensitivity to program or perform precise variations.
Utilise an FX panel and use EQ, Compression, Limiting, Saturation, Ring Modulation, Flanging, Transient Shaping and Noise Gating.
Sequence or offset your sounds to a built-in timeline, allowing for more precise micro-timings between engines.
Hit the Fire button to audition, activate Burst mode to create automatic weapons from single shot assets, adjust the Fire Rate for creating different loop speeds. You can even press the Drunk button to randomize your timeline sequences, making each shot sound subtly different!
Break out your weapon elements onto a mixer for intuitive tweaking and dynamic mixing, and quickly render layers for easy export to in-game engines or your DAW.
Watch this video to see how Weaponiser can help in game audio, post production and music:
Industry professionals also seem to be liking the plugin
Mark Kilborn – Sound Designer (Call of Duty, Modern Warfare Remastered, Black Ops 3 and COD WWII)
'Weaponiser is an extremely cool plugin! I've wanted a plugin like this for a while, a clean interface for building guns with a faster interface than doing it all manually on separate DAW tracks'
Bryan Celano – Sound Designer (Destiny 2, Final Fantasy XIV: A Realm Reborn, Gears Of War 3 and Metal Gear Solid: Peace Walker)
'If you need to create an exotic gun, this plug-in will help you create it! The Krotos libraries are clean and powerful. Plus having the ability to load your own sounds gives you endless possibilities! (Don't let the name Weaponiser limit you to using this plug-in to only create weapons!)'
Trials, Downloads and Purchasing
A 10-day free trial license (iLok-based) for Weaponiser can be obtained HERE along with links to purchase full licenses (iLok-based) of Weaponiser Basic and Fully Loaded, online manuals, demos and tutorial videos. Trade-ins from Weaponiser Basic to Fully Loaded are also available.

Weaponiser Basic
$279 for North America
£181 (ex VAT) for UK and the rest of the world
€236 (ex VAT) for Europe

Weaponiser Fully Loaded
$419 for North America
£265 (ex VAT) for UK and the rest of the world
€346 (ex VAT) for Europe

These prices include a 30% launch discount which is only available until 28 February 2018.
(NOTE: Product pricing, features, specifications, system requirements, and availability are subject to change without notice.)
LINKS
Follow Krotos Audio on Facebook, Twitter and Youtube
To stay up to date on more audio news, sign up to our monthly newsletter to make sure you don't miss out of news as well as our reviews and interviews.
We are also running a Patreon campaign to help support our team and help us bring you more awesome content at even higher quality!