Alyx Jones chats with Leonard Paul, after a busy year, about how the School of Video Game Audio is going as well as his current work on the follow-up to Retro City Rampage, Shakedown Hawaii. Leonard is well known for his work on titles such as EA's NBA Jam, NHL 11, Need for Speed: Hot Pursuit 2, NBA Live '95 as well as the indie award-winning title Retro City Rampage. He juggles his work in game audio with his work as an educator and speaker, helping others to learn about the technical and creative skills needed to have a successful career in video game audio.
You can listen to the entire interview above on Sound Cloud, or read our condensed version below:
Interview by Alyx Jones
Edited by Sam Hughes
Hello, welcome to the Sound Architects interview with Leonard Paul, the man behind the school of video game audio. Let's start by talking a little bit about what exactly the school of video game audio is and how it came to be?
I've been working in video game audio off and on since 1994. I started out as a programmer at Electronic Arts and switched over to doing more music and sound design for games more recently. In 2001 I gave a talk at GDC that received great feedback from people wanting to get into game audio and that was my initial start into the educational side of game audio. We started our first classes at the school in 2012 and it's been going really well ever since. Our goal with the school is to reach people around the world and give them access to helpful information about game audio so that they can really represent their own cultures in the games they make. The school focuses on mentorship which is a very interactive process and works well online. It's important for us to figure out what the background of the students is and where they want to go. It's a very hands on approach, where you work directly on a game, and you see exactly how everything works, all the way down from the code, up to the high level designs. The idea with the school is to help people out and increase the artistry of game audio as an art form, hopefully on a worldwide scale.
Which of your courses is most popular at the moment?
What we do with the school is try to reflect the industry. One of the best ways of finding out what's popular in the industry is the Game Audio Survey, so we look at that and ask new students whether they want to work on indie games or AAA titles and from there we make a decision based on what the industry is doing at the current time. We recommend for people to start with Wwise because the documentation is extensive and the skills that you learn in Wwise are applicable to almost everything else. FMOD Studio is best for those that like more of a DAW based approach, but it's really dependent on the student. If people are interested in scripting, then we recommend the Unity course and for people interested in visual scripting (such as Frostbite or AMP) then Pure Data is the course we would suggest.
What led you to cross from working on games to a more education focused role?
A large part of it is that I wanted to take control of my schedule because working in games can be quite a gruelling process and I found that I missed out on the summer as everything I was working on was scheduled for a Christmas release time. I wanted more flexibility as to when I was working, and now I have a really consistent schedule and am able to hand over work to Viviana Caro, my colleague, if I need to take a break.
Working in production, it was easy to get stuck in a rut, as well as a large part of the job being political. It was nice to step out into education and have a one on one experience with the students. I feel like I'm growing more as a person as I learn a lot from my students. New students coming through the school, are super stoked about game audio and I can't help but be excited as well. Doing education really helps to keep things fresh.
If I was working in production I would definitely be making more money but I really want to help people out and take control over my time. Working on smaller games allows me the flexibility and the creative control which is really important for me. At larger studios they often don't want to try out something new because it's too risky and there's too much at stake. With indie games there's more latitude to try out more artistic and different things.
Would you say you prefer working on independent games rather than larger titles?
There's stuff to learn from both AAA and indie game development. With a AAA title, you know the game will likely get out and people will play it, whereas on indie games, it can be somewhat of a lost effort when there's no marketing budget and few people play your game. In AAA, it's often watered down because you can be quite a small part of the team but in indie games you can often take full ownership. Sometimes with AAA studios you can feel like James Bond since you get so many gadgets and cool toys plus there are people there that you can learn a lot from. Sometimes on an independent titles it can feel a bit like you're on your own but these days with Twitter, Facebook and email lists you can reach out to your community to overcome that.
It's difficult to balance time between the school and a AAA studio in crunch mode, but I'm still open to the opportunity. Working part-time on independent games gives me a good balance of working directly on games so that I can stay current on the latest technology and pass that information on to my students. Sometimes you can start in education and get disconnected from the way things are currently running, things are changing all the time and quickly so I like to try my best to stay aware of what is going on in the industry.
Out of all the projects you've worked on, what would be your favourite and why?

I feel that every project has improved my skills as an audio artist, even the games I didn't enjoy as much. My favourite currently is Retro City Rampage, since there was a good amount of time to work on the project. I had a lot of control over my role on the game and ended up pressing a vinyl release of the soundtrack and self-funding it which was an exciting learning process for me. Fortunately the soundtrack did really well and the game was even nominated for an IGF award in audio. The soundtrack still sells a bit these days and it's fun to connect with people who enjoy playing the game and listening to the soundtrack.
If you had to choose a game you've played for its use of audio, what would that be and why?
These days I don't have much time to play, so I'm not much of a gamer. If I had to pick, I would say that The Streets of Rage series has really great sound on the Sega Genesis. The composer, Yuzo Koshiro did some amazing work on an automated composition system for Streets of Rage 3 that I find fascinating. Basically every time a song plays, it plays slightly differently. So for me working with generative music in Sim Cell as well as for the Beep documentary movie, I find his work inspiring.
What advice would you give to someone looking to get into the game audio industry?
It's tricky not to answer that by saying "Well, you should join our school!" This is really the reason why we started the school in the first place, to help people out when wanting to enter the game audio industry. One of the biggest things is to research what games you like, what studios you want to work at, find out who inspires you as a composer/sound designer and then dig into the details further. Looking for a job in game audio is a full time job in itself so being very disciplined about it is a great approach. Once you've done your preliminary research, I would ask people questions online at places like Reddit and Twitter, I'd go to local meetups (IGDA meetings), game jams and talk to as many people to get as much information as you can. Networking is really important, be a nice person and be engaged. Learn online as much as you can, there's Wwise certification videos that you can do for free and there's a large set of FMOD videos that will help you learn more as well. My main advice is to always work the odds in your favour, research and apply to as many places as possible and make sure that you have the skills to follow up in case you do get interest from somewhere.
I'd recommend eventually going to GDC to meet the "movers and shakers". It's about how you can help them, not asking if they can help you get a job. Showcase your skills and desires of what you want to work on. It's important to have an online presence, a good demo reel and good people skills. You don't need to force things, find shared interests and make true connections with people. We all have something to give, sometimes you're not a match for a project and sometimes you are!
How important is it to have a good showreel, and should a composer and sound designer approach them differently?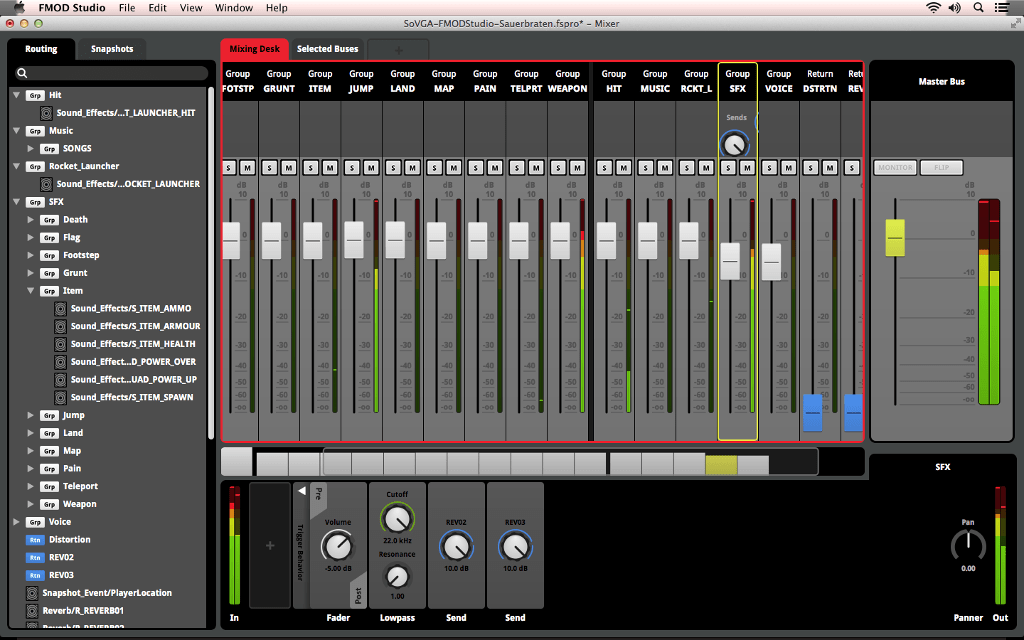 A demo reel is about showcasing your technical and creative skills as well as showing off a bit of your personality. Depending on the audio job you're applying for you can highlight your sound design skills or composition skills. At larger studios you probably won't be doing both and composers are outsourced a lot these days so finding music work on an indie game is likely a better approach. Having any technical skills of implementation and even a bit of scripting can go a long way when working in game audio so knowing how to make dynamic sound effects and interactive music are great skills to have. It's really good to have sound design skills as a composer when starting out as it will increase the chances of finding work. Over time you can refine your work within game audio and really focus on the work that you find the most rewarding.
How has your teaching material changed over the years and what advances do you see happening in the world of game audio?
Game audio has changed in a huge way over the past few years, simply because game audio middleware tools (such as Wwise and FMOD) have been made free to educators and indies so this helps lower the barrier for entry. When I started teaching in 2001, I had to do everything from scratch, years later Wwise came along and now it's wide open. My own courses have followed that transition and now we can look to the future with generative music systems, synthesis and sound design directly in our Pure Data course.
Have you got any recent success stories from the School of Video Game Audio that you'd like to share with us?
One of my favourite grad stories is from Emily E. Meo. Shortly after of completing the Wwise course with us she found a job in game audio and was able to leave her service job that she really didn't enjoy. There's Steve Green, who's working on the sound design for a game called ABZÛ by Giant Squid. There's also Paul McArthur, who was working at Savalas and after taking the course he transitioned to work at Lionhead Studios on Fable Legends. These are just a small handful of great stories from our students, there's a lot more to read on the testimonials on our website. As an educator it's really neat to see people succeed, they get super focused and make it happen–it's great to be a part of that in some small way.
Awesome, thank you so much for taking the time out of your busy schedule to talk to us!
Thanks! Game audio is fun, so come join us! Thanks a bunch!
The next deadline for the School of Video Game Audio courses for March/April 2016 courses is February 19, 2016. The school runs classes every two months so feel free to check out their website for current details at SoVGA.com.
School of Video Game Audio
Students Mentioned
Useful Links
We hope you enjoyed the interview check out others in our Interviews section :). Don't forget to sign up to our Monthly Newsletter to make sure you don't miss out on our reviews and interviews. 
The Sound Architect