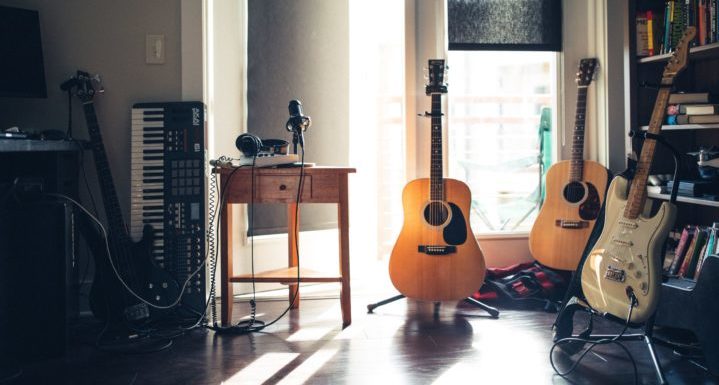 With practically every musician, and individual, in the world currently stuck at home due to the COVID-19 pandemic, many will probably be reviewing their home rehearsal set up.
Creating a quality rehearsal space that will allow you to practice in the comfort of your own home can be a challenge, so we've put together a list of the factors you need to consider.
Whether You Need A Professional Rehearsal Space At Home
The initial consideration you need to make is whether or not you actually need a complete rehearsal set up in your home. If you live in a central hub, like London, then there might be professional rehearsal studios right on your doorstep. For instance, you could visit Pirate's rehearsal space which is located in the heart of the city and open 24/7, to see if you really need a rehearsal space in your home, or if you would be better off just visiting theirs.
The Space You Have Available
If you have your heart set on creating a home rehearsal space, then you need to work out how much space you have to dedicate to it. If you do not have a spare room available, then you could consider converting a loft, garage or utility room. Alternatively, you could extend your property. All of these options will be expensive, so it's vital that you review whether you can afford it and whether it is worth the effort and expense when you could simply practice at home and book a professional rehearsal suite when you need to hone your performance.
What You Want To Use Your Space For
Being called a rehearsal space, you might think that all you're going to do is rehearse in your new studio. However, many musicians also want to be able to record in their home studio, which will entail a completely different setup. You may also want to include additional technological solutions in your studio, or be able to invite guests in to listen to your progress. All of these factors will have an impact on your design and plans, so you need to know exactly what you want before you start.
The Amount Of Money You Have To Spend
As mentioned above, the cost is a key factor in your rehearsal studio project. The Coronavirus has left many individuals with reduced revenue streams and financial worries, so now might not be the best time to consider such a costly project. If you are lucky enough to be in a financially stable position and are committed to creating a quality rehearsal space in your home, then you need to set a budget before you start work. Calculate how much money you have to allocate to construction, design, equipment and extras so that you have a full overview of how much money you have to spend. You can then get quotes and work out if you have enough, or if you need to review your budget and possibly scale back your plans.
Your Musical Requirements
Every musician and band is different, and as such, has a unique set of requirements for their rehearsal space. You might need a lot of space for multiple instruments and music stands, or alternatively, you might only require one mic stand for a solo singer. Consider exactly who will be playing in your rehearsal space and how much room and gear they will need. You can then refine your plans and create a space that will be perfect for everyone who uses it.
The Level Of Soundproofing You Require
Soundproofing your rehearsal studio space is essential, as it will allow you to play as loud as you need to without disturbing your loved ones and neighbours. If your space is in a remote location, already has thick walls or won't be used very often, then you might be able to get away with using DIY soundproofing and techniques such as a thick carpet and wall insulation. For a real professional space, you're going to need to work with a soundproofing company to completely insulate your room and stop any noise from escaping.
The Technology You Need
As well as soundproofing, your home rehearsal studio will also need cutting-edge technology to optimise your sound and allow you to record and replay your sessions. Some technology is essential for a quality home rehearsal space, while some might be specific to the type of sound you are creating. Read reviews of the latest solutions to find out which ones are worth investing in to create your ideal rehearsal space.
These are challenging times, but it's important that you look to the future and continue to focus on creating the best music that fans love listening to. Use these tips to optimise your home rehearsal space and make future practices easier and more efficient.
Thanks for Reading! You can stay up to date on all our content, such as reviews, interviews and of course our podcast, via our Monthly Newsletter!
We run the site voluntarily and like to keep the lights on (and the hosting up to date) so any support via our Patreon is also much appreciated!
Stay up to date via our Monthly Newsletter as well: www.thesoundarchitect.co.uk/newsletter